Why you should trust Insurance.com
Insurance.com is dedicated to informing, educating, and empowering you to make confident insurance decisions. Our content is carefully reviewed by insurance experts, and we rely on a data-driven approach to create unbiased, accurate insurance recommendations. Insurance.com maintains editorial integrity through strict independence from insurance companies.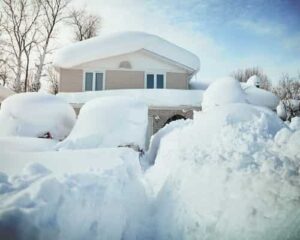 Winter storms are largely associated with the Midwest and Northeast, but recent years have seen winter weather cause major damage in unexpected places like Texas and California. And the damage these natural disasters have done has resulted in billions of dollars in insurance claims.
Whether a blizzard, an ice storm or a deep freeze is bearing down on you, understanding what homeowners insurance covers is vital. The good news is that home insurance covers most winter storm damage, from frozen pipes to collapsed roofs. And your auto insurance will cover damage done in a winter storm, whether that's an accident on an icy road or a tree branch that cracks in the cold and lands on your hood.
But before winter arrives, it's vital to make sure you have the right insurance, and enough insurance, in place to pay the bills.
Key takeaways
Winter storms can damage homes through the weight of ice and snow, freezing of pipes and other systems and more.
Home insurance covers winter storm damage up to the coverage limits listed on the policy, and is subject to your deductible.
Auto insurance will cover damage to your car due to winter conditions as long as you carry full coverage
Does home insurance cover winter storm damage?
Yes; the simple answer is that homeowners insurance does cover damage done by winter storms, including ice storms and blizzards.
Your home insurance policy covers winter storm damage to your home, other structures on your property and often even trees and bushes. You can expect home insurance to cover:
Damage to your roof from the weight of snow and ice
Frozen pipes
Damage to personal property if snow or ice gets into the home
Damage from falling trees or branches
What does home insurance cover after a winter storm?
Your home insurance policy is made up of several coverages that are designed to pay for different types of damage and loss. After a winter storm, any or all of these coverages will kick in to get you back on your feet.
Dwelling coverage. Covers the house itself and any attached structures up to the replacement cost listed on the policy. This coverage will pay to replace your roof if it collapses under the weight of snow or your deck if a winter storm causes a tree to fall on it.
Other structures. This coverage pays for damage to structures on your property that are not attached to the house, like a shed, fence or detached garage.
Personal property. This covers all of the personal property in your home, from your towels to your TV. If your roof collapses due to snow or ice and items inside your house are damaged, this coverage will pay to replace or repair them.
Loss of use/additional living expenses. If covered winter storm damage to your home is so extensive that you can't live there during repairs, additional living expenses (ALE) coverage kicks in to pay for hotel and other extra living expenses.
Does home insurance cover someone slipping on the ice?
If someone slips and falls on ice on your property, your home insurance liability coverage and medical payments will pay for medical bills or resulting lawsuits.
Liability coverage only applies to other people. If you or a member of your household slips and is injured, home insurance doesn't cover you. Your health insurance will kick in instead.
What isn't covered by home insurance after a winter storm?
Home insurance generally excludes damage caused by snow and ice to certain structures. They include:
Docks and piers
Patios
Awnings and canopies
Swimming pools
Retaining walls
Pavement
Be sure to read your policy carefully to find out what's excluded.
Furthermore, home insurance doesn't cover flooding. If heavy snow melts fast and causes a flood, that damage would only be covered if you have a flood insurance policy.
Does condo insurance cover winter storms?
Condo insurance covers winter storm damage to your personal property and to any part of the condo itself for which you are responsible.
Your condo association's policy will cover the structure itself, but depending on how it's set up, you might be responsible for some internal parts of the structure. Like home insurance, condo insurance also provides additional living expenses coverage.
Does renters insurance cover winter storms?
Your landlord is responsible for insuring the house or apartment building you live in, but that doesn't cover your personal property. A renters insurance policy will pay for any damage to your personal property caused by snow, ice or other winter weather. It also includes coverage for loss of use.
Does car insurance cover winter damage?
Winter weather can cause a wide variety of damage to your car, not the least of which is the increased risk of an accident when roads are icy or snowy, or when visibility is low.
Your car insurance policy provides several options for covering winter weather-related damage. If you're in an accident and are found at fault, liability insurance will pay for any damage or injuries you cause.
For damage to your car in an accident, including a single-car accident such as your car sliding off of the road and into a ditch, you will need to carry collision coverage.
Finally, comprehensive coverage pays for any non-collision damage to your car, such as that caused by weather. If a chunk of ice slides off of the roof and breaks your windshield, comprehensive will cover it. And unlike home insurance, comprehensive car insurance does cover floods, so if that snowmelt gets in your car, you're covered.
Preparing for winter to avoid claims
As climate change drives winter storms into new places and changes both temperatures and snowfall totals, preparing for winter is even more important. Even if the damage is covered, no one wants to deal with repairing a roof or frozen pipes.
Take steps to avoid a winter claim by clearing snow and ice wherever you can and using ice melt on sidewalks and driveways. Wherever possible, remove snow from the roof near your gutters and around your downspouts to prevent ice dams. Before the snow falls, make sure your gutters and downspouts are clear of debris.
It's also a good idea to have any dead or unhealthy trees on your property removed as soon as possible. Dead trees are more likely to come down in a storm.
Have all of the air and water blown out of exterior pipes, hoses and sprinkler systems to avoid water freezing inside. And if you're traveling during the winter, make sure your house stays warm enough to avoid frozen pipes.
See How Much You Can Save
See How Much You Can Save
Helpful Home Insurance Articles & Guides