Why you should trust Insurance.com
Insurance.com is dedicated to informing, educating, and empowering you to make confident insurance decisions. Our content is carefully reviewed by insurance experts, and we rely on a data-driven approach to create unbiased, accurate insurance recommendations. Insurance.com maintains editorial integrity through strict independence from insurance companies.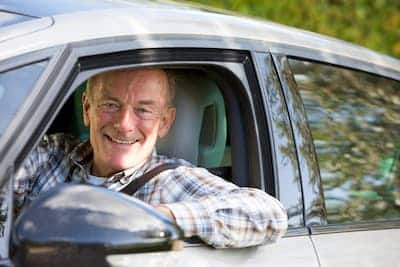 For most people, auto insurance rates go up around age 65. Senior car insurance is more expensive because, statistically, senior drivers are more likely to have accidents. Slowed reaction times and the impact of age on vision are among the reasons.
The average cost of car insurance for a 65-year-old is $515 a year, or $43 a month, for state minimum coverage and $1,402, or $117 a month for full coverage, based on the most recent Insurance.com data. Rates rise steadily as you get into your 70s and 80s.
Fortunately, there are car insurance discounts for senior drivers and plenty of other ways to save on senior car insurance.
Let's look at how to find the cheapest car insurance for seniors.
Key takeaways
Find the best and cheapest car insurance for seniors by shopping around and comparing rates from multiple companies.
Several car insurance companies offer senior discounts, and taking a defensive driving course can also reduce your rates.
State Farm and Geico are two of the best car insurance companies for senior drivers.
What is the cheapest car insurance company for seniors?
Although many car insurance companies offer great auto insurance for seniors, a few stand out. The Hartford's AARP Program is a well-known insurance plan that caters to seniors, but that doesn't mean it's always the cheapest.
Amica, State Farm, Geico and Allstate all rate highly as companies that cater to senior drivers. Geico, for instance, has a policy called Prime Time, a guaranteed renewal program offered in 30 states to those 50 or older with no one on the policy under 25 and meet other qualifying items. Allstate offers senior discounts for those older than 55 or working part-time. Dairyland provides a pay-as-you-go option ideal for seniors who may have been denied standard insurance, and Metromile is a cheap alternative for those who drive infrequently.
Which company is cheapest, however, will depend on several factors, including your age and where you live.
Cheapest car insurance companies for seniors
There is no single company that's the best for cheap auto insurance for seniors. The cost will vary between companies due to your risk factors (age, location, driving record, vehicle model, etc.). The best practice is shopping around and looking for discounts to lower your rate.
Some alumni groups and professional business associations also offer group plans and reduced rates. Check with any organizations you're a member of to see what they offer. Buying car insurance as part of a group can earn you many benefits. To get low-cost car insurance for seniors, shop around and ask for discounts to discover what you're eligible for and what can help reduce your premium.
Cheapest car insurance companies for seniors
Select your age and state below to see the average annual and monthly rates.
Currently showing results for age
60
in
California
Company Name
Avg. annual premium
Avg. monthly premium
How much is auto insurance for seniors?
Auto insurance in your 50s is usually cheaper than it is for other age groups. Based on accident statistics, this age group has the safest record on the road. 
As you move into your 60s, rates tick up a bit, and you'll be looking to find out who has the cheapest car insurance for seniors. Fortunately, there are ways to save.
"Seniors have experience driving, so it is not comparable to teens," said Janet Ruiz, director of strategic communications at the Insurance Information Institute. "Many companies do have safe driving courses for seniors to alert them to the specific things they may encounter as they age. Some give a discount if you take the safe driving course, which is usually offered online."
Here are the average costs for four different age groups and three types of insurance coverage. We include the cost of a bare-bones state minimum policy, a liability-only policy with higher limits of $50,000 for bodily injury coverage per person injured in an accident caused by you, $100,000 for everyone injured in the accident and $100,000 in property damage coverage, written as 50/100/50. We also included a policy with liability limits of 100/300/100 plus collision and comprehensive, with a $500 deductible.
Expert tip: You need collision and comprehensive coverage if you have a financed or leased car, or a newer car you can't afford to replace.
Average car insurance cost for seniors

| Age | State minimum | 50/100/50 | 100/300/100 |
| --- | --- | --- | --- |
| 55 | $494 | $560 | $1,363 |
| 65 | $515 | $585 | $1,402 |
| 75 | $630 | $718 | $1,654 |
| 85 | $778 | $887 | $1,987 |
When you hit 65, you're likely to see a bump in your car insurance premium. It's a good time to re-evaluate your current insurance and compare it to others that cater to car insurance for seniors.
How seniors can find cheap insurance rates
A great place to start saving on your car insurance is with discounts. Several auto insurance companies offer discounts that are specifically applicable to mature drivers.
Being loyal to your auto insurance company can earn you up to 30% off your premium. Geico, Nationwide, American Family and Progressive are among those companies that promote loyalty savings programs. You should still shop around, however. Most experts agree that loyalty savings rarely outweigh saving by switching providers.
Good driver and safe driver discounts are available to all ages and from most companies and can get you between 5% and 25% in savings. The insurance company usually requires that you have a clean driving record for at least three years. That means no DUIs, no moving violations and no at-fault collisions.
AARP offers mature driver courses that can sometimes reduce your premiums from 5% to 15%. Most states require insurers to offer a discount.
Daniel Ferrara, an emeritus sales rep at Liberty Mutual, has several suggestions for getting the best rates as a senior driver:
Bundle your auto and home insurance with the same carrier for a multi-policy discount.
Take a defensive driving course. Even if you have a clean driving record, you'll likely get about 10% off your rates.
Raise your deductibles on the collision and comprehensive portions of your coverage.
Ask about senior citizen discounts or a low mileage discount. Even though rates tend to increase as you get older, some carriers offer a senior citizen discount.
Consider usage-based insurance for a discount. After monitoring your driving habits for a period of time, you might get as much as a 30% discount.
Buy a newer car. "Newer cars have many benefits for seniors with automated driving assistance features, backup cameras, etc. IIHS Safety ratings are often considered by insurance companies when putting together the cost of the auto policy," the Insurance Information Institute's Ruiz says.
Ask about low-mileage discounts or consider pay-per-mile insurance. Perhaps you have retired, and you're driving a lot less. "Driving fewer miles means you have less road time, resulting in a lower risk of getting into an accident," Ruiz says. "Most insurers ask for yearly mileage to give a lower rate to drivers who are on the road less."
Why do auto insurance rates for seniors go up?
Car insurance companies base rates on how much risk a driver poses to them. Basically, if statistics show you are in a group that is more likely to file a claim, you'll pay more for auto insurance. Mature drivers have experience but also start to see a decline in vision, response time and other things that affect driving skills.
Drivers aged 70 and older have higher crash death rates per mile than middle-aged drivers (ages 35-54), according to the Centers for Disease Control and Prevention. Much of that's due to increased vulnerability to injury in a crash. In 2019, the latest statistics available, about 8,000 older adults, 65 years of age and up, were killed in traffic crashes and more than 250,000 were treated in emergency departments for crash injuries.
The CDC notes that age-related physical issues, such as arthritis, reduced flexibility and limited range of motion and decline in vision, plus diminishing cognitive function, can affect senior drivers' driving abilities. This is why keeping a stellar driving history will be important to get cheaper car insurance rates. If you drive beyond your current abilities and get a ticket or are in an accident, this will signal to insurers that you pose a higher risk.

Daniel Ferrara
Emeritus Sales Rep for Liberty Mutual, based out of Katonah, N.Y.
"Car insurance rates tend to rise as drivers get older because insurance carrier statistics prove that older drivers get into more accidents as their reflexes get slower. Drivers' reactions' time slow as they age," Ferrara says. "What age do rates go up? That varies from carrier to carrier but generally, it is around age 64."
Shop wisely for senior car insurance
Navigating scams means being alert and cautious. Make certain to shop around with multiple car insurance companies to get the best auto rates for seniors. Start with your current insurance provider to get a baseline for costs, and then, using the same policy parameters (liability limits, coverages and deductibles), shop with at least three other car insurance companies. You may find other insurers don't rate as harshly for aging drivers as your present one or find who you have is still the best choice.
If you find a smaller insurance company that's cheap -- don't switch until doing some research. Check out the company's financial strength with AM Best and then check for customer and claims service reviews. You want your insurance company to have the means to pay out on claims and good customer service so you don't feel ignored after an accident.
Beware of senior car insurance scams
Make sure you don't fall victim to any scams when you're scouting for affordable auto insurance. According to the National Council on Aging, financial scams "targeting seniors have become so prevalent that they're now considered 'the crime of the 21st century.'"
There are several scams that seniors should watch out for, according to AARP:
Stealing your premiums: An agent pockets your insurance premiums instead of sending them to the insurer.
Selling phony insurance: An agent or company rep sells you fake coverage from a phony insurance company. Or the agent sells you bogus coverage using a legitimate company's name or a name that's similar to a legitimate insurer. You might receive an official-looking policy or proof of insurance that's worthless. You could lose thousands of dollars if you suffer a loss and don't have a real policy to pay your claim.
Selling coverage you don't want or need: Maybe the coverage is real, but it's expensive and unnecessary, and your current policy may already cover that risk.
Worthless investments: You may be urged to invest in insurance-like instruments. One is viaticals, which are investments in life policies taken out on sick or terminally ill people. Viaticals can be a legitimate investment, but some can also be phony or misleading. Another scam is promissory notes, in which agents promise quick, high and certain returns for investing in promissory notes supposedly backed by insurance. Often the promissory notes don't exist.
If you're looking for low income auto insurance for seniors and find a rate that seems too good to be true, make sure to check the company out first. You can check out their financial strength with AM Best and check with your state's Department of Insurance to make sure they are a legitimate company.
Methodology
Insurance.com commissioned Quadrant Data Services to field rates in 2022 for all available ZIP codes from top insurance companies for drivers aged 65 and up. Rates are based on a 2021 Honda Accord LX, good credit, and a clean driving record.
Helpful Auto Insurance Articles & Guides