Why you should trust Insurance.com
Insurance.com is dedicated to informing, educating, and empowering you to make confident insurance decisions. Our content is carefully reviewed by insurance experts, and we rely on a data-driven approach to create unbiased, accurate insurance recommendations. Insurance.com maintains editorial integrity through strict independence from insurance companies.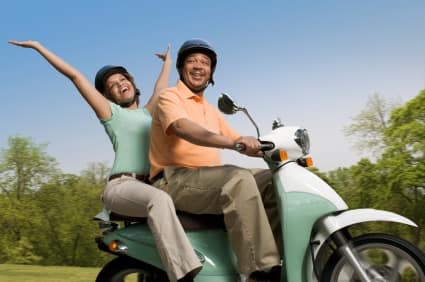 Although mopeds and scooters are small, most motor scooters need car insurance. Most scooters are treated the same way as motorcycles on the road.
"You're a motorcyclist, and you need to act like a motorcyclist," says Tim Buche, president and CEO of the Motorcycle Industry Council and Motorcycle Safety Foundation.
That means you need to take a riding course, wear the proper gear, get a motorcycle license and buy motorcycle insurance to cover both your liability and any damage that occurs to the scooter.
"While scooter riders are only legally required to carry liability coverage, we would advise them to pursue full coverage," says Ricky Taranda, a manager with Allstate in New York.
Cheap motor scooter insurance is easy to find, since they're smaller and less valuable than cars, and less likely to do damage in an accident. Read on to find out what you need to know to insure a motor scooter.
Do you need motor scooter insurance?
Depending on the scooter's engine size and state insurance requirements, you may be legally required to purchase motor scooter liability coverage. Liability insurance covers others' damage and injuries if you cause an accident, but doesn't provide any protection for your own property.
Taranda says most scooter policies written for Allstate are full coverage policies, which include not only liability but the coverage types that pay for repairs or replacement of the scooter after an accident. insurance. Collision insurance covers the scooter if it's damaged in a traffic accident, and comprehensive covers theft or damage from causes other than a traffic accident, such as a natural disaster.
Because scooters are less expensive than cars and motorcycles, relatively cheap insurance is available. If you are already insuring a car or a home, the addition of a scooter may get you a multi-policy discount.
Even if the law doesn't require you to insure your scooter, you should consider it to protect your investment as well as cover the potential cost of an injury claim. To get the best price on motor scooter insurance, shop around and compare scooter and moped insurance rates.
Key takeaways
You may be required to buy scooter liability insurance coverage depending on the scooter's engine size and your state's insurance requirements.
In most cases, you need insurance to have a moped or scooter on the road legally.
Insurance for a motor scooter is generally affordable and offered by top insurance companies like Allstate.
What type of motor scooter should you buy?
Buche recommends buying a scooter that's powerful enough to keep up with traffic. Some scooters have small engines that go no more than 35 or 40 mph and are inappropriate for major thoroughfares.
Check your state's requirements – generally, states require you to register your scooter, buy liability insurance and get a motorcycle license, but some don't require a motorcycle endorsement or insurance for machines with engines smaller than 50cc or top speeds below 30 mph.
Don't forget about safety. Take a motorcycle riding and safety lesson and wear the proper gear for riding, including a helmet.
The line between scooters and more powerful motorcycles has blurred. Some scooters are equipped with relatively powerful 800cc engines. Generally, scooters have a step-through design and automatic transmission that distinguishes them from motorcycles. These features make scooters easier to ride and less intimidating for beginners.
Regardless of what type of scooter you buy, make sure you have the correct insurance for your motor scooter.
Helpful Auto Insurance Articles & Guides