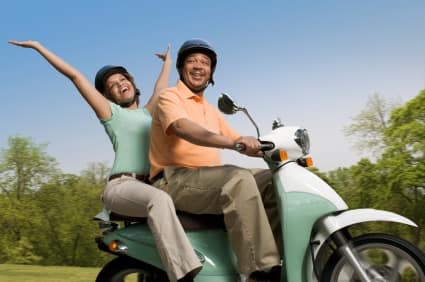 Motor scooters are fun to ride, get up to 100 miles per gallon, squeeze into tiny parking slots and are, well, just so darn cute.
But don't let the adorable factor make you think you're riding a toy.
"You're a motorcyclist, and you need to act like a motorcyclist," says Tim Buche, president and CEO of the Motorcycle Industry Council and Motorcycle Safety Foundation.
That means you need to take a riding course, wear the proper gear, get a motorcycle license and buy motorcycle insurance to cover both your liability and any damage that occurs to the scooter.
"While scooter riders are only legally required to carry liability coverage, we would advise them to pursue full coverage," says Ricky Taranda, line manager for Allstate's emerging business.
KEY TAKEAWAYS
If you ride a motor scooter, you must get a license and buy motor scooter insurance. It provides protection against any damage occurs to the motor scooter.
Scooter riders are required to carry liability coverage, but experts advise to buy full coverage.
You may be required to buy liability coverage depending on the scooter's engine size and your state's insurance requirements.
Scooters are less expensive than motorcycles and cars; therefore, you can easily find cheap insurance coverage for your scooter.
Scooter sales rise when gas prices do
Sales of motor scooters tend to rise in the summertime and peak during periods of high gas prices -- the last boom occurred as gas prices neared $4 a gallon in 2011 and 2012.
Buche says high gas prices fuel scooter sales, or at least allow people to rationalize buying what they always wanted.
The line between scooters and more powerful motorcycles has blurred. Some scooters are equipped with relatively powerful 800cc engines. Generally, scooters have a step-through design and automatic transmission that distinguishes them from motorcycles. These features make scooters easier to ride and less intimidating for beginners.
But it's best to think of scooters as a type of motorcycle, Buche says. Too often novices think of scooters as motorized bicycles and ride them close to the curb, which confuses drivers and creates hazards.
Insurance and other scooter basics
Buche recommends buying a scooter that's powerful enough to keep up with traffic. Some scooters have small engines that go no more than 35 or 40 mph and are inappropriate for major thoroughfares.
Check your state's requirements – generally, states require you to register your scooter, buy liability insurance and get a motorcycle license, but some don't require a motorcycle endorsement or insurance for machines with engines smaller than 50cc or top speeds below 30 mph.
Don't forget about safety. Take a motorcycle riding and safety lesson and wear the proper gear for riding, including a helmet, Buche says.
Finally, don't forget about insurance.
Depending on the scooter's engine size and state insurance requirements, you may be legally required to purchase liability coverage, Liability insurance covers others' damage and injuries if you cause an accident, but doesn't provide any protection for your own property.
Taranda says most scooter policies written for Allstate are full coverage policies, which include not only liability but the coverage types that pay for repairs or replacement of the scooter after an accident. insurance. Collision insurance covers the scooter if it's damaged in a traffic accident, and comprehensive covers theft or damage from causes other than a traffic accident, such as a natural disaster.
Because scooters are less expensive than cars and motorcycles, relatively cheap insurance is available. If you are already insuring a car or a home, the addition of a scooter may get you a multi-policy discount.
Helpful Auto Insurance Articles & Guides