Why you can trust Insurance.com
Insurance.com is dedicated to informing, educating, and empowering you to make confident insurance decisions. Our content is carefully reviewed by insurance experts, and we rely on a data-driven approach to create unbiased, accurate insurance recommendations. Insurance.com maintains editorial integrity through strict independence from insurance companies.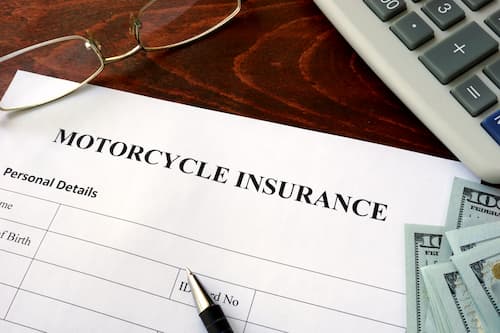 Motorcycle owners love the freedom and excitement of riding the open road. Some might even have a reputation as thrill-seekers. But when it comes to insurance, it pays to be cautious and over-prepared.
Motorcycle insurance is a critical component of responsible motorcycle riding. It's so important that in many states, it is legally required. So, if you're looking to buy a motorcycle, you should be looking at motorcycle insurance - and thoughtfully.
There is a lot to understand about motorcycle insurance, especially if you want to be adequately insured. But don't worry, we've got you covered. Read on to learn everything you need to know about motorcycle insurance.
KEY TAKEAWAYS
Most states require you to purchase motorcycle insurance in order to ride legally.
Even though you only need to purchase the minimum liability coverages, it can be smart to buy full coverage and other riders that protect you financially in certain situations.
Motorcycle insurance typically costs less than car insurance -- around $20 per month -- but factors such as age, gender, driving record, state, credit history and more can impact that cost.
Like car insurance, there are many discounts available for motorcycle insurance, including bundling policies, practicing safe driving, belonging to certain organizations and more.
Do motorcycles need insurance?
In most states, you are required to buy insurance for your motorcycle. The amount of coverage you are required to have varies from state to state. Even though some states allow people to ride motorcycles without insurance, we still recommend getting insurance for your motorcycle. This will protect you in case of an accident.
What types of vehicles are covered?
There are many types of vehicles that fall under the classification of a motorcycle for insurance purposes. You can use motorcycle insurance to cover the following:
ATVs
Cruisers
Dirt bikes
Racing bikes
Scooters
Sport bikes
Touring bikes
Trikes
Keep in mind that the exact list of vehicles and coverage requirements may depend on the particular insurer you use. So be sure to ask and verify your vehicle qualifies for motorcycle insurance when shopping around.
What are recommended motorcycle insurance coverage?
Expert Advice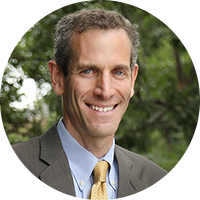 Kevin Hamill
Co-owner and insurance agent at Quantum Assurance International in Delaware
Insurance coverage for motorcycles works very similarly to coverage for your car, according to Kevin Hamill, co-owner and insurance agent at Quantum Assurance International in Delaware. At minimum, you should have sufficient liability coverage. If you have a loan on the motorcycle, you will be required to carry collision and comprehensive coverage. "If you own the bike outright, the choice is yours," Hamill says.
In other words, motorcycle insurance coverage will vary depending on the individual and their needs. However, some of the most common types of coverage that are recommended for motorcyclists include: collision and comprehensive coverage, uninsured/underinsured motorist coverage, medical payments coverage and personal injury protection.
Here is a closer look at the various options for motorcycle insurance.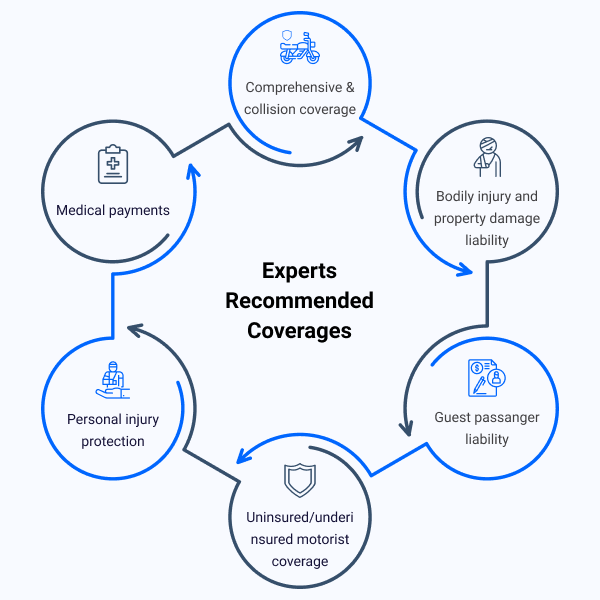 Comprehensive and collision coverage
This coverage pays to repair or replace your motorcycle if a thief makes off with it or if it is damaged in an accident. Considering that some motorcycles can cost as much as a car, you probably would want comprehensive and collision coverage for your bike.
If you've taken out a loan for your motorcycle, your lender may require full coverage. But it can be a good idea even if you own the vehicle outright, especially if it's a newer or expensive model. The key is to find a balance between your needs and how much coverage you can afford.
Bodily injury and property damage liability
Bodily injury liability covers medical expenses and lost wages resulting from the injury or death of the other driver when you are at fault, says Nick Schrader, an insurance agent at Second Western Insurance Services, headquartered in La Cañada Flintridge, Calif. However, he notes this coverage does not pay for the insured's medical bills.
Similarly, property damage liability coverage pays for another person's property when you are at fault. Shrader says it helps pay for repairs for the other vehicles' damage and other structures but does not cover repairs for the insured's motorcycle.
Generally, in every state, you are required to have liability motorcycle insurance coverage.
Guest passenger liability
Is somebody riding on the bike with you? You may not be covered for their medical bills if something goes wrong unless you have this coverage.
Uninsured/underinsured motorist coverage
Uninsured or underinsured motorist coverage kicks in if you get into an accident with someone and they're at fault, but they don't have insurance or enough insurance to pay for damages done to you and your bike. In a nutshell, if you don't have this type of insurance, you may be underinsured. The coverage can offer additional protection if you end up in this worst-case scenario.
Medical payments
This coverage helps to cover medical costs if you are in an accident and need medical care. You might be wondering: doesn't health insurance cover that? Health insurance rarely covers everything, and in most cases, there is a deductible and then a percentage of the medical care cost you'll be responsible for out-of-pocket. Medical payment coverage helps bridge that gap if you're in a motorcycle accident.
Personal injury protection (PIP)
This is basically "medical payments coverage" with more benefits. If you go careening off your motorcycle and wind up in a body cast, your personal injury protection coverage could cover your salary or wages while you recover. If your kid has to go to daycare because you're unable to provide care, your PIP might pay for that. It's a bummer to mention, but PIP also pays for other unexpected expenses resulting from a motorcycle accident, like a funeral.
How much motorcycle insurance do I need?
In most states, you are required to buy state minimum coverage in order to ride a motorcycle legally. You should have enough liability insurance and guest liability insurance to pay for other people's injuries and/or property damage if you are responsible for an accident. Besides, you should consider buying comprehensive and collision coverage as well to stay protected against theft or damage to your motorcycle.
What motorcycle insurance coverage is needed to cover injuries?
Suppose you want to make sure any possible future motorcycle injuries are paid for by your motorcycle insurance. In that case, you'll want to get bodily injury and property damage liability, medical payment coverage and personal injury protection.
As we've noted, the bodily injury and property damage liability will ensure that if you hurt somebody else riding your motorcycle, your insurance can pay for their injuries.
Medical payment coverage should cover any healthcare costs that your health insurance doesn't end up covering.
And, again, personal injury protection goes the extra mile. If you're laid up due to injuries and the bills are piling up, PIP should help to offset those costs.
By the way, if you're noticing that we sometimes are using certain qualifiers, like "should cover," that's only because every policy is different. You'll want to read the fine print or talk to an agent before you buy a policy and assume that you're covered.
What does motorcycle insurance not cover?
There are some situations when your motorcycle insurance doesn't apply. This will depend on the insurer, but one instance that may not be covered is a track day. If you plan to ride competitively, you may be excluded from coverage, though it is possible to buy separate insurance specifically for track days or competitions.
Additionally, commercial use of a motorcycle may not be covered by your insurance policy. If you regularly ride your motorcycle for job-related purposes, you might need to look into a commercial policy.
How much is a motorcycle insurance policy?
It varies, but the average cost of full coverage motorcycle insurance is generally less than car insurance. Hamill explained that the cost of a motorcycle insurance policy varies depending on factors such as your state, coverage level, usage, age, credit score and more.
For instance, your state matters because if you live in a cold state, like Maine, your motorcycle insurance quote will most likely be less than in Arizona. Why? Well, in a warm state, you might potentially ride every day, which means far more chances for something to go wrong than in Maine, where you're probably going to ride much less.
"The minimum cost I have seen is $40 per year, but typically, it ranges from $250 to $1,500 per year," Hamill said.
That means you could expect to pay as little as $20 per month. In fact, Insurance.com reported last year that you'll often find prices for that amount. The average rate for Progressive motorcycle insurance, for instance, is $13.60 per month in low-cost states and $30.35 per month in high-cost states.
Of course, if you have a particularly expensive bike, poor driving record or credit, little experience riding, etc., you could end up paying closer to the higher end of that spectrum.
Why are motorcycles so expensive to insure?
Motorcycle insurance is usually cheaper than auto insurance, but it can still be expensive. The main factors that affect how much motorcycle insurance costs are: your age, where you live, and the type of motorcycle you have. Younger or less experienced riders usually pay more for motorcycle coverage than those with years of safe riding experience. And if you live in an area where motorcycle theft is common, you will likely have to pay more for insurance.
How do motorcycle insurance rates change with age?
As you would expect, when you're younger and more inexperienced, your motorcycle premiums are going to be the highest. As you get a little older, those rates will go down. A middle-aged motorcycle-riding mom is going to pay far less than her 18-year-old motorcycle-riding son.
Generally, your rates will drop until you hit around 70, and then your rates will start to climb once again.
Sport vs. touring vs. cruiser: How your motorcycle choice affects your insurance rates?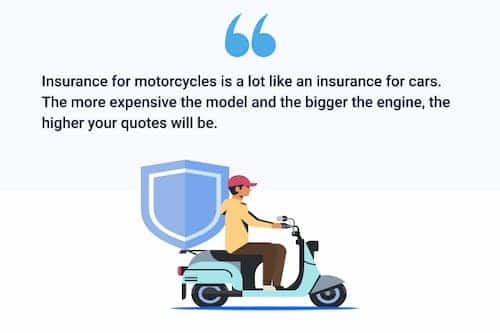 Cruisers are often considered good bikes for commuting and leisure riding.
A touring bike you tend to buy if you plan on riding long distances. Those tend to be bigger bikes, with larger fuel tanks and seating for a passenger, among other features.
Sports bikes are built primarily for racing.
You might think that the sports bikes would be the most expensive, and cruisers and touring bikes less so, but it doesn't come down to that.
When it comes to getting a motorcycle insurance quote online, motorcycles are a lot like cars. The more expensive the model and the bigger the engine, the higher your quotes will be.
Other factors that affect motorcycle insurance rates
Your insurer will also look at things like:
Safety features: How safe is your motorcycle? If your bike has anti-lock brakes and other safety features, like LED lighting or stability control, that can factor into a lower price for your insurance. Of course, you may not notice the dip in price if your motorcycle is on the high end of the cost - but, still, know that the safer your bike, the more your insurer is likely to reward that.
Safety reputation: Is your motorcycle brand known for crashing? That can cause your rates to climb.
Theft track record: Do thieves often go after the brand of bike you have? Half expecting that a robbery may be in your future, your insurer may jack up your rates a bit more.
Your safety record and driving history: If you have a lot of speeding tickets in your past, that can kick up your premiums.
Are there motorcycle insurance discounts?
As with other types of insurance, motorcyclists usually want cheap motorcycle insurance. We've talked about the factors that go into determining rates. But there are ways to save, too.
Bundle: If you bundle insurance, you should get a discount (more on this below).
Avoid accidents: Sometimes, after a few years of safe driving, an insurer will lower your average motorcycle insurance cost.
Anti-theft discounts: If you have safety equipment to prevent theft or help catch a thief, such as a GPS-driven location device on your bike, you may be able to get a pretty significant discount. Twenty percent is typical, or you may see your deductible waived.
Buy a second motorcycle: If you insure two motorcycles, you may get a discount. Of course, buying a $20,000 motorcycle to save a few dollars on your insurance doesn't make sense. But if a second bike is in your future anyway, you may qualify for a multi-policy discount.
Take a motorcycle safety course: Many insurers will offer a discount for doing so.
Join a group: Some carriers will lower your premiums, often by around 10%, if you're with an approved group such as the American Motorcycle Association, BMW Motorcycle Owners of America, Gold Wing Touring or Road Riders Association, Harley Owners Group, Honda Riders Club of America, Motorcycle Safety Foundation or Motorcycle Touring Association. You might get even more if you get involved with the group. For instance, Geico offers up to 20% discounts for instructors with the Motorcycle Safety Foundation.
Mention your safety equipment to your insurer: Some insurers will offer discounts if you can demonstrate that you have and wear a helmet and other safety features, such as an airbag in your motorcycle jacket - yes, that's a real thing.
Can I bundle home and auto or get a multi-policy discount?
Yes, you can.
Bundling means you have different insurance policies with the same insurer. So, if you get motorcycle insurance with the insurance company that provides your car and homeowner's insurance, you may get a discount.
Still, it's essential to comparison shop. If you get 10% off with your current insurer, that doesn't help you if your policy would have been 20% lower with another insurance company.
The most frequent causes of motorcycle insurance claims
In 2019 (the latest data available), 5,041 motorcyclists were killed in motorcycle crashes according to the National Highway Traffic Safety Administration (NHTSA). That accounted for 14% of all traffic fatalities. Another 84,000 motorcyclists were injured.
There are many situations that can lead to a rider's injury or death, some of which are preventable. Common causes of motorcycle insurance claims resulting from accidents are:
Driving while impaired. "Driving under the influence of alcohol or drugs can cause accidents, and the driver may face both civil and criminal liability," Schrader says. According to the NHTSA, motorcycle riders involved in fatal crashes had higher percentages of alcohol impairment than drivers of any other motor vehicle type (29%) in 2019.
Not wearing a helmet. Laws around helmet-wearing exist for a reason. In states with universal helmet laws, 9% of riders who died were not wearing one. That's in stark contrast to states without helmet laws, where 57% of motorcyclists killed in accidents weren't.
Car doors. Looking out for obstacles is important when riding a motorcycle, especially because auto drivers might not see you coming., "Accidents often occur when a car driver opens the door of their parked car in the path of an oncoming motorcycle," Schrader says.
Speeding. "Speeding reduces the chance to react to other drivers or vehicles in time to prevent a collision," Schrader says. "The faster the speed, the higher the risk of an accident."
The conclusion on motorcycle insurance
You may not want motorcycle insurance, but if you have a motorcycle, you need it. Your state, in fact, likely requires you to have it.
Ensure that you get more coverage than what the law requires when it comes to motorcycle insurance -- to avoid being underinsured.
You may just want to get out there on the open road and forget about your troubles, but that's what motorcycle insurance is all about. It allows you to ride with peace of mind, knowing that if something terrible happened, your insurance could prevent a bad situation from being worse.
Frequently Asked Questions About Motorcycle Insurance
How much is motorcycle insurance California?
The exact cost of a motorcycle insurance policy depends on many factors. However, your state does play an important role. According to data from Progressive, California is considered a high-cost state for motorcycle insurance. The average monthly price is $20.74, while the total 12-month policy average is $248.88 for a liability-only insurance policy with Progressive.
How much is motorcycle insurance for an 18-year-old?
One of the major factors affecting the cost of motorcycle insurance is age. Older, more experienced riders are less likely to get in accidents and file claims than younger riders. So, an 18-year-old should expect to pay quite a bit more for motorcycle insurance compared to someone older with a clean driving record. Of course, there are many other factors that go into calculating the premium, so it's tough to know the exact amount until you start shopping around and get quotes based on your personal information.
Do you need insurance for a motorcycle?
Every state requires you to have adequate liability insurance in order to ride a motorcycle. Minimum coverage levels vary by state. All states except Florida require you to show proof of insurance in order to register your bike. Keep in mind that having the minimum liability coverage will protect you legally, but you may need to up your coverage to be covered financially. The damage caused in an accident can far exceed liability coverage limits.
Does motorcycle insurance cover passengers?
Whether or not your passengers are covered by your motorcycle insurance depends on the type of coverage you have, where you live and who caused the collision. In general, there are three types of motorcycle insurance that will cover your passengers: personal injury protection, medical payments coverage and guest passenger liability coverage. Talk to your insurance agent about what types of coverage best fit your needs.
-- Geoff Williams contributed to this article.
Helpful Motorcycle Insurance Articles & Guides