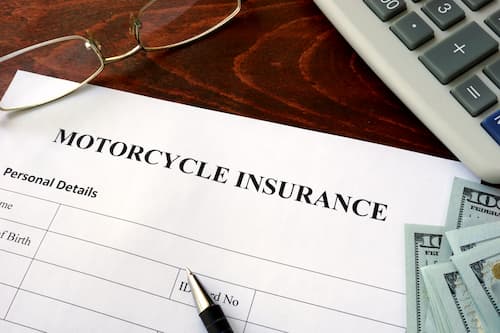 If you buy a motorcycle, it's normal to want to show it off to friends and family. But few people ever whip out their motorcycle insurance policy and brag about it. After all, your friends and family members would be unlikely to say, "Look at the shine on that deductible," and, "Wow, I wish I had property damage liability coverage like that."
But maybe motorcycle riders should brag about their coverage. Motorcycle insurance is a critical component of responsibly motorcycle riding. It's so important that in many states, it is legally required.
So, if you're looking to buy a motorcycle, you should be looking at motorcycle insurance - and thoughtfully.
In fact, you probably should research motorcycle insurance before buying your motorcycle, suggests Jay Miller, a motorcycle rider and the owner of MotorcycleSecure.com.
"Unless you're loaded and can afford anything, insurance should have a say while you're deciding which bike to buy and how to secure it. That's the only way you can actually get the best value for your money," Miller says.
There is a lot to understand about motorcycle insurance, especially if you want to be adequately insured. But don't worry, we've got you covered! Keep reading to learn everything you need to know about motorcycle insurance.
What coverages do experts recommend for motorcycles?
Here's what you should consider getting when it comes to motorcycle insurance.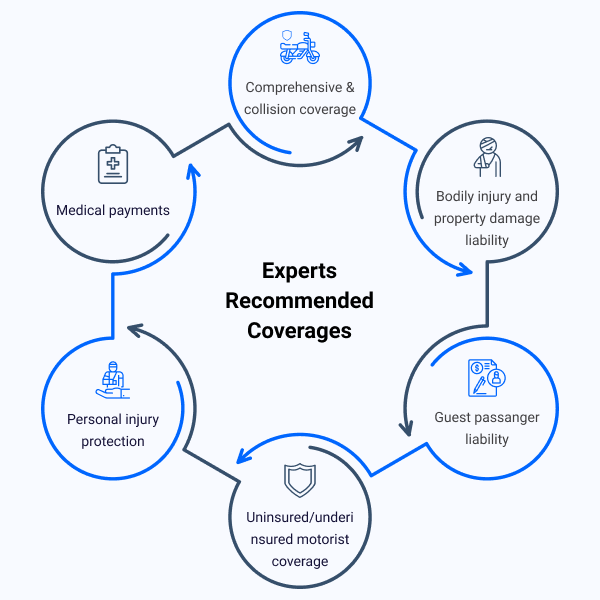 Comprehensive and collision coverage
This coverage pays to repair or replace your motorcycle if a thief makes off with it or if it is damaged in an accident. Considering that some motorcycles can cost as much as a car, you probably would want comprehensive and collision coverage for your bike. Of course, if you've taken out a loan for your motorcycle, your lender may require it.
"In an ideal world, everybody would buy comprehensive coverage the moment they first sit on a motorcycle," Miller says. Still, he acknowledges that you can't always do that. "The rule of thumb is to strike the sweet spot between what you can afford and what your real needs are," he says.
Bodily injury and property damage liability
Liability financially protects you if you're the one who is at fault for an accident that injures another person - or somebody else's property. Generally, in every state, you are required to have this type of motorcycle insurance coverage.
Guest passenger liability
Is somebody riding on the bike with you? You may not be covered for their medical bills if something goes wrong unless you have this coverage.
Uninsured/underinsured motorist coverage
Uninsured or underinsured motorist coverage kicks in if you get into an accident with someone and they're at fault, but they don't have insurance or enough insurance to pay for damages done to you and your bike. In a nutshell, if you don't have this type of insurance, you are underinsured. It can protect you from a financial nightmare.
Medical payments
This coverage helps to cover medical costs if you are in an accident and need medical care. But doesn't health insurance cover that? Health insurance rarely covers everything, and in most cases, there is a deductible and then a percentage of the medical care cost you'll be responsible for out-of-pocket. Medical payment coverage helps to bridge that gap if you're in a motorcycle accident.
Personal injury protection (PIP)
This is basically "medical payments coverage" with more benefits. If you go careening off your motorcycle and wind up in a body cast, your personal injury protection coverage could cover your salary or wages while you recover. If your kid has to go to daycare because you're unable to provide care, your PIP might pay for that. It's a bummer to mention, but PIP also pays for other unexpected expenses resulting from a motorcycle accident, like a funeral.
What motorcycle insurance coverage is needed to cover injuries?
Suppose you want to make sure any possible future motorcycle injuries are paid for by your motorcycle insurance. In that case, you'll want to get bodily injury and property damage liability, medical payment coverage and personal injury protection.
As we've noted, the bodily injury and property damage liability will ensure that if you hurt somebody else riding your motorcycle, your insurance can pay for their injuries.
Medical payment coverage should cover any healthcare costs that your health insurance doesn't end up covering.
And, again, personal injury protection goes the extra mile. If you're laid up due to injuries and the bills are piling up, PIP should help to offset those costs.
By the way, if you're noticing that we sometimes are using certain qualifiers, like "should cover," that's only because every policy is different. You'll want to read the fine print or talk to an agent before you buy a policy and assume that you're covered.
How much is a motorcycle insurance policy?
It varies, but it is generally less than car insurance. You'll often find prices around $20 per month. A lot of factors go into deciding motorcycle insurance rates, as you might imagine.
How old are you?
Where do you live?
Are you riding a new motorcycle bike that set you back $30,000 or a used bike that you paid $100 for?
What state do you live in?
What is your credit score?
All of those things and more are factored into your motorcycle insurance rate.
For instance, your state matters because if you live in a cold state, like, Maine, your motorcycle insurance quote will most likely be less than in Arizona. Why? Well, in a warm state, you might potentially ride every day, which means far more chances for something to go wrong than in Maine, where you're probably going to ride much less.
Progressive says its average rate for motorcycle insurance in low-cost states is $14.97 per month and $20.74 per month in high-cost states.
How do motorcycle insurance rates change with age?
As you would expect, when you're younger and more inexperienced, your motorcycle premiums are going to be the highest. As you get a little older, those rates will go down. A middle-aged motorcycle-riding mom is going to pay far less than her 18-year-old motorcycle-riding son.
Generally, your rates will drop until you hit around 70, and then your rates will start to climb once again.
Sport vs. touring vs. cruiser: How your motorcycle affects your motorcycle insurance quote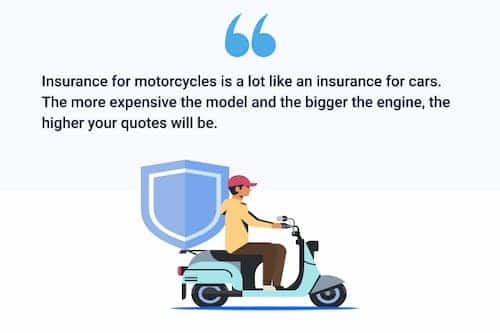 Cruisers are often considered good bikes for commuting and leisure riding.
A touring bike you tend to buy if you plan on riding long distances. Those tend to be bigger bikes, with larger fuel tanks and seating for a passenger, among other features.
Sports bikes are built primarily for racing.
You might think that the sports bikes would be the most expensive, and cruisers and touring bikes, less so, but it doesn't come down to that.
When it comes to getting a motorcycle insurance quote, motorcycles are a lot like cars. The more expensive the model and the bigger the engine, the higher your quotes will be.
Other factors that affect motorcycle insurance rates
Your insurer will also look at things like:
Safety features.How safe is your motorcycle? If your bike has anti-lock brakes and other safety features, like LED lighting or stability control, that can factor into a lower price for your insurance. Of course, you may not notice the dip in price if your motorcycle is on the high end of the cost - but, still, know that the safer your bike, the more your insurer is likely to reward that.
Safety reputation. Is your motorcycle brand known for crashing? That can cause your rates to climb.
Theft track record. Do thieves often go after the brand of bike you have? Half expecting that a robbery may be in your future, your insurer may jack up your rates a bit more.
Your safety record and driving history. If you have a lot of speeding tickets in your past, that can kick up your premiums.
Are there motorcycle insurance discounts?
As with other types of insurance, motorcyclists usually want cheap motorcycle insurance. We've talked about the factors that go into determining rates. But, there are ways to save.
Happily, you can find a lot of motorcycle insurance discounts to help you save money. As you may have noticed with the numerous TV ads touting motorcycle insurance, insurers are clamoring for your business. You may get a discount (10% is typical, but again, every insurer is different) if you:
Bundle. More on this below, but, yes, if you bundle insurance, you should get a discount.
Ride and don't get in accidents. Sometimes, after a few years of safe driving, an insurer will lower your premium.
Anti-theft discounts. If you have safety equipment to prevent theft or at least catch the thief, like having a GPS-driven location device on your bike, you may be able to get a pretty significant discount, like 20%, or you may see your deductible waived.
Buy a second motorcycle. If you insure two motorcycles, you may get a discount. Yeah, it's expensive to buy a $20,000 motorcycle to save a few dollars on your insurance, but if a second bike is in your future anyway, you may qualify for a multi-policy discount.
Take a motorcycle safety course. Many insurers will offer a discount for doing that.
Join a group. Some carriers will lower your premiums, often by around 10%, if you're with an approved group such as the American Motorcycle Association, BMW Motorcycle Owners of America, Gold Wing Touring or Road Riders Association, Harley Owners Group, Honda Riders Club of America, Motorcycle Safety Foundation or Motorcycle Touring Association. You might get even more if you get involved with the group. For instance, Geico offers up to 20% discounts for instructors with the Motorcycle Safety Foundation.
Mention your safety equipment to your insurer. Some insurers will offer discounts if you can demonstrate that you have and wear a helmet and other safety features, like an airbag in your motorcycle jacket - yes, that's a real thing.
Can I bundle home and auto or get a multi-policy discount?
Yes, you can.
Bundling, of course, is when you have different insurance policies with the same insurer. So, if you get motorcycle insurance with the insurance company that provides your car and homeowner's insurance, you may get a discount.
Still, it's essential to comparison shop. If you get 10% off with your current insurer, that doesn't help you if your policy would have been 20% lower with another insurance company.
The most frequent causes of motorcycle insurance claims
According to the Insurance Information Institute, in 2018, the last year we have recent national numbers, 4,985 motorcyclists were killed in motorcycle crashes.
In 2018, motorcyclists were 27 times more likely than passenger car occupants to die in a crash.
Kenneth Berger is an attorney in South Carolina, and he handles catastrophic injury and wrongful death cases. One of Berger's specialties is in motorcycle accidents, and he has seen the aftermath of some unpleasant wrecks.
"We represented a chaplain's wife who got nearly every bone in her body broken by a drunk driver while she was on a motorcycle. There was no underinsured motorist coverage, and the person who caused the crash had no assets," he says. "The maximum recovery we could get for her was only $25,000. We convinced the hospital to waive a nearly half-million-dollar medical bill to prevent bankruptcy for this chaplain's wife. Still, the temporary threat of going broke due to medical bills scared her far more than getting back on a bike."
Some of the most common causes of motorcycle insurance claims resulting from accidents are:
Head-on collisions
Cars making left-hand turns
Road hazards
Lane splitting
High speed
The conclusion on motorcycle insurance
You may not want motorcycle insurance, but if you have a motorcycle, you need it. Your state, in fact, likely requires you to have it.
Ensure that you get more coverage than what the law requires when it comes to motorcycle insurance – to avoid being underinsured.
You may just want to get out there on the open road and forget about your troubles, but that's what motorcycle insurance is all about. It allows you to ride with peace of mind, knowing that if something terrible were to happen, your insurance would do what it can to prevent a bad situation from being worse.
Helpful Motorcycle Insurance Articles & Guides