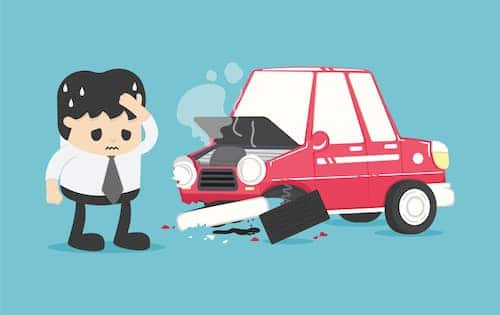 As a responsible driver, you have auto insurance to protect yourself in the event of an accident. Unfortunately, not everyone is so conscientious. Thousands of people hit the road every day without car insurance, and if you end up getting in an accident with one of them, you could be on the hook for medical costs, as well as the cost to repair or replace your vehicle.
According to the Insurance Research Council 12.6%, or one in eight drivers, are uninsured. "Let's say you're driving to the store today and some 19-year old [without insurance] plows into the side of your car," says Dave Emmette, chief operating officer and risk advisor at River Valley Insurance in Lowell, Michigan. "That's the type of scenario that plays out across the country every day, and in many cases, those who are hit by an uninsured driver may find they are stuck with expensive medical bills and other costs."
This is where uninsured or underinsured motorist coverage step up. Emmette says its affordable insurance that should be a part of everyone's policy. "I never, ever do a policy without it," he says. "Why would I want to? I want to have some recourse."
What is uninsured/underinsured motorist coverage?
If you are wondering, what does uninsured motorist cover? Here is a quick primer on what it can be used for in the event of an accident.
Uninsured and underinsured motorist coverage is insurance protection that helps cover your medical bills and the cost to repair or replace your vehicle if you are hit by a driver who is uninsured or underinsured.
An uninsured is someone who does not have any car insurance or has insurance coverage that doesn't meet state-mandated minimum liability requirements. Uninsured coverage may also come into play if the other driver's insurance company denies their claim or is not financially able to pay it. A hit and run driver also count as uninsured as it relates to bodily injury (UMBI), though, not normally for property damage (UMPD).
Underinsured motorist coverage is insurance protection that kicks in to help cover the cost of your medical bills or to repair damage to your vehicle caused by a driver who is at fault but who is carrying coverage limits too low to cover your expenses.
Underinsured drivers will often purchase only the minimum amount of insurance required by law, which in some states isn't much. For example, California only requires drivers to carry $15,000 per person and $30,000 per incident of bodily injury liability coverage. If a driver with low coverage limits hits you and causes a serious injury, it is possible that the available insurance benefit won't pay all your medical expenses. This is the definition of an "underinsured" driver.
If you are involved in an accident where the "at fault" driver lacks adequate liability insurance, your own underinsured motorist coverage will kick in to cover your expenses.
How much does uninsured motorist insurance cost?
Costs will vary, but in general UM/UIM coverage is very affordable. It typically costs roughly 5% of your annual auto insurance premium. For example, if an annual auto insurance premium costs $800, adding UM/UIM insurance will run about $40 per year.
Obviously, the cost will vary depending on a number of factors, including ticket history, prior claims, your credit score and policy discounts. Emmette defines the price as "nominal" and says motorists may find, as a rough estimate, it adds around five percent to an annual premium's cost.
The best way to learn the cost of UM and UIM insurance is to compare car insurance quotes from several companies.
Uninsured motorist rates by state
Below you'll see how states rank by the percentage of uninsured motorists, according to the latest data by the IRC.
Rank

State

Uninsured %

1
Mississippi
29.4%
2
Michigan
25.5%
3
Tennessee
23.7%
4
New Mexico
21.8%
5
Washington
21.7%
6
Florida
20.4%
7
Alabama
19.5%
8
Arkansas
19.3%
9
District of Columbia
19.1%
10
California
16.6%
11
Rhode Island
16.5%
12
Missouri
16.4%
13
Colorado
16.3%
14
Alaska
16.1%
15
Indiana
15.8%
16
Maryland
14.1%
17
Kentucky
13.9%
18
Oklahoma
13.4%
19
Wisconsin
13.3%
20
Idaho
13.2%
21
Ohio
13.0%
22
North Dakota
13.0%
23
Georgia
12.4%
24
Arizona
11.8%
25
Illinois
11.8%
26
Louisiana
11.7%
27
Iowa
11.3%
28
Kansas
10.9%
29
South Carolina
10.9%
30
Oregon
10.7%
31
Virginia
10.5%
32
Nevada
10.4%
33
Minnesota
9.9%
34
Hawaii
9.3%
35
Nebraska
9.3%
36
West Virginia
9.2%
37
Vermont
8.8%
38
Montana
8.5%
39
Delaware
8.5%
40
Texas
8.3%
41
South Dakota
7.4%
42
North Carolina
7.4%
43
Utah
6.5%
44
Connecticut
6.3%
45
New Hampshire
6.1%
46
Pennsylvania
6.0%
47
Wyoming
5.8%
48
Maine
4.9%
49
New York
4.1%
50
Massachusetts
3.5%
51
New Jersey
3.1%
National average
12.6%
How does uninsured/underinsured motorist coverage work?
The process depends on your state. Those who live in states with no-fault insurance laws may have to go to court for a judgment before they receive UM or UIM benefits.
In other states, the process for underinsured motorist claims may follow this flow: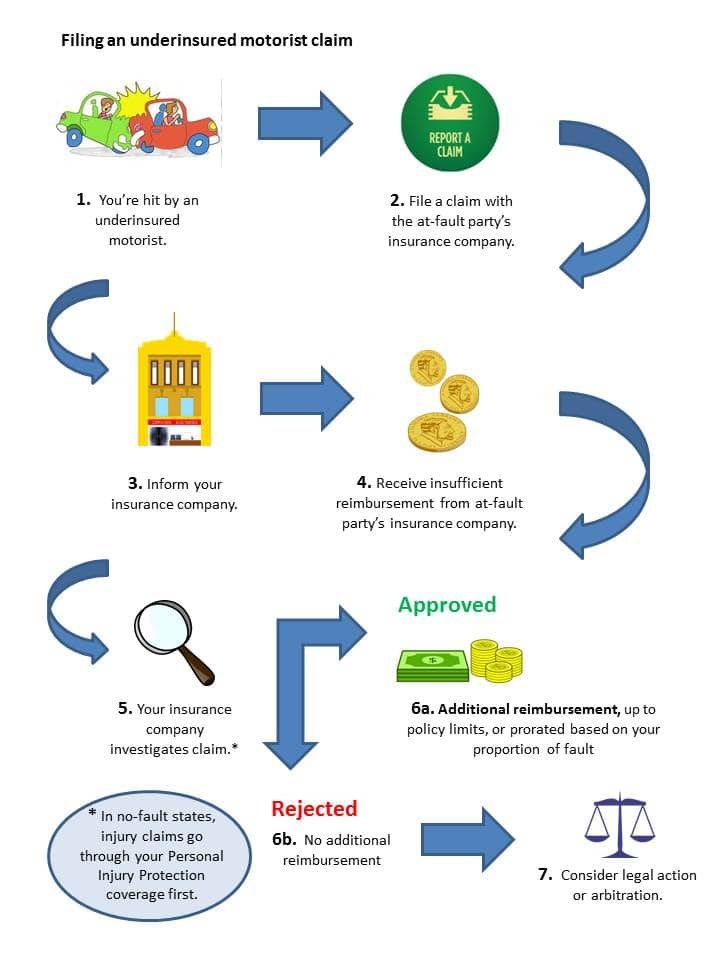 Filing an uninsured/underinsured motorist claim, steps detailed
You are hit by an underinsured motorist.
You file a claim for coverage with the at-fault party's insurance company as soon as possible.
If you believe the motorist is underinsured, you may also want to contact your insurance company to notify them of the situation.
Your insurance company may open a claim immediately, or they may wait until the other party's insurer has responded to your claim.
If the other party's insurance company is unable to pay all of your claim (or the other driver is uninsured), your insurance company will begin their own investigation.
Once the investigation is complete, you should receive compensation based upon your policy limits if your claim is deemed valid. In states with comparative negligence, your claim may be prorated to reflect the level of fault you shared in the accident.
If your insurer denies your claim or fails to offer what you believe is the appropriate amount, you may be able to go to arbitration or take legal action on the matter.
Uninsured/underinsured motorist coverage comes in two flavors
Uninsured/underinsured coverage offers liability protection as well as property damage, this coverage comes with separate but similar protections:
Uninsured motorist (UM) coverage for uninsured motorist bodily injury (UMBI):

UMBI can pay for injuries to people protected under your policy -- including family members in other cars and passengers in your insured cars -- resulting from a car accident caused by an uninsured driver. In addition to paying medical bills, UMBI may cover lost income as well as pain and suffering.

Uninsured motorist (UM) coverage for property damage (UMPD) :

UMPD can pay for damage done to your car by an uninsured driver you can identify, but almost never a hit-and-run driver. If you have the option of purchasing UMPD and collision coverage, UMPD usually pays your collision deductible only (so it may not be worth carrying the coverage if you have collision coverage already). UMPD is not available in all states, and when the term UM is used, it often refers to only bodily injury coverage. This coverage may come with a deductible, which is the amount you pay out of pocket before the insurance coverage steps up. While it can vary, the deductible is usually in the $200 to $300 range.

Underinsured Motorist (UIM)

This can pay for injuries the same way UMBI does. At fault drivers who carry only the minimum liability insurance may come up short in the event of a serious accident. With UIM auto insurance, you receive protection in the event that the at-fault driver's insurance fails to cover all your damages.

In some states, UM and UIM are bundled together as coverage, in others they can be bought separately.
Do I need uninsured motorist insurance?
Most experts would answer this question with a resounding yes. In some states it's a required coverage and even if it's not mandatory, you never know when you will have a run in with an uninsured driver. Review our table below, showing states where UM is required.
In some states, the odds of being hit by an uninsured driver are much higher than in other states.
All states require drivers to maintain some type of auto insurance or prove they have the financial resources to cover an accident but not everyone follows the law. Despite efforts by states to curb the number of uninsured motorists on the roads, the Insurance Research Council (IRC) in 2021 reported that 12.6% of drivers nationwide were driving without coverage in 2019, the last year for which data is available.
You might wonder why people would break the law and drive without insurance. A study by the Financial Responsibility and Insurance Committee of the American Association of Motor Vehicle Administrators found that 82% of uninsured drivers said they can't afford insurance or that their vehicle is inoperable or isn't in use.
According to the IRC "Uninsured Motorists, 2021 Edition," the following states have the greatest percentages of uninsured drivers:
Mississippi -- 29.4%
Michigan -- 25.5%
Tennessee -- 23.7%
New Mexico -- 21.8%
Washington -- 21.7%
Florida -- 20.4%
Alabama-- 19.5%
Arkansas -- 19.3%
District of Columbia -- 19.1%
New Jersey had the smallest percentage of uninsured drivers, with only 3.1% being without coverage in 2019 (the latest year with data).
Nationwide, approximately one in eight drivers is uninsured. However, in some states, as many as one in four or one in five cars on the road is driven by someone without coverage.
If you have a run in with an uninsured motorist, it can leave you paying for your own injuries or vehicle's damages and going to court to seek compensation. A much easier route is to carry uninsured motorist insurance as part of your car insurance policy and make a claim for your damages.
Your existing insurance company may not be the best solution for uninsured underinsured motorist coverage.
Do I need uninsured motorist coverage if I have health insurance?
In the end, only you can make this decision. The main function of uninsured motorist vehicle coverage is to help cover your medical bills after an accident involving an uninsured driver. If you have excellent health insurance UM may not be necessary as your medical bills should be covered your health insurance.
However, if you have a high deductible health plan, or just lousy health insurance, uninsured motorist coverage makes sense. This coverage will help pay your medical bills while eliminating copays and health insurance deductibles. Uninsured and underinsured motorist coverage will cover your out-of-pocket medical expenses, even if the at-fault driver can't afford to pay.
In addition, UM insurance may pay out for pain and suffering as well as lost wages. Uninsured motorist claims tend to be expensive so having this coverage can be a huge benefit if you are hit by an uninsured driver. According to the National Association of Insurance Commissioners the average claim payment for UM for injuries is $29,825.
What about my car?
If you are carrying collision coverage your vehicle will be repaired regardless of whether the person who hit you has insurance or not. However, if you are not carrying collision insurance, you will be on your own when it comes to fixing your vehicle after an accident if you are not covered by UM insurance. According to the National Association of Insurance Commissioners, the average claim payment for UMPD is $1,805.
Are uninsured motorist and uninsured motorist bodily injury coverages required?
Uninsured motorist insurance is not always required, but it is wise to carry it since it doesn't add that much to your monthly premium.
UM and UIM coverage is voluntary in more than half of U.S. states, but some do require their drivers have it. The following chart lists the states with uninsured drivers' insurance requirements and indicates the type of coverage that is mandated, as of 2020.
State requirements are shown for uninsured motorist, bodily injury (BI), uninsured motorist property damage (UMPD) coverage, and underinsured motorist property damage (UMIPD) coverage along with required coverage limits.
States with UM and/or UIM requirements
UM required
Estimated percent UM
BI needed with:
UMBI limits
UMPD required
UM and/or UMI PD limits

Connecticut

6.3%

UM/UIM

$25,000/$50,000

Illinois

11.8%

UM

$25,000/$50,000

Kansas

10.9%

UM/UIM

$25,000/$50,000

Maine

4.9%

UM/UIM

$50,000/$100,000

Maryland

14.1%

UM/UIM

$30,000/$60,000

X

UMPD $15,000

Massachusetts

3.5%

UM/UIM

$20,000/$40,000

Minnesota

9.9%

UM/UIM

$25,000/$50,000

Missouri

16.4%

UM

$25,000/$50,000

Nebraska

9.3%

UM/UIM

$25,000/$50,000

New Hampshire

6.1%

UM/UIM

$25,000/$50,000

New Jersey

3.1%

UM/UIM

$15,000/$30,000

X

UMPD $5,000

($500 deductible)

New York

4.1%

UM

$25,000/$50,000

North Carolina

7.4%

UM

$30,000/$60,000

X

UMPD $25,000

($100 deductible)

North Dakota

5.9%

UM/UIM

$25,000/$50,000

Oregon

9.0%

UM

$25,000/$50,000

Rhode Island

17.0%

UM*

$25,000+/$50,000*

X

UMPD $25,000

South Carolina

7.7%

UM

$25,000/$50,000

X

UMPD $25,000

($200 deductible)

South Dakota

7.4%

UM/UIM

$25,000/$50,000

North Dakota

13%

UM/UIM

$25,000/$50,000

Vermont

8.8%

UM/UIM

$50,000/$100,000

X

UMPD $10,000

($150 deductible)

Virginia

10.5%

UM/UIM

$25,000/$50,000

X

UM/UMIPD $20,000 ($300 deductible)

Washington, D.C.

19.1%

UM

$25,000/$50,000

X

UMPD: $5,000 ($200 deductible)

West Virginia

9.2%

UM

$25,000/$50,000

X

UM/UMIPD $25,000

($300 deductible)

Wisconsin

13.3%

UM

$25,000/$50,000
*Required if policy holder chooses to purchase limits higher than $25,000/$50,000.
Source: Uninsured estimates from Insurance Research Council; Limits from Insurance Information Institute
Only 22 states and the District of Columbia have UM and/or UIM coverage requirements. Insurance mandates appear unrelated to the estimated percentage of uninsured motorists by state. Whether or not you add UM/UIM coverage may depend on the coverage cost; be sure to consider whether or not you can afford to go without this important and inexpensive insurance.
What are the typical coverage limits?
As with the other components of auto insurance, consumers can select from a variety of coverage levels. Availability may depend upon the insurer and state, but coverage limits could be as little as $5,000 and run to $1 million or more.
Emmette recommends consumers select an UM limit that mimics their bodily injury limit. "If your bodily injury limit is $500,000, your uninsured coverage should be the same," he says. What's more, some insurers may limit you to UM coverage that is no greater than your other liability limits.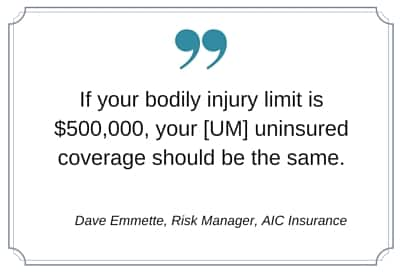 He adds it doesn't matter the size of the court award, drivers will only be compensated by insurers up to their policy limit. "Say a jury awards you $400,000, but your policy is for $100,000," Emmette says. "You get $100,000."
Typically, UM and UIM limits are split limits written the same as your liability limits, per person and per incident. So, if you have 100/300 coverage, it means $100,000 per person and $300,000 per incident. If you buy combined single limits, it would be of $300,000 and you could split that among one or multiple people as need be.
In states offering uninsured or underinsured motorist property damage coverage, consumers may have the choice to buy UM insurance as a split limit or combined single limit policy.
Split limit plans have separate coverage levels for UMBI and UMPD. For example, they may be written as $50,000/$100,000/$25,000, providing coverage of $50,000 per person, subject to a maximum of $100,000 per accident for bodily injury and 25,000 for property damage.
Combined single limit plans are offered in a small number of states, where one coverage level can pay for both UMBI and UMPD. For instance, a $100,000 policy will pay for up to that amount of UM claims, regardless of whether or not they are related to bodily injury or property damage.
Combined single limit policies are more flexible, but split limit plans may be less expensive.
What does uninsured motorist insurance cover in a hit-and-run?
A hit-and-run can play out in a few different ways. A driver could hit your car or your fence or mailbox, or hit you while you're out walking.
Where you live will most likely determine whether or not you can use your UM insurance for hit-and-run damage. In many states you can use your UM coverage to repair your vehicle and cover your medical bills after a hit-and-run accident, however there may be a deductible that comes into play. Check your policy or contact your agents for details regarding your specific policy.
In some states, UMPD insurance cannot be used for hit-and-run accidents. The following states will not allow drivers to use UMPD coverage for hit-and-run damage:
California
Colorado
Georgia
Illinois
Louisiana
Ohio
Stacking uninsured motorist and uninsured motorist bodily injury insurance
In some, but not all, states you can elect to stack your uninsured motorist bodily injury and/or underinsured motorist bodily injury coverage. With stacking, you typically pay a bit more for the ability to raise your limits by the number of vehicles you have insured in your household.
For example:
Jane has two cars in her household. Each vehicle has UMBI limits of 100/300, so if she needed to use her coverage, Jane and her passengers could receive $100,000 per person and her limits would top out at $300,000 per incident. Instead, if Jane stacked her UMBI coverages, her limits would double to 200/600. If she had three cars and stacked all the coverage, she could have 300/900 in UMBI coverage.
In general, there is no limit on the number of vehicles that can be insured and whose UMBI coverages are stacked. If you only have one car on your policy, then stacking is not an option for you, but if you have multiple vehicles, stacking can be one of the perks of multi-car insurance.
If your state allows stacking, stacked car insurance is available to drivers in roughly 30 states, be aware that not all car insurance companies offer a stacking option.