Why you should trust Insurance.com
Insurance.com is dedicated to informing, educating, and empowering you to make confident insurance decisions. Our content is carefully reviewed by insurance experts, and we rely on a data-driven approach to create unbiased, accurate insurance recommendations. Insurance.com maintains editorial integrity through strict independence from insurance companies.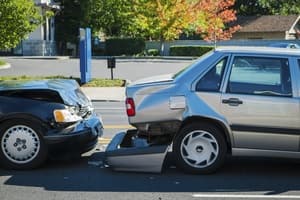 Your auto insurance covers auto body repair costs as long as you have the correct coverage. You need either collision of comprehensive insurance to cover damage to your car. however, it doesn't always make sense to file a claim for minor bodywork. In some cases, a claim can increase your rates at renewal time.
Here are five common accident scenarios that give you a rough idea about how much car repair costs and what type of auto insurance coverage you need to pay for the damage. We'll also help you determine whether it makes sense to file a claim on your policy.
Key takeaways
While there is nothing known as auto body repair insurance, comprehensive and collision coverage will pay for repairs.
Minor dents and scratches may not be worth paying the deductible.
You aren't required to use the auto body shop recommended by your insurance company, but the work may be guaranteed if you do.
Is auto body repair insurance included in my policy?
Technically, there is no auto body repair insurance, but yes, damage to your car's body is covered if you carry full coverage. Coverage for repairing damage to your car due to a crash or natural disaster falls under either collision or comprehensive insurance.
Collision pays for damage to your car caused by a crash – not only accidents with other vehicles but also objects, such as a telephone pole or fence. It also pays to restore your entire vehicle to pre-accident condition.
Comprehensive coverage will pay for damage to your car caused by something other than a collision. Here are just a few things that comprehensive covers:
Theft
Vandalism
Fire
Natural disasters
Water damage
Falling objects
Damage done to your car by animals, such as hitting a deer
Civil disturbance, such as a riot
Comp and collision will cover damages such as:
You will have to pay a deductible if you file a claim under your auto body repair insurance. Also, it is important to note that auto body repair insurance typically does not cover the cost of repairing damage to a car's engine or other mechanical breakdowns.
Dented bumper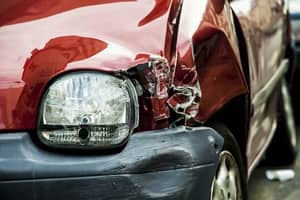 Bumper repair costs vary depending on the severity of the damage and the type of car. Bumpers these days have sensors that help collision avoidance systems. That can also mean costly repairs.
How much does it cost to fix a bumper?
Replacing a bumper can cost between $800 and $2,000. How much it costs to fix a bumper if it doesn't need replacement will be a bit lower. Bumper repairs run from $100 to $1,000, according to Eli's Collision Repair in Los Angeles.
How much does front bumper repair cost vs. rear bumper repair? That depends on the type of vehicle and the extent of the damage.
Auto insurance coverage:
Collision coverage takes care of car bumper repair, subject to your deductible.
You are not required by law to carry collision insurance – although your lender may require you to purchase it -- but you need this type of coverage to get your vehicle fixed.
Collision insurance has a deductible associated. The deductible is what you pay as part of the repairs.
If you also damaged the telephone pole, your property damage liability coverage, which is required by law, should pay for that repair.
Should you make a claim with the insurance company?
There is no right or wrong answer to this question; it depends on your circumstances. However, if you decide to make a claim, your premium likely will increase at renewal time.
How much will rates increase?
There is a good chance your premium will rise anywhere from $2,551 to $3,863 for a first at-fault accident. It's worse if you have a second at-fault accident – that will boost your rates from $2,551 to $5,492.
Deep paint scratches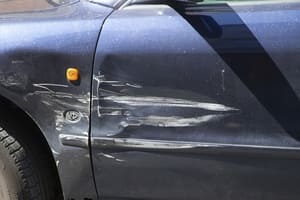 Like most of these repairs, the cost to repaint a car can vary depending on the damage. How much does it cost to repair a deep paint scratch? What about multiple scratches? A lot of damage to the paint may end up requiring a whole new paint job.
How much does it cost to repair extensive paint damage?
A coat of synthetic enamel paint might cost between $300 to $700 for an average-sized sedan, according to a J.D. Power analysis. On the other hand, if the car requires multiple coats of high-quality paint, the cost can soar into the thousands. So while you can make a claim for scratches, the cost to repair the damage may or may not make it worthwhile.
Auto insurance coverage:
Auto insurance claims for vandalism are covered by comprehensive insurance, subject to your deductible. If someone scratched your car and didn't stick around to take responsibility, that's considered vandalism.
Comprehensive coverage comes with a deductible. You can choose your deductible; in most cases, a higher deductible lowers your premium.
When it comes to comprehensive claims, it's always a good idea to get a police report. Many insurance companies require it.
If the scratches happened, for example, as another car was backing out next to you and scraped your car, their liability would cover the damage. However, if you were the one backing out, your collision would kick in.
Should you make a claim for paint scratches?
As long as the claim amount is significantly more than your deductible, or more than you can comfortably pay out of pocket, you should consider making a claim. In most circumstances, a comprehensive claim shouldn't raise your premium.
Cracked windshield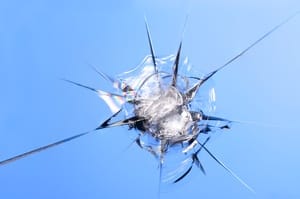 In most cases, if you have comprehensive coverage, fixing a cracked windshield should only cost a small deductible – and possibly nothing at all. However, you could be paying for new glass if you're uninsured, not carrying comprehensive coverage, or covered by a bargain basement policy that doesn't offer windshield replacement.
How much does it cost to fix a cracked windshield?
A small crack can be repaired cheaply, even without insurance. However, windshield replacement can be pricey.
The cost of a new replacement windshield varies greatly depending on the year and make of vehicle, says Jon Cardi, senior vice president of strategic client sales and support at glass company Safelite.
"For vehicles that are five years and older with limited features like rain sensors or radio antennas, many common windshields may range from $350 to $450," he says.
Newer, more complex windshields carry advanced safety features such as emergency braking and lane-keeping assist. That means the forward-facing cameras require recalibration when a windshield is replaced.
"The typical cost of the windshield replacement with the recalibration process begins near $800, often surpassing $1,000," Cardi says.
What will auto insurance cover when it comes to my windshield?
Windshield replacement or repair is covered by comprehensive insurance. The details vary by the insurance company, but most insurers allow you to have your windshield replaced once a year for a small deductible, or, in some cases, no deductible.
There are three states where the law requires windshield replacement to be covered with no out-of-pocket expense for drivers who carry comprehensive insurance coverage, Cardi says.
"South Carolina and Kentucky cover both the windshield and side glass, and Florida covers the windshield only," he says.
In addition, there are five other states where an endorsement to the comprehensive coverage can be purchased to "buy down" the deductible:
Arizona
Connecticut
Massachusetts
Minnesota
New York
"There are also a number of carriers that are extending this type of policy to other states, so shopping for the right coverage is important," Cardi says. If you choose to have a crack repaired before it spreads across the windshield, most insurance companies will waive the deductible.
Most insurers offer a full glass rider to your policy, which repairs or replaces glass damage with a zero deductible. This rider tends to be fairly affordable.
Should you make a claim for a cracked windshield?
There is no real downside to making a claim for a windshield replacement. You get a new windshield for free or a small deductible and in almost all cases, your premium will not be affected at renewal time.
Suspension damage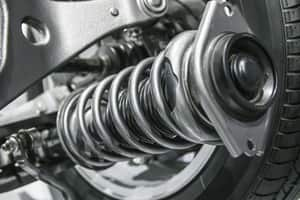 Damage to your suspension can come from a variety of sources, but hitting a pothole is a common cause of damage.
How much does it cost to fix pothole damage?
The cost to repair suspension damage from a pothole can vary dramatically depending on the damage and your vehicle. However, according to the Auto Chimps website, most repairs are likely to cost between $200 and $400.
Auto insurance coverage:
Your car insurance collision policy would cover this type of damage if a precipitating event of some type caused the damage, such as driving over a pothole.
However, car insurance will not pay for regular wear and tear to your suspension.
Collision comes with a deductible. In many cases, the pothole damage may not be enough to make a claim worthwhile.
Should you make a claim for pothole damage?
Probably not, unless the damage is significant and you can't afford to cover the cost out of pocket. Most of the repairs would fall under your deductible amount (even if you carry a low deductible, such as $500), so it makes no sense to file a claim.
In addition, filing a collision claim will almost always result in a premium increase. Save your insurance for major repairs and pay for smaller ones out of pocket.
However, if your entire suspension needs to be replaced or you can't afford the repairs, using your insurance may be a necessity.
Rear end damage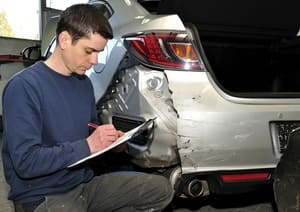 According to data from the National Transportation Safety Board, there are roughly 1.7 million rear-end collisions in the U.S. every year.
How much does it cost to repair rear-end damage?
It's almost impossible to put a price range on repairing this kind of damage. Rear bumper replacement costs can range from a few hundred dollars for a bumper up to $10,000 or more if the frame of your car is bent.
Auto insurance coverage:
If you are not at fault, the other driver's insurance will cover your damages, assuming the other driver has insurance.
Damage to your car: The damage to your vehicle would fall under the property damage portion of the other driver's liability policy. While most industry experts recommend carrying $50,000 in property damage, not everyone follows that advice.
If your fellow motorist only carries the required state minimums, you may end up on the hook for the costs of repairing your car. Minimums vary by state, but in California, for example, the property damage requirement is a mere $5,000, which will most likely not get your car back on the road.
If your fellow motorist is entirely uninsured or is carrying low coverage levels, your own collision coverage (assuming you have it) will cover the cost of repairing or replacing your vehicle.
If you failed to add collision coverage to your policy, your last chance to avoid a big out-of-pocket expense is an uninsured/underinsured motorist property damage policy. This coverage kicks in to repair or replace your vehicle if the person who hit you is uninsured or not carrying enough coverage to fix your car.
Should you make a claim for rear-end damage?
In this particular situation, the other driver's insurance should pay for both the damage to your car and your body. If they're uninsured or underinsured, you may have to turn to your own policy, assuming you are carrying uninsured/underinsured coverage.
You will need to carry uninsured/underinsured bodily injury and property damage if you want your medical bills paid for and your car repaired. If you decline these coverages and the person that hit you is uninsured, you may be on the hook for the damages or headed to court if you end up suing the other driver.
It's important to remember that your health insurance policy should cover the cost of your hospital bills.
Collision repair costs at a glance
How much does car body work cost? Here are some of the most common repair costs.
Dented bumper: $800 to $2,000 to replace
Deep paint scratches: $300 to $700
Cracked windshield: $350 to $1,000 or more to replace
Damaged suspension: $200 to $400, more if the damage is severe
Rear-end damage: Up to $10,000
Frequently asked questions: Insurance and bodywork
Should I file a car insurance claim for auto body repair?
Before you file a claim, you must know the details of your auto insurance policy. Read over your contract and determine what type of coverage is offered for auto body repairs. You'll have this type of protection with comprehensive or collision coverage.
Also, it's worth getting an estimate from the shop to decide whether it is worth filing a claim and paying the deductible for a car repair.
Should I choose the insurance company's preferred auto body shop?
While your insurer can suggest one of its recommended shops, you are not obliged to use that option.
Auto body shops in the insurance company's network often guarantee the work, so consider how important that is to you. However, where you have your car repaired is always up to you.
How much does bodywork cost?
The cost of bodywork depends on what work is being done, what body shop you use and your location. Typical repair costs for minor damage might be a few hundred dollars or less, but the bill can be much higher if the damage is severe.
Does full coverage insurance cover car repairs?
Yes, full coverage insurance may cover car repairs if the issue is caused by collision or other covered events, such as fire or theft. However, a full coverage policy does not cover normal wear and tear, or mechanical breakdowns.
Can I claim insurance for car scratches?
Yes, you can file an insurance claim for car scratches if it is caused by a covered peril like vandalism or car accidents. However, if the scratch is small and is the only issue with the car, it may not be worth filing a claim.
Do I have to repair my car with an insurance check?
No, you don't have to use the money for repairs. However, if you have a loan, you must repair the damage to your car. Also, you will not be able to file another claim for the same damage if you don't repair it.
Do auto body shops report damage to insurance?
No, it is up to the policyholder to promptly report damage to the insurance company. The auto body shop has an obligation to fix your car, and nothing more.
Reporting the damage promptly is the best way to get the repair process underway so you can get back out on the road.
Once you have reported the damage, the claims process can get underway. The insurance company will do the initial inspection, discuss things with the repair shop and negotiate a price, says Loretta Worters, vice president of media relations for the Insurance Information Institute.
"Once the job is completed, typically the check is cut to the auto repair shop," she says.
Sources:
Helpful Auto Insurance Articles & Guides