Why you can trust Insurance.com
Insurance.com is dedicated to informing, educating, and empowering you to make confident insurance decisions. Our content is carefully reviewed by insurance experts, and we rely on a data-driven approach to create unbiased, accurate insurance recommendations. Insurance.com maintains editorial integrity through strict independence from insurance companies.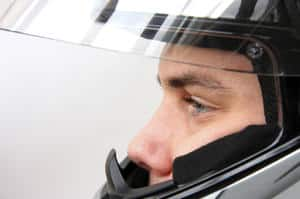 Tired of forking up $50 to fill up your car and spending hours stuck in traffic?
Crunching the numbers is depressing. At an operating cost of 55 cents a mile, a 40-mile round-trip daily commute costs more than $50,000 over 10 years.
Trading four wheels for two can put some of that hard-earned cash back in your pocket and maybe even increase your street cred. But the learning curve is steep, risky and not without unexpected costs of its own.
KEY TAKEAWAYS
Motorcycles can be cheaper to insure than cars, but it depends on where you live.
Motorcycle insurance policies comes with some level of accessories coverage and roadside assistance.
Some insurance companies offer a motorcycle safety course discount as well as discounts for anti-lock brake systems.
Experts suggest, bikers should get a medical payments coverage even if they have medical insurance in place.
Cheaper to buy, cheaper to run
Unless you are cruising a true junker, your dollar will always go further at a bike shop than your local car dealership.
A mere $4,199 will put a brand-new Honda CBR 250R complete with anti-lock brakes in your driveway. The cheapest new car available is the 2015 Nissan Versa, at $11,990.
Going used doesn't change the game much. A cruiser like the 2008 Honda Shadow Spirit with less than 10,000 miles can be had for less than $4,000. Typically, cars that fall into this price range have well over 100,000 miles and are much older.
The savings on gas can be dramatic as well. Mileage on bikes usually starts around 50-60 mpg, so unless you are driving a Prius, a two-wheeler will usually cut your fuel bill in half.
However, you still have to pay for maintenance, tires, safety classes and equipment, which can jack up the cost of riding, especially for newbies.
Other upfront costs can stack up
A training class is essential for new riders, and in some states it's required. Matthew Jacobs, motorcycle product manager with Progressive, recommends taking a motorcycle endorsement class early on in the decision- making process. "Making sure that you are a confident and safe driver is very important," says Jacobs.
Costs vary, but budget $300 for a training class.
Probably the most expensive piece of equipment will be the one protecting your head. A solid middle-of-the-road helmet will run $300 to $600. You will need two of these if you plan on hauling a passenger from time to time.
Covering the rest of your body with a jacket, boots, gloves and leathers can easily run another $600. Figure an extra $200 for raingear if you plan on riding in less than stellar weather.
Budget for tires – and hotel rooms
A helmet and raingear are one-time expenses, but maintenance isn't.
Motorcycles tend to need more frequent maintenance than cars do, but it's not necessarily more expensive. A spokesperson for the Motorcycle Industry Council (MIC) says spending averages $138 year, with more than half of owners turning the wrenches themselves or getting help from a friend.
Tires need to be replaced every 4,000 to 11,000 miles, MIC says. Tires can cost upward of $300 a piece for sport bikes and closer to $100 for a cruiser. The MIC owner survey found that riders spend an average of $105 a year on tires.
Another expense to consider is the occasional car rental or emergency hotel room, for those times when a motorcycle is impractical, inconvenient or unsafe. A Zipcar car-sharing membership is about $70 a year.
Insurance can be cheaper… or not
Motorcycle insurance can be cheaper to insure than car insurance, but it depends a lot on where you live.
Pricing out coverage on a used Honda Shadow Spirit 750, a 24-year-old rider in Jacksonville, Florida, looking for state minimum liability levels would pay about $71 a year, according to quotes provided by Insurance.com. The same driver would pay about $830 a year for basic liability coverage on a 1998 Honda Civic.
Upgrading to a newer bike that's financed, a 2013 Honda CBR250R, requires collision and comprehensive coverage; that would bring the annual bill for the 24-year-old to $297. The same level of coverage on a financed 2007 Mazda3 would be $1,558.
In California, those numbers look a lot different: $209 a year to insure the paid-off motorcycle, but $1,940 for full coverage on the new bike. Insuring the paid-off Civic would cost the driver $768 a year, and the financed Mazda is actually cheaper than the new motorcycle at $1,544 a year.
Many motorcycle policies include some level of accessories coverage -- $3,000 is typical -- and roadside assistance.
More risks: Watch your coverage
Discounts can help drive insurance costs down, some of which are specific to bikes. Glenn Greenberg with Liberty Mutual, says,"We offer a motorcycle safety course discount as well as discounts for safety features such as anti-theft systems and anti-lock braking."
There's a reason insurance companies offer discounts for anti-lock brake systems (ABS): They save lives and prevent claims. The rate of fatal crashes for ABS-equipped bikes is 31 percent lower than for those without, says the Insurance Institute for Highway Safety.
If you're a newbie, ABS is even more important. Claims during the first 90 days of an insured rider's policy drop 30 percent with ABS compared to an otherwise identical model, the IIHS says. In the second three months, as riders grow more accustomed to their bikes, the advantage shrinks to 19 percent.
If you are a homeowner, a motorcycle policy typically will net you a home and auto bundling discount as well.
Insure for the worst
The Centers for Disease Control and Prevention says unhelmeted riders are twice as likely to suffer a traumatic brain injury after a crash, and medical costs are 13 times higher for riders with a brain injury.
According to the National Safety Council, motorcycles account for 14 percent of all traffic fatalities despite only making up only 3 percent of all registered vehicles.
In 2011, more than half (59 percent) of the fatally injured motorcycle riders were not wearing a helmet in states without universal helmet laws, NHTSA stats show.
Even most diehard bikers will admit that motorcycles are simply more dangerous than cars. You should plan for that.
All bikers should also consider medical payments coverage, Greenberg says. "This will pay for your immediate medical expenses from an accident whether or not you are at fault and could be beneficial if you lack proper health insurance coverage," he says.
Even if you have health insurance, medical payments can help with the deductibles and co-pays, and it covers some things health insurance won't, like ambulance fees, dental or funeral expenses.
Greenberg says the likelihood of more severe injuries means it's a good idea to carry uninsured and underinsured motorist coverage, too, in case the driver who hits you doesn't have insurance or high enough limits to pay your bills.
The (in)convenience factor
These days, Patrick Barnhill of Miami rides occasionally for fun, but he went for years with just a bike.
"I was lucky; I had so many close calls," he says.
Weather is a huge factor. Even in fair weather towns, storms can quickly leave a biker stranded or calling for a ride. Barnhill recalls being caught out when Hurricane Katrina blasted into town in 2005: "When I left work that night, there were already 50 mph gusts over the causeway, palm tree branches flying by, horrible visibility, getting blown around by the hurricane gusts. It was the wildest ride of my life."
Barnhill ended up abandoning the bike for the safety of a friend's Humvee. "I parked at the first hotel and called a buddy to pick me up. … I never would have made it home."
Everyday tasks such as grocery shopping or buying a new lamp can become more difficult as well.
Zac Alfson of Winter Park, Florida, has been using a bike for about a year and has learned a few tricks. "I get groceries as I need them -- instead of once a week. I have storage on my bike and a large backpack that helps with larger items such as framed art and gallons of milk."
In the end though, it helps to have friends with four wheels, "I live with someone who drives a car, so if there something too big we'll get it together," says Alfson.
Helpful Motorcycle Insurance Articles & Guides