Why you can trust Insurance.com
Insurance.com is dedicated to informing, educating, and empowering you to make confident insurance decisions. Our content is carefully reviewed by insurance experts, and we rely on a data-driven approach to create unbiased, accurate insurance recommendations. Insurance.com maintains editorial integrity through strict independence from insurance companies.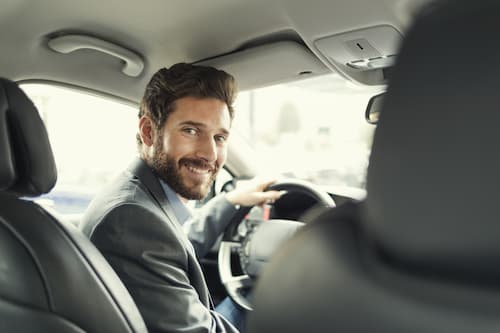 Of all the car insurance discounts available, the ones for low-mileage are about as simple as it gets.
There are three ways to snare a low-mileage discount.
The first way (and probably the most common) is to estimate your mileage when you enroll, though some insurers may ask for periodic verification. Savings from these discounts average about 2 percent nationwide for annual mileage below 7,000, according to comparative data gathered by Quadrant Information Services, but can be as high as 20 percent in California, where laws favor low mileage as a rating factor, or virtually nonexistent in Hawaii, where residents tend to drive less.
The second way is to let insurance companies actually measure how far you drive, from the daily commute to that road trip you've been planning. Most major insurance companies offer a pay-as-you-drive (PAYD) program that places a reporting device in your vehicle and offers a discount at renewal time.
Most insurers who offer PAYD claim good, accident-free drivers can save as much as 30 to 50 percent if they drive infrequently. It also helps if you avoid roads during peak accident hours, usually between midnight and 4 a.m. Some will record hard braking events and speed. (See an overview of pay-as-you-drive plans from major insurance carriers.)
The third way to get a low-mileage discount is pure pay-by-the-mile, currently offered by Metromile in only seven states, where how much you drive directly affects the next month's bill.
KEY TAKEAWAYS
Pay as you drive makes sense to insurers and drivers who drives less and thus pose fewer risks.
Insurance companies use telematics gizmo in your vehicle's diagnostic OBDII port to track your driving habits.
Companies offer you a discount of 5-10 percent when you sign up. It's only for the first year and it won't affect your next renewal.
If you are a good driver, you can save 30-50% on your insurance if you drive infrequently.
Who saves the most from pay-as-you-drive policies?
If you listen to car insurers, they're eager to say that the pay-as-you-drive model continues to throttle forward in the marketplace. Progressive, credited with being the first in the field, says its Snapshot plug-in device and smartphone app have tracked billions of customer miles. The fanfare doesn't stop there; the insurer claims it's paid out more than $600 million in discounts through the program.
Although fairly new to the game, Nationwide, another big insurer, saw the potential and developed its own product. SmartRide also uses a plug-in to watch mileage and road performance. The company says premium drops are a major incentive; participants get a five percent discount off the top, with savings approaching 30 percent a year, depending on the driver's numbers.
But despite those attractive figures, many motorists still have questions about what pay-as-you-drive (also known in the industry as UBI, for usage-based insurance) is, what you need to get it and what to expect when you have it.
These pay-as-you-drive models are first and foremost a reward for low-mileage drivers. It makes sense to insurers -- drivers who are on the road less pose fewer risks to their bottom line.
The biggest breaks go to those who drive the least. Some insurers like Progressive and Allstate (through its Drive Wise program) also use the plug-ins to monitor the time of day you drive and if you brake hard.
State Farm's Drive Safe & Save program and National General Insurance's Low Mileage Discount base rates primarily on mileage, but you have to have OnStar or Sync to qualify because these telematics-based subscription services, not a plug-in, gather the numbers.
Like Progressive, State Farm's program can also be accessed through a tracking app installed on your smartphone or tablet. However, these apps aren't available in all states. The insurers can tell you if you qualify.
"The plans are a great way for the lowest-risk drivers to save money," says Michelle Megna, Insurance.com managing editor. "But be realistic if you drive a lot or have a lead foot. You don't want to count on a discount that might not materialize."
How pay-as-you-drive systems work
Most of the plug-ins operate the same way: You stick the telematics gizmo in your vehicle's diagnostic OBDII port (most cars beginning in 1996 have them) near the steering wheel and it records and reports your driving habits.
The OBDII plug-in devices typically aren't compatible with hybrid or electric cars, and because they recognize your car's VIN they cannot be swapped into another vehicle.
Most of the big insurers, including Progressive, let you test-drive the gizmo for a time (usually a month) before making a decision.
Once data is sent to the insurance company, it's available to you through a website or app, so you can see how specific driving behaviors affect your rates.
You must return the device when you switch insurers, buy a different car or leave the PAYD program. If you don't, you'll have to pay for it.
Metromile, an upstart insurer that began writing policies a few years ago, is a little different in that it offers a plug-in that ties a policy's price solely to miles driven and sends a monthly bill.
It's expanded its availability in the past several months, now offering coverage in California, Illinois, New Jersey, Oregon, Washington, Pennsylvania and Virginia. CEO Dan Preston says it hopes to eventually expand to more states, adding that Metromile, on average, can save motorists about $500 a year.
There are other methods of tracking customer mileage and behavior. Several insurers use General Motors' OnStar or Ford's Sync communications system to report mileage data.
How much can you save with pay-as-you-drive plans?
Many companies offer an introductory discount of 5 to 10 percent that applies until the incoming data is used to calculate the discount off your next renewal.
Once the data is used to calculate your car insurance discount, the amount can change at each renewal period.
Dave Pratt, general manager of usage-based insurance for Progressive, says the discount through Snapshot could reach 30 percent or more but adds that a 10 to 15 percent is more common. That's about a $150 yearly savings for most customers, according to the company's website.
State Farm says the discount for its In-Drive plug-in could even reach 50 percent, although that's for near-perfect drivers. The company explains that customers get a 5 percent discount at sign-up. Another 20 percent might be trimmed from your premiums if you stay below 12,000 miles a year, the national average.
But PAYD hasn't avoided controversy. Some policyholder s have long worried that insurers could use the information to actually hike premiums for poor drivers. Insurers have routinely tried to calm motorists, saying that's unlikely to happen.
But Progressive has begun to roll out the possibility of surcharges, or increases, on newly enrolled Snapshot participants whose more aggressive driving behavior makes them risky.
Other carriers have conceded that they may follow suit. But some, like Allstate and Nationwide, have said that performance within these programs won't trigger higher rates.
Who can see your driving data?
PAYD devices can do far more than just record mileage. They can measure speed, acceleration, cornering, braking and location, though current plans do not calculate discounts based on GPS data.
State Farm, like other insurers, points to the company website for privacy information. The site offers some details, including that "we do not allow those who are doing business on our behalf to use our customer information for their own marketing purposes."
Progressive's website offers this: "We won't share Snapshot data with a third party unless it's required to service your insurance policy, prevent fraud, perform research or comply with the law. We also won't use Snapshot data to resolve a claim unless you or the registered vehicle owner gives us permission."
Helpful Auto Insurance Articles & Guides