Why you should trust Insurance.com
Insurance.com is dedicated to informing, educating, and empowering you to make confident insurance decisions. Our content is carefully reviewed by insurance experts, and we rely on a data-driven approach to create unbiased, accurate insurance recommendations. Insurance.com maintains editorial integrity through strict independence from insurance companies.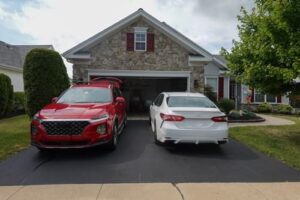 You've probably seen commercials about bundling home and auto insurance to save money. But what does that actually involve? And how does it benefit consumers?
While the specifics of bundling can vary by insurer and based on your situation, bundling auto and home insurance essentially means getting both insurance products from the same insurer. By choosing both forms of insurance from the same provider, you can get a discount on both policies and save money.
It's important to understand what bundling looks like with your preferred insurer and ensure you're getting the best price this way vs. going with separate providers.
Key takeaways
Bundling home and auto insurance is simply taking out more than one insurance policy type with the same insurer.
By bundling home and auto insurance, you typically get a multi-policy discount.
Even without a bundle discount, some insurers might be less expensive, so you should compare rates.
What is an insurance bundle?
An insurance bundle is two or more lines of insurance bought through one insurance company. The most common bundle pairs home and auto insurance together for a discount on both policies.
With insurance, "the whole idea is everyone's chipping in a little for potentially a large benefit. So, when you bundle everything with one company, they're going to be able to offer you discounts," says John Oakden, personal lines advisor at The Mahoney Group.
That's because the data for insurers typically shows that customers who bundle insurance products, and therefore pay more in premiums, are typically more profitable as insurance customers, explains Oakden. "So they get a better price."
From an insurer's point of view, though, bundling isn't the only thing that matters to their business. The advertising around bundling can be a little misleading, says Oakden, "because the important element of insurance is tenure. Staying with a company for a long time is generally better for the insurance company."
Benefits of bundling insurance
One of the main benefits of bundling insurance is that you can get a multi-policy discount.  Typically, you can save a combined 20-30%, says Oakden, compared to buying those same policies separately with the same insurer.
That said, if an insurer has high rates, you might not save money overall when bundling — even with a discount — compared to buying two separate policies from lower-cost insurers.
Another potential benefit of bundling is that you can simplify your insurance management. Handling everything through one insurer might be easier for you.
Here too, however, there can be a risk. If an insurer cancels one of your bundled policy lines, you could potentially lose the multi-policy discount, thereby no longer making it cost-effective to have that other type of insurance with them.
"So the biggest drawback when you bundle is if you lose one policy, then you're [typically] going to have to move both," says Oakden.
How to bundle home and auto insurance
Bundling home and auto insurance is relatively easy. Your existing insurer might offer promotions enticing you to switch, in which case you could apply for the new coverage and cancel your old one after approval. Or, if you're starting from scratch, you could let prospective insurance agents or brokers know that you're looking to bundle, and they can provide you with multi-policy discount offers.
Take your time to shop around and find the best home and auto bundle for your needs.
Even if your preferred insurer doesn't advertise bundles, that doesn't mean they don't offer them. Essentially any insurer would provide a multi-policy discount for bundling home and auto insurance, says Oakden.
You can also get a discount for bundling auto with renters insurance if you don't own a home.
The best way to shop for home and auto insurance
If you're wondering how to shop for home and auto insurance, start by comparison shopping. Get quotes from different providers, such as via an online marketplace or by speaking with an independent insurance agent.
From there, look at prices for buying policies from separate insurers vs. what the combined cost would be if you get a bundle discount. This might take a little extra upfront work to get all these different quotes, but it could pay off if it saves you money every year you maintain those policies.
And don't be afraid to ask questions. If you're unsure about pricing, such as when looking at bundle discounts vs. separate policy prices, ask your insurance agent or the company you're getting quotes from. Make sure you understand what policies cover too, not just what they cost.
Frequently asked questions: How to bundle auto and home insurance
Is it cheaper to bundle home and auto insurance?
While insurers generally provide discounts for bundling home and auto insurance, that doesn't mean bundling is always cheaper overall. In some cases, buying policies from separate insurers can get you the best rates because even though you might not get a discount this way, the base rates might be lower than the discount rates.
Should I bundle home and auto insurance?
Bundling home and auto insurance can be a great way to save money, especially if you want to work with the same insurer for both policies. However, it's helpful to compare rates to see if purchasing separate policies from different insurers would work better for you.
Helpful Auto Insurance Articles & Guides