Why you should trust Insurance.com
Insurance.com is dedicated to informing, educating, and empowering you to make confident insurance decisions. Our content is carefully reviewed by insurance experts, and we rely on a data-driven approach to create unbiased, accurate insurance recommendations. Insurance.com maintains editorial integrity through strict independence from insurance companies.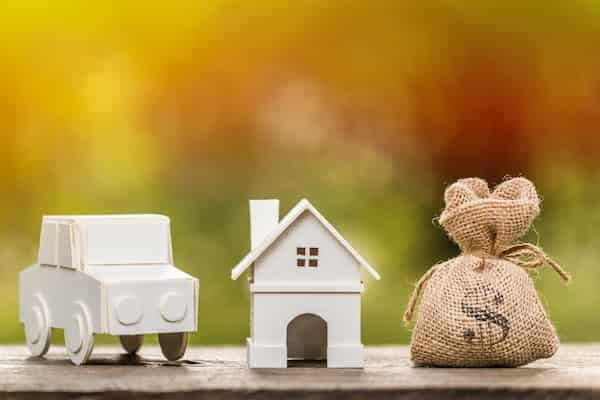 One of the most common tips for saving on home and auto insurance is to consider bundling policies with the same insurer.
Bundling is one of the biggest home insurance discounts; it's also a big discount for the bundled auto insurance policy.
The overall average savings with an auto and home bundle is 15%, based on Insurance.com's 2022 data.
But is bundling always the best strategy for getting a deal? No, in fact. It's important to do your homework and shop around because, in some cases, you may be better off getting your home and auto from different insurers. And some people are breaking up bundles for cheaper rates.
J.D. Power, as part of its 2022 U.S. Home Insurance Study, found that rapidly changing market dynamics are at play.
"Sky-high auto loss costs and resultant auto premium increases are creating ripple effects throughout the insurance industry," Robert Lajdziak, director of global insurance intelligence for J.D. Power, says in a press release. "As a result, one area that is being severely disrupted is the home and auto insurance bundle."
When Insurance.com compared the best home and auto bundles, the data showed that a customer with The Hanover, for example, could bundle their home and auto policies at an annual cost of $5,483, a savings of about 21%. However, if the same consumer were to obtain their home insurance with The Hanover and get their auto insurance from State Farm, the total annual premiums would be $5,141, or a savings of $342 over the bundled offering from The Hanover.
What's causing people to break up insurance bundles?
J.D. Power's report suggests more and more consumers are realizing they may be better off shopping around rather than sticking with one insurer.
As premiums rise, people are shopping around more often and switching insurance companies when they find substantial enough savings, even if it's cheaper for only one of their policies. That means breaking up the bundle.
Randy Humphreys, an insurance broker with Reliable Risk Management, a full-service agency in Phoenix, says he began noticing a definite change in the market around May/June of 2022. More clients began looking to shop their home and auto policies separately, rather than go the more common route of having one provider.
"Without a doubt it's price driven," he says. "With what's going on with the economy, with what's going on with interest rates, people are more price sensitive and more likely to shop around.
"I saw the same thing happen in 2008/2009 when the market crashed," he says.
Once a consumer does decide to leave a particular insurance company for one type of coverage, they are more likely to consider taking more of their business elsewhere.
In fact, a recent report from the risk analysis organization LexisNexis shows that people shopped for new car insurance and switched companies at a higher rate in late 2022, and the trend is expected to continue in 2023.
How does bundling home and car insurance work?
It's pretty simple: you buy more than one type of insurance from the same company, and they give you a discount in return.
Bundling discounts vary by company and may not be available in all states. No matter where you live, bundling your homeowner's policy with your car insurance will get you larger savings than bundling it with a condo, renter's insurance or life policy.
The way your discount is applied to your insurance policy varies. You typically receive discounts on auto and home insurance when you bundle coverage. The discount isn't the same for each coverage type. Each carrier has its own formulas, and companies may offer a larger discount on one than the other.
The best way to determine overall bundle savings is by considering the premium of both your home and auto insurance and the discounts given for each. That provides the total dollar amount you're paying for both coverages and the total amount saved. Then, you can calculate the percentage of your overall bundling savings.
Does bundling always save money?
If you prefer to stick with a specific insurer for your home and auto insurance, you can almost always count on getting a discount for bundling the policies.
On average, insurers offer a 15% discount for bundling, but some can be substantially higher. Indiana Farm bureau, for example, offers a discount of 28%, the highest of all companies in a 2022 Insurance.com analysis. State Farm was found to offer the biggest discount (25%) among national companies.
Although that sounds like a great deal, it's not always the best way to save. Here are several situations where the bundle isn't the best deal.
Example A:
Home and auto insurance bundle with Amica: $5,749 (a 22% discount over the separate policy rates.)
Auto insurance with Nationwide: $1,626
Home insurance with Amica: $2,444
Total home and auto insurance if purchased separately from Nationwide and Amica: $4,070, or a savings of $1,679.
Example B:
Home and auto insurance bundle with Farmers: $4,390 (an 18% discount)
Auto insurance with Farmers: $2,323
Home insurance with Progressive: $1,670
Total home and auto insurance if purchased separately from Farmers and Progressive: $3,993, or a savings of $397.
In both examples, it can be seen that while a big discount was offered by the insurer for bundling home with auto, the buyer could save even more if they purchased the policies separately.
Of course, these are average rates, and it's important to compare rates for your specific needs to determine whether a bundle is a better deal for you.
When is bundling home and auto worth it?
While it's not always the cheapest route, bundling your home and auto insurance is generally a good way to save.
"It's still one of the best strategies to save," Humphreys, who's been an insurance broker for about 20 years, says. "People with higher-end coverage in particular, who aren't as price sensitive, prefer to go with one carrier for the convenience."
In addition, bundling insurance has other benefits besides cheaper rates:
You deal with only one insurance company.
You may be able to manage your policies online at the same place or through the same agent.
It's easier to identify coverage gaps.
Depending on the company, you may be able to align the renewal periods and effective dates of both policies or combine your billing statements.
There may be other perks as well when you bundle auto and home insurance, depending on the company and state you live in. For example, Safeco offers customers who bundle a single-loss deductible. That means if your car is damaged in the same event that damages your home, such as a fire, your car insurance deductible is waived after your homeowners deductible has been paid.
Why do insurance companies offer discounts for bundles?
For insurers, it makes simple business sense to offer you a discount. For starters, they not only want to win your business, but they also want to keep it.
If you have more than one policy with an insurer, you are more likely to stay with that company rather than go shopping around. It can be considered a loyalty factor, but it's also a matter of the work required to shop for multiple policies.
Insurers also know that acquiring a customer costs time and money, and once you have that customer on board, the administrative costs are minimal.
Homeowners also have a record of being less likely to file a claim on their auto policies, and insurers much prefer customers with a lower risk profile.
Should you bundle your insurance? The bottom line
Generally, bundling is a great strategy for saving on your car and home insurance and could be the way to get the best deal on both policies.
Just be aware that it's not always the cheapest route. You may get a better deal by shopping for the policies separately. While it takes a little longer, checking the rates for both bundled and separate policies could save you a lot of money.
Methodology
Insurance.com commissioned home and auto insurance rates in 2022 from Quadrant Data Services, as well as the average amount of the auto and home bundling discount for each company. Rates are based on a home insurance policy with $300,000 in dwelling coverage and liability and a $1,000 deductible and a full coverage auto insurance policy with 100/300/100 in liability limits and $500 deductibles. Auto rates were fielded for a 40-year-old male driver with a clean record driving a 2021 Honda Accord LX.
Helpful Auto Insurance Articles & Guides