Why you should trust Insurance.com
Insurance.com is dedicated to informing, educating, and empowering you to make confident insurance decisions. Our content is carefully reviewed by insurance experts, and we rely on a data-driven approach to create unbiased, accurate insurance recommendations. Insurance.com maintains editorial integrity through strict independence from insurance companies.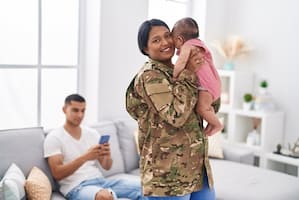 A military career can be a risky one, and ensuring loved ones are taken care of if something goes wrong is on many military members' minds. Fortunately, there are several options for military members and veterans alike to get life insurance.
Do military members get free life insurance? With some limited exceptions, no; but members of the military, both active duty and retired, earn numerous benefits as a result of their service, including access to special life insurance coverage. While retired military members can get a life insurance policy from almost any company, there may be benefits to getting a military life insurance policy.
Some benefits of a military life insurance plan may include no medical exam requirement, and military life insurance companies usually do not factor in age or health when determining the cost of premiums. Read on to learn about life insurance plans for military members and veterans.
Key takeaways
There are specific military life insurance companies.
Premiums may be different for active-duty military vs. retired veterans.
Military members are free to purchase a life insurance plan from any company, not just military life insurance companies.
Life insurance for military members
The best life insurance for veterans or active duty military depends on your needs and where you're at in your career. For example, a vet may be able to get coverage from a large company like Liberty Mutual or Northwestern. However, those companies might also deny you or charge higher rates if your time in the service resulted in a condition like depression and PTSD. It all depends on how the company evaluates risk.
How much military life insurance costs depends on various factors, especially if you go with standard company. However, there are several military life insurance companies that provide services and products specifically for military members of all types.
Military life insurance companies
This trio of companies provides life insurance for members of the military covering a wide array of situations and stages of life.
Servicemembers' Group Life Insurance (SGLI)
SGLI is a program administered by the Department of Veterans Affairs. While not VA life insurance per se, policies from the SGLI are specifically designed with military members in mind. Some benefits include 120 days of free life insurance from the day you're discharged from service or coverage for up to two years if you're disabled.
Groups that can get insurance through SGLI include members of the military, national guard, service academies, or commissioned members of certain government agencies.
American Armed Forces Mutual Aid Association (AAFMAA)
The AAFMAA is a non-profit organization that offers life insurance, trust services, and other similar services to military members and their spouses. The company offers services to members both deployed and in training as well as to veterans.
The Veteran Survivor Plan, for example, is a no-exam whole life insurance policy that is available both to veterans and their surviving spouses.
USAA
You've probably heard of USAA; it's one of the biggest insurance companies in the U.S. USAA offers insurance of all types solely to service members, veterans and their families. The company offers term life, whole life, and universal life along with auto and home insurance products as well. The company's rates are also traditionally much lower than that of many competing companies.
Because USAA also writes auto and home insurance, there's an opportunity to bundle your coverage in one place.
Life insurance for veterans
There are some differences when looking for life insurance for veterans vs. active military members. That's in part due to the differences in age between active-duty members and those that are retired or have been discharged. Although veterans no longer face the same risks as active duty service members, they are generally older, and with age comes challenges to getting life insurance. Disabilities and conditions related to time in the service can add to the challenge.
However, there are a handful of veteran-specific life insurance options in addition to the companies listed above.
Service-Disabled Veteran's Life Insurance (S-DVI)
S-DVI is offered by the VA and is a type of life insurance for veterans with a service-connected disability. This means, to qualify, you must have a condition or injury that occurred or was aggravated during your service time.
Veterans' Group Life Insurance (VGLI)
Instead of being offered by the VA, VGLI is a group life insurance policy that's been purchased by the VA for veterans to take advantage of, and it works in tandem with an SGLI policy.
After your service ends, you have a little over a year to apply for a VGLI policy, and it covers up to the amount of your original SGLI policy and carries it over. Even if you only have part-time SGLI coverage, you could still qualify for a VGLI policy if an injury or disability disqualifies you from a standard life insurance policy.
What kind of life insurance should military members buy?
Members of the military will find the best life insurance by shopping around, just like anyone else. While there are options specifically for service members, it's well worth comparing rates on the open life insurance market. While some companies may have higher rates due to the risks associated with a military career, every company is a little different.
For some, the best options might be the ones listed above. Life insurance policies offered by the VA or military-focused organizations like USAA are designed with the needs of military members and their families in mind.
For most young, healthy people, term life insurance is the most affordable option. However, if you're a veteran with health issues, you might find a guaranteed issue policy or a policy through the VA to be the best option. Take the time to compare your options before you buy, and consult with an agent who specializes in military life insurance if you need more help choosing the right policy.
See How Much You Can Save
Helpful Life Insurance Articles & Guides