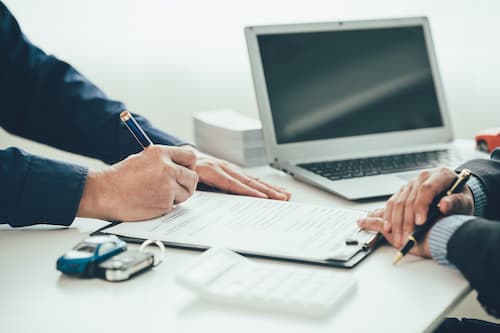 Thinking about what would happen to your loved ones if you should pass away is never a comfortable topic. But planning for such events is important -- especially if your family relies on you financially. Life insurance could play a crucial role in your family's financial well-being if the unthinkable happens.
People often think life insurance is too expensive or they can't afford it because of other financial priorities. How can you possibly afford another insurance premium when you're paying off debt, saving for retirement and putting your child through college? Term life insurance may be the answer -- depending on age, amount and other factors, you could get coverage for as little as $10 per month.
LIMRA found that nearly half of households don't have life insurance.
"Consistently, consumers have told our researchers they believe they can't afford life insurance, but when we dug deeper, our research showed that many overestimate the cost by as much as 300%," says Robert Kerzner, LIMRA's president and chief executive officer.
Knowledge is power -- let's walk through term life to understand why it's important and whether it's right for you.
KEY TAKEAWAYS
You can get term life insurance for less than $1 a day
Term life insurance will pay a tax-free lump sum of money to the loved ones
If you die after the 20-year term expires, your loved ones won't receive a payout
What is term life insurance?
Term life insurance will pay a tax-free lump sum of money to the loved ones you designate as beneficiaries on your insurance policy if you pass away within a certain period, such as 10, 15, 20 or 30 years.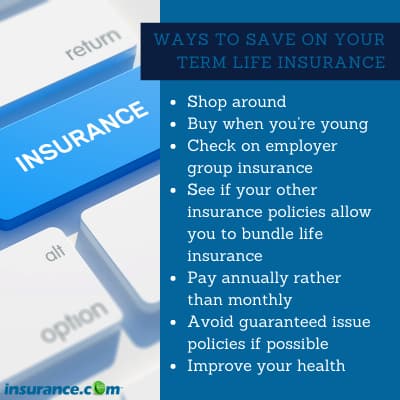 Say you purchase a 20-year term, $250,000 life insurance policy. If you die five years later, your beneficiaries would receive the full $250,000. And they won't have to pay taxes on it.
The key to term life insurance is the term -- if you die after the 20-year term expires, your loved ones won't receive a payout. There are permanent life insurance policies that don't expire, such as whole life insurance, universal life insurance and variable life insurance.
Cameron Ellis, an assistant professor in the Department of Risk, Insurance, & Healthcare Management at the Fox School of Business at Temple University, advises that it's a good idea to get life insurance as soon as someone else depends on your income.
"This could be when you and someone else sign a lease together or purchase a car/home. Or it could be whenever you have children. If one spouse is 'stay at home,' I would still recommend they purchase some life insurance. Even though there is no lost income, replacing the lost childcare and domestic duties can be very expensive," Ellis adds.
Term life insurance is the simplest type of life insurance to get and it's become even easier to get approved these days.
Carrie Skogsberg of COUNTRY Financial Life Insurance explains, "Insurance companies are offering term life insurance products today that speed up the underwriting process and may not include a medical exam for policies within a certain benefit amount and for a person under a specific age, say 50 years old."
Term life insurance definitions
Before you get too far, there are a few life insurance definitions you should know. They'll come in handy when you're researching the best term life insurance:
Beneficiary -- The person or persons who receive the life insurance payout if you die during the term.

Convertible term life insurance -- This type of term life insurance policy lets you move to a permanent policy during the term.

Death benefit -- The amount that your beneficiaries receives after you die.

Permanent life insurance -- A life insurance policy with no expiration date.

Premium -- The monthly or quarterly life insurance payment.

Rider -- An optional coverage or rule you can add to your life insurance policy.

Term life insurance -- The policy covers you for a term or set period.

Underwriting -- This is the process in which an insurance company evaluates your life insurance and figures out whether to insure you and how much to charge for premiums.
How much does term life insurance cost?
Many factors go into the cost of term life insurance, including age, gender and health status. Here are the average annual premiums for term life death benefits of $250,000 for people classified as "Regular" health.
Average Annual Premiums for Term Life death benefit of $250,000
| Health profile and term length | Age 30 | Age 40 | Age 50 | Age 60 |
| --- | --- | --- | --- | --- |
| Female non-smoker 10-year term | $223 | $306 | $573 | $1,184 |
| Female non-smoker 20-year term | $314 | $477 | $955 | $2,310 |
| Female non-smoker 30-year term | $431 | $695 | $1,537 | $7,300* |
| Female smoker 10-year term | $439 | $692 | $1,482 | $3,072 |
| Female smoker 20-year term | $669 | $1,185 | $2,386 | $5,219 |
| Female smoker 30-year term | $915 | $1,655 | $3,695 | $13,030* |
| Male non-smoker 10-year term | $263 | $358 | $735 | $1,716 |
| Male non-smoker 20-year term | $368 | $565 | $1,226 | $3,128 |
| Male non-smoker 30-year term | $528 | $874 | $2,023 | $7,300* |
| Male smoker 10-year term | $553 | $866 | $1,970 | $4,424 |
| Male smoker 20-year term | $826 | $1,487 | $3,176 | $7,100 |
| Male smoker 30-year term | $1,166 | $2,140 | $4,470 | $13,030* |
*Limited quotes available. Data source: Compulife Quotation System as of August 2020.
What happens if I outlive my term life policy?
Your loved ones won't receive any death benefit when you die if you outlive your term policy. Surviving your policy is one reason some people may shy away from term life.
There is an option -- return-of-premium term life policies will repay you the amount you paid in for coverage at the end of the term. However, those plans cost much more than regular term life policies. You'll have to weigh whether the extra cost is worth it -- it may very well be if you get your money back at the end.
Medical exam for term life insurance vs. no medical exam life insurance
A medical exam may be required when applying for a standard term life insurance policy. The exam will cover your height, weight, medical history, smoking habits and include a blood and urine test. These tests will look for specific medical problems.
The results may hinder you from getting approved for insurance or you may wind up with much higher rates depending on the outcome. If you have health issues insurers would find high risk, such as diabetes, high blood pressure, cancer or other pre-existing conditions, you have options:
Look for a "no medical exam" term life insurance policy, known as guaranteed issue term life insurance.
Consider simplified issue life insurance. You don't have a medical exam, but you answer a handful of health-related questions.
Find insurers that provide diabetes life insurance. John Hancock, Lincoln and Prudential offer life insurance for diabetics.
Buy convertible term life insurance. You can convert your term life policy to permanent life insurance without having to answer health questions.
How COVID-19 is affecting life insurance medical exams
You've already learned that the best time to buy life insurance is now while you're younger. There's another good reason to buy life insurance now -- the COVID-19 pandemic. Some insurers aren't requiring medical exams at this time.
Raymer Malone, certified financial planner and owner of High Income Protection Insurance Agency, says, "Some carriers have increased their 'no exam' limits, allowing for larger policies to be purchased without needing a medical exam."
When term life insurance may be good for you
The biggest difference between term life and permanent life is that term life covers you for a specific period. Permanent life stays with you no matter your age, as long as you pay the premium.
Here's a look at the differences:
| Parameter | Term life | Permanent life |
| --- | --- | --- |
| Length of time | Term life is for a limited time -- often 10, 15, 20 or 30 years | Lasts your whole life |
| Premiums | Often less expensive than permanent life | Usually more expensive |
| Cash value | No cash value | Accumulates cash value, so you can tap into the policy if needed |
| Conversion option | Term life policies often let policyholders convert to permanent life | You can't convert from permanent life to term life |
Term life is usually the more affordable choice, but make sure you understand term life's downsides. That includes not building cash value and losing coverage once the policy ends. Losing your policy means you'll need to make sure you have other ways to fund final expenses and any other outstanding debt like a mortgage and college bills.
Here's when buying a term life policy would likely work better for you:
You don't have much money to put toward life insurance.
You want to make sure your family gets protection through your middle-aged years. A 20-year policy could take you through your most productive years.
You want to maximize a potential benefit. Term life often pays out more for less money than permanent life. The downside is you can outlive a term life policy. You may have the option to convert to a permanent life policy near the end of your term life policy, though.
Not sure which way to go? Check out our term life vs. permanent life comparison page.
How much term life insurance do you need?
When deciding how much life insurance you need, think about:
Funeral costs
How much it will cost to replace your income
The services that you provide your family, such as child care
Your outstanding debts, such as mortgages, credit card bills and loans
Long-term financial commitments, such as paying for your child's college
You can start figuring out if you need extras or riders on your policy once you know what your family might need financially.
You can use Insure's life insurance calculator to discover how much coverage you should have. The life insurance calculator considers your funeral costs, mortgage, income, debt, education to give you a clear estimate of the ideal amount of life insurance coverage.
Term life extras and riders
Term life policies can include extra features or riders. For example, your policy may consist of an accelerated death benefit. This type of rider lets people who are terminally ill, have a chronic illness or in long-term care tap into life insurance, while still leaving your loved ones with the remaining life insurance benefits.
You may also receive a disability waiver of premium, which grants you a waiver on paying your premiums if you're disabled for at least six months.
And some policies offer double or triple the payout if the death is an accident.
Here are common term life riders:
Accidental death -- As you might expect, this rider pays out more money if you die in an accident. By getting this rider, you usually double the payout. So, let's say you have a $250,000 term life policy with an accidental death rider. Your family would get $500,000 if you die in an accident.
Family income benefit -- This rider will provide income in case of the death of a family member. Let's say your spouse dies. You no longer have that income, so making mortgage payments may become difficult. This rider provides funding to help you in that situation.
Guaranteed insurability -- This rider lets you add onto your policy without going through a medical exam later. You may find that you need a larger policy. If you have this rider, you won't have to go through an exam before the insurer expands your policy.
Long-term care waiver -- The rider helps if you need long-term care in a nursing home or home care. There are also separate long-term care policies, which are called combination life insurance.
Waiver of premium -- The rider waives your premium if you become totally disabled or you lose your income because of injury or illness.
There are many term life rider options, but you'll want to consider whether the riders are worth it.
How to shop for term life insurance
When shopping for the best life insurance company, there are three steps to help you along:
1. Find the top life insurance carriers
You can start your search by checking out Insure's Best Life Insurance Companies, which lets you compare insurers. Customers are asked about their life insurer's customer service, value, website and whether they would recommend the company.
2. Check their financial stability
There are financial stability ratings from agencies such as Moody's, S&P Global, A.M. Best and Fitch you can review to get an idea of the company's strength. These ratings are important -- the better the grade, the more likely they'll be around to pay your policy out in 20 or 30 years.
3. Read customer reviews
See what others have to say about their experience with the insurer. Some good sources for customer opinions are the Better Business Bureau and Trustpilot.
5 ways to save on term life insurance
Once you've narrowed down your list of best term life insurance companies, your next focus should be on getting the best rate. Check out these five ways on how to save on life insurance:
1. Shop around
Most insurers allow you to get a quick quote through their website. Get quotes from multiple life insurance companies for the same type of policy to find the best rate.
2. Plug in different values
Compare how the cost of the policy changes by adding or removing money from the death benefit amount or changing the term. If the savings are considerable, you may find it's better to adjust your original plan.
3. Check with your employer
Many companies offer life insurance. You may save on the cost of term life insurance through a group plan and you won't have to go through a medical exam. Make sure to review the fine print and limitations to confirm a group plan is the right choice. You may find an employer's life insurance isn't enough but may work well as a supplement to your individual policy.
4. Quit smoking
Did you look at how much term life insurance costs for a smoker in the table above? The cost of term life insurance doubles if you're a smoker. Consider quitting before you apply for term life insurance. Quitting could save you money and extend your life expectancy.
5. Stack term life insurance
If you need a larger amount of life insurance, it can get pricey. There's a clever way you may be able to save on the premiums. Chad Manberg, a certified financial planner for Strategic Income Group, suggests stacking term life policies.
According to Manberg, "a $2,500,000 30-year level term policy for a preferred male, age 35, would cost $223.56 per month. They could stack their policies for added savings."
Manberg outlines what happens if you purchase five policies instead:
$500,000 10-year policy -- $21.88 per month
$500,000 15-year policy -- $26.69 per month
$500,000 20-year policy -- $32.38 per month
$500,000 25-year policy -- $43.75 per month
$500,000 30-year policy -- $48.56 per month
"This still provides a current death benefit amount of $2,500,000 that is needed for a cost of $173.26 for a savings of just over $50 per month. This is an extra $50 that you can now use towards your financial plan," Manberg says.
Plus, you'll have the highest amount of coverage in your middle-age years, when your expenses and debts are likely at their highest.
Choosing term life insurance
Term life insurance is a good financial move if you have loved ones who rely on you. You can buy a policy for a set amount of time and if you die during the coverage period, your loved ones receive a cash lump sum, tax-free.
Consider term life insurance if you own a home you're paying off, are the sole breadwinner, have debts you don't want to leave your loved ones saddled with or have kids you want to make sure can afford to go to college. The amount you leave behind can help your loved ones meet their financial goals.
Term life insurance isn't as expensive as many people believe. Furthermore, it's less expensive to get when you're younger, so don't delay in insuring yourself and leaving a legacy for your loved ones.