Why you can trust Insurance.com
Insurance.com is dedicated to informing, educating, and empowering you to make confident insurance decisions. Our content is carefully reviewed by insurance experts, and we rely on a data-driven approach to create unbiased, accurate insurance recommendations. Insurance.com maintains editorial integrity through strict independence from insurance companies.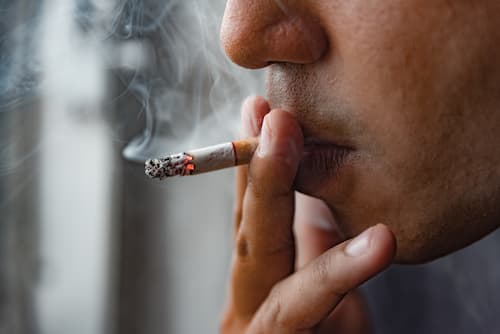 Whether you are a casual smoker or a habitual one, buying term life insurance is going to cost you more than if you didn't smoke at all.

"If you are a smoker you are going to pay close to 50 percent to 65 percent more for life insurance," says Ray Caucci, vice president of product management at Horsham, Pa.-based Penn Mutual.

Caucci cites these sobering examples of the impact that smoking has on your annual premium when buying $1 million in coverage for a 10-year term life policy from Penn Mutual:


35-year-old healthy nonsmoker female: $250
35-year-old healthy smoker female: $1,410
Over the last 15 years, the life expectancy gap between smokers and nonsmokers has widened, Caucci says. "Smokers are going to die a lot sooner. "Many life insurance companies require urine test and blood tests to determine whether or not you smoke, among other health issues that the tests detect.

"It doesn't depend on how much you smoke," Caucci says. "If you have any trace of nicotine in your urine, we will consider you a smoker."

Any nicotine user will receive "smoker" life insurance rates, whether the nicotine gets into your bloodstream through chewing tobacco, nicotine patches or gum, or other products.
KEY TAKEAWAYS
If you are a smoker, you will pay 50-65% more for life insurance than nonsmokers.
Buying group coverage or getting a life insurance policy from your employer may be easier and more cost-effective for smokers.
Some insurers charge lower life insurance rates for "preferred smokers" who, other than smoking, maintain good health.
Group life insurance for smokers
If you smoke, buying group coverage may be your best option for getting better life insurance rates.

If you work for a company that provides life insurance, you can likely secure lower-cost coverage through that plan than through buying a policy on your own. Typically, employees don't take any medical tests for group life insurance because the coverage is being provided for the whole group, which spreads out the risk, says Richard Kappers, director of marketing for life insurance products at Philadelphia-based CIGNA.

However, even with group life insurance, you may have to pay more than a nonsmoker does. Kappers says some insurers establish different group rates for smokers and nonsmokers, with smoker rates averaging anywhere from 20 percent to 40 percent higher than nonsmoker rates.

You may be tempted to stretch the truth and say you do not smoke when in truth you do. But keep in mind that such deceit is considered an act of fraud and the insurer could refuse to cover a life insurance claim, Kappers says.

"We retain the right if fraud was committed to rescind coverage or deny any claim," says Kappers.

And even if you quit smoking tomorrow, you'll generallyhave to wait a while to see better life insurance rates. For example, CIGNA offers lower rates to people who have quit smoking for at least a year, Kappers says.
Preferred smokers versus standard smokers
Although Penn Mutual gives all varieties of smokers a smoking rate, some other insurers will cut you a break if you smoke but are otherwise in good health.

For example, Richmond, Va.-based Genworth charges different life insurance rates for "preferred smokers" – those who get high marks for weight, cholesterol readings and past medical history – and "standard smokers," says Ray Dinstel, chief underwriter for life insurance and long-term care underwriting at Genworth.

Genworth offers preferred smokers life insurance rates that are 25 percent lower than the rates of standard smokers, Dinstel says. But whether you're "preferred" or "standard," you'll still pay more than nonsmokers.

And if you currently are a nonsmoker but have a Nostradamus-like vision that you will smoke in the future, the best way to keep your life insurance rates low may be to rush out and purchase permanent life insurance or term life insurance that converts to permanent in the future.

"We can't control what happens after the contract is approved," Dinstel says. "If your health changes or you do start smoking, the contract is [still] enforceable."
Related topics