When hail freezes over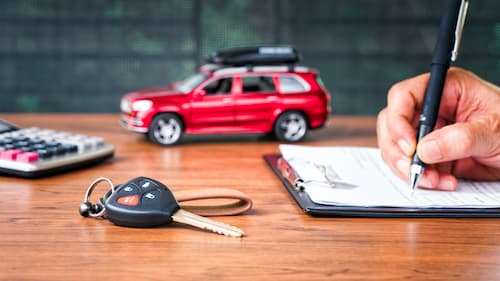 While hail typically isn't as big as melons or softballs, ice chunks of any size hitting your precious vehicle is a problem. If you don't have comprehensive coverage, you'd be paying out of your own pocket to fix that damage. Even if you do carry comprehensive insurance, you still have to pay your deductible if you file a claim. That is, unless you have an external, inflatable airbag that protects your car during hailstorms.
Texas-based Hail Storm Products' Hail Protector has been tested using three-pound melons and ball-sized ice orbs and hit the market just in time for peak hail season, which runs March to May.
The Hail Protector comes in sizes that range in price from $299 to $399 to fit a variety of different car and truck models. It runs off battery power, a car's cigarette lighter or a home electrical outlet. The price also includes a lifetime subscription for alerts to severe weather nearby via smartphone or email, with a warning on the potential for hail 30 to 60 minutes before a hailstorm hits. If you get an alert, you can activate your bag with a remote control.
If you think hail damage isn't a common problem, think again. Comprehensive claims for hail damage more than doubled in 2011 compared with the previous three years, and about 250,000 cars are damaged by hail every year in the U.S., according to the Highway Loss Data Institute. The HLDI pegs the average claim for hail-related auto damage at $3,100. However, if your damage is less than that, it may not make sense to file a claim, given that the typical comprehensive deductible is between $500 and $2,500.
Damage caused by wind and hail cost State Farm and its policyholders more than $3.9 billion in 2012, according to a company statement. The states with the most wind/hail losses include:
Texas—47,000 claims
Illinois—41,000 claims
New York—34,000 claims
Ohio—31,000 claims
Missouri—25,000 claims
Tennessee—24,000 claims
Indiana—23,000 claims
New Jersey—23,000 claims
Kentucky—22,000 claims
Colorado—16,000 claims
Your home is also vulnerable to hail damage.
Most standard home insurance policies currently cover storm damage from wind and hail, but that may be changing soon for some new homeowners. A new exclusion for cosmetic damage due to hail and wind is making its way to the market.
An organization that develops policy forms used by more than 700 property and casualty insurance companies, the American Association of Insurance Services (AAIS), recently created a "Cosmetic Damage Exclusion" for home insurance policies.
The hail and wind exclusion, which insurance companies can choose to adopt or not, excludes payments for damage to exterior surfaces including walls, roofs, doors and windows from hail or wind if the storm impacts the appearance but not the function of these elements.
Related articles:
Don't get dinged by new hail and wind exclusion
Insured and confused: Quiz results reveal dismal car insurance knowledge
5 misunderstood car insurance policy terms
Something to hold on to: Comprehensive and collision coverage
About
Des Toups
Managing editor
Des Toups is a writer, editor and expert on insurance, cars and personal finance. He has written extensively about all three for national publications such as MSN and major newspapers such as the Seattle Times. He has been quoted about insurance issues in The New York Times, USA Today and Kiplinger's.
Email: dtoups@quinstreet.com
Follow him on Twitter @destoups