Why you should trust Insurance.com
Insurance.com is dedicated to informing, educating, and empowering you to make confident insurance decisions. Our content is carefully reviewed by insurance experts, and we rely on a data-driven approach to create unbiased, accurate insurance recommendations. Insurance.com maintains editorial integrity through strict independence from insurance companies.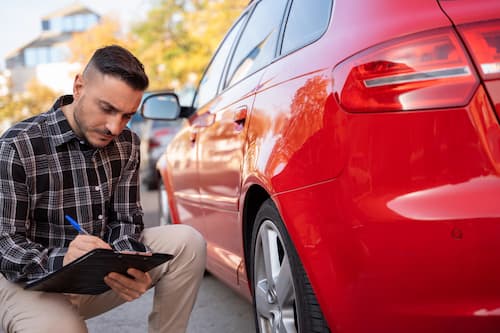 Insurance agents are unique – just like the customers they serve. So when you're looking for an agent, remember that a good insurance agent should do more than just sell you a policy.
First, it's important to have an idea of the insurance companies you want to work with and whether you're ok with a captive agent who works with a single company or an independent agent who represents multiple companies.
Here are four tips for finding the right agent.
Key takeaways
When looking for an insurance agent, word-of-mouth is a good place to start; ask people you trust for referrals.
Take the time to meet with agents and ask them some questions to see if they're knowledgeable and a good fit for you.
Check the agent's licensing, background and look for signs of expertise like certifications.
1. Ask for referrals from friends and family
Word of mouth can be a great way to find an insurance agent. Ask trusted friends and family members for referrals. However, make sure your pals recommend the agent for the right reasons.
"Ask for referrals not based on who is sending birthday cards to their clients or who is the nicest," Hungelmann says.
Chad Bitterlich, vice president of Navion Insurance Associates, says it's best to hire an agent located "close to home."
"Many people prefer to have in-person appointments with their agent, and most agents prefer to know their clients personally," he says. "There is really no substitute to having a local agent who is an active member of your community."
As mentioned, some agents represent a single insurer – such as State Farm or Allstate – while others work independently.
"There are obvious benefits if your agent represents multiple insurance companies and has the flexibility to find the right company for your particular needs," Bitterlich says. However, you may feel it is more important to have your insurance consolidated with one company. Either way, look for an insurance agent that has your best interests in mind, not his or her commissions.
2. Interview several prospective insurance agents
Hungelmann says it's best to interview two or three agents. Ask them about specifics, as you would with an accountant or lawyer.
"Talk to them about your situation and see which ones give you the best advice," says Hungelmann.
He acknowledges such extensive interviewing can be a bit tedious.
"But once you get the expert on your team, you're going to have someone who really knows what they're doing," he says. "Your assets will be better protected as a result. There's nothing worse than finding that a claim isn't covered properly at the time of the claim."
Don't be afraid to speak up and to ask about an agent's experience.
"Ask for references," says Bitterlich. "A good agent should have several clients to provide enthusiastic recommendations."
The very nature of the agent-client relationship involves policyholders divulging "all sorts of personal information" to their agent, Bitterlich says. So, trust and professionalism are important.
"If you feel that your agent is simply interested in selling you a policy, you should look elsewhere," he says.
3. Look for an insurance expert with experience and accreditation
Look for agents who are true insurance experts. Such an expert "can guide you through how to fill out a claim properly, so you get paid top dollar for your claim," Hungelmann says.
An experienced agent will also be able to make your case to the claims department if you get into a dispute about a claims payment.
A good agent also will keep an eye on how your insurance requirements may shift over the years.
"Many people don't realize that their insurance needs may change from year to year, and it is important for your agent to communicate the potential for these changes," Bitterlich says.
Look for agents with advanced designations such as Chartered Property Casualty Underwriter (CPCU), Certified Insurance Counselor (CIC), Chartered Life Underwriter (CLU) or Accredited Adviser in Insurance (AAI).
Bitterlich agrees that advanced certifications reveal important insights about an agent.
"An advanced designation demonstrates that your agent has a commitment to education and increasing his or her knowledge," says Bitterlich.
Do not discount other types of industry experience, Bitterlich says.
"Agents who have additional experience in the insurance industry outside of sales -- in underwriting or claims, for example -- may have unique insight into the insurance industry," he says.
4. Check the insurance agent's background and license
Make sure an agent's licensing is up to date and meets state requirements.
"You should not hesitate to ask for a copy of your agent's license, especially if there is no easy or convenient way to independently verify his/her license status," says Bitterlich.
Also, check for any complaints against an agent.
Most state insurance offices have an area on its website where you can check the license status of your agent, and some will also allow you to check if there are any complaints. You always want to make certain that your choice of an agent is legit.
Remember, the goal is to find an agent who is properly licensed, has a good track record and puts your interests first.
Additional reporting by Melissa Neiman
Helpful Auto Insurance Articles & Guides