Why you should trust Insurance.com
Insurance.com is dedicated to informing, educating, and empowering you to make confident insurance decisions. Our content is carefully reviewed by insurance experts, and we rely on a data-driven approach to create unbiased, accurate insurance recommendations. Insurance.com maintains editorial integrity through strict independence from insurance companies.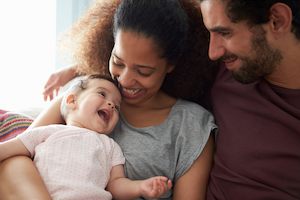 The birth of a child is a special time, but along with the joy of a new arrival there also comes a new future to plan for. You can prepare for the unknowns of that future with life insurance.
A life insurance policy for parents can help ensure their child is financially protected if they die while the child is still a minor. The good news is that the cost of life insurance for parents can be very low, especially if you're young and healthy and choose a term life policy.
"Anyone…should buy life insurance if they have anyone depending on them for financial security. The younger and healthier you are when you obtain life insurance, the less expensive it will be.," says Kristen Gryglik, Sr. sales representative at Comparion Insurance Agency.
Key takeaways
Term life insurance is the best choice for parents and the most affordable option.
You can buy life insurance as a parent at any time after the birth of your child.
Life insurance rates will increase as you get older, so don't wait to buy.
When should parents buy life insurance?
A common time for parents to buy life insurance is soon after the birth of their child, although it's wise to purchase the policy while you're expecting before you get too busy. The biggest thing to consider is the type of life insurance you want to buy. Measure the death benefit or the amount that will be paid out in the case of your death, against the premiums you'll have to pay.
Term life insurance for parents allows for a bigger death benefit at a lower price. That means you can carry a large amount of life insurance coverage when you need it most and then stop paying for it when the need has passed. That's generally when your kids are adults and you're no longer financially responsible for them.
Should the need for coverage extend longer than anticipated, such as in the event of a disabled child who will need lifelong care, you can convert your term policy to a permanent one.
Life insurance for older parents will likely cost more than the same policy for younger parents. As you age the risk of death increases along with health problems, which means you'll pay more for life insurance. It's best not to wait; if you plan to have kids later in life, buy young.
Life insurance for elderly parents who want to leave some money for grown children may be even more costly. Final expense insurance may the only available option, but it can be expensive and only provides a small death benefit.
Can I buy life insurance for my parents?
Yes, you can buy life insurance for your parents. However, you can't just call up a life insurance company and buy a policy in your parent's names.
You need to prove that you have an insurable interest in their lives. An insurable interest means you'd be affected financially by their death. Usually that can be easily proven with parents as you'd be paying any final expenses, paying off debts, and any other costs that come up when they die.
"In this case, the child would be the owner of the policy and the parent would be the insured. You can elect to have either person be the payor of the policy," Gryglik says.
You will also need your parent's consent. They must sign the policy application; you can't take life insurance out on someone else without their knowledge. Depending on the plan, your insurer may want your parents to take a medical exam as part of the application.
Who gets the money from the policy is up to you. "As owner of the policy, you can…elect who you name as the beneficiary of the policy. You can also name multiple beneficiaries'" Gryglik says.
How much life insurance do parents need?
There are a number of ways to calculate how much life insurance you need. While a simple place to start is with a multiple of your annual income, using a life insurance calculator will give you a much more accurate number.
Make sure you consider all future income needs and also think about whether you plan to have more children. It's best to buy the coverage you need upfront rather than increasing your coverage later since rates go up as you get older. Here are a few things to keep in mind as you do the math:
College tuition for your kids
Debts, including your mortgage
How much your family would need to get by without your income
Final expenses
It's a good idea for both parents to get life insurance, even if only one has an income. It's easy to forget how much a stay-at-home parent contributes to a household, but consider how much you'd have to pay for childcare and other household tasks.
As your children get older, your need for life insurance will wane. That's why term life insurance is most recommended for parents; it's there when you have the greatest need and an affordable way to meet that need in a worst-case scenario.
See How Much You Can Save
Helpful Life Insurance Articles & Guides