Why you can trust Insurance.com
Insurance.com is dedicated to informing, educating, and empowering you to make confident insurance decisions. Our content is carefully reviewed by insurance experts, and we rely on a data-driven approach to create unbiased, accurate insurance recommendations. Insurance.com maintains editorial integrity through strict independence from insurance companies.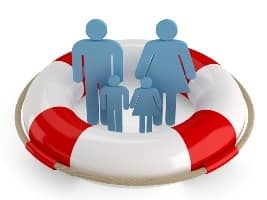 A life insurance policy can provide peace of mind to you and your loved ones and offer significant income replacement support if you were to pass away while it's in effect. But that begs the question among the curious: How much life insurance should I have? What coverage levels are recommended? And when should I get life insurance?
The answers to these questions depend on your unique needs and circumstances, budget, and other factors. Learn the basics about what life insurance covers, minimum suggested coverages, and alternatives to life insurance.
KEY TAKEAWAYS
Reasons people get life insurance include having money for survivors to pay for mortgage payments, debts, funeral costs, credit card debt, child care, and future expenses.
Anyone can benefit from a life insurance policy, but it especially helps people with dependents.
There are alternatives to life insurance that can also help save for your survivors, too.
Insurance.com's Life Insurance Calculator is one way to figure out how much coverage you need.
What does life insurance cover?
A life insurance policy typically covers most types of death, including those caused by accidents, natural causes, illnesses like cancer and heart disease, homicide, and even suicide (if the death occurs after any suicide clause listed in the policy expires).
"A life insurance policy typically provides replacement income for dependents, creates an inheritance for heirs, pays for final expenses like funeral, burial, and probate costs, and covers estate taxes so that heirs will not have to liquidate other assets," says Mark Friedlander, director of Corporate Communications for Insurance Information Institute in St. John's, Florida. "Also, some types of life insurance serve as a source of forced savings; that's because they create a cash value that, if not paid out as a death benefit, can be borrowed or withdrawn on the owner's request."
Lacrecia Cade, president of Atlanta Life Insurance, says life insurance comes in handy for nearly everyone.
"Often, it is used to pay off bills you may leave behind or take care of expenses for your children. It is a critical part of planning for what happens to your family if you die," says Cade.
On the other hand, life insurance policies typically don't cover deaths connected to:
High-risk activities like skydiving or bungee jumping
Criminal activity that causes the death
Suicide if it occurs within the contestability period (usually the first two years of the policy's effective date)
Fraud
Lapsed policy caused by unpaid premiums
How much life insurance do I need?
The appropriate amount of coverage for you and a sufficient amount of payable death benefits depends on many factors.
To help you calculate your needs, the Insurance Information Institute recommends the following steps:
Consider financial resources
Think about what kind of financial support will be available to survivors after your death, including existing life insurance policies.
"For simplicity, ponder three categories of resources: Social Security and other retirement-related survivor benefits; group life insurance; and other assets and resources," Friedlander advises. "It's also important to know when these resources will become available. For example, Social Security survivor benefits are payable immediately to a surviving spouse with dependent children but only after age 60 if there are no children."
Think about financial needs
Forecast what financial needs your survivors will have after your death. Think about three categories of requirements:
Final expenses (funeral and burial costs, probate and other estate administration costs, and medical expenses not covered by health insurance)
Debts, including credit cards, mortgages, car loans, student loans, and personal loans
Income and living expenses needs
Future financial obligations, such as a child's education
Once you know what kind of financial protection they'll need, you can move to the next step.
Subtract the financial resources from financial needs
Now that you've thought about your survivors' financial resources and needs if you were to die, you can now determine the size of the life insurance policy that you need.
"Many people are underinsured, often because they skip these steps or take a shortcut, such as simply buying a multiple of their annual income," cautions Friedlander.
Types of life insurance
You also want to figure out what type of life insurance you want. Life insurance is typically divided by two overarching types: term life and permanent life insurance.
Term life is for a period, such as 20 or 30 years. These policies are usually more affordable than a permanent life policy, but you can also outlive a term policy.
A permanent life insurance policy is for life -- as long as you stay current on your premiums. Permanent life policies include whole life, universal life, and variable life. These policies build cash value, which allows you to tap into the policies while you're still alive. They also often include riders, so you can customize the policy.
Life insurance calculator
Want to know how to determine how much life insurance you need? Use our helpful life insurance calculator.
The free tool offers life insurance needs analysis. All you need to do is include your debts, income, and a few other factors and the tool will estimate what kind of life insurance policy you need and the policy's length and amount of life insurance you may need.
What is the minimum life insurance policy you need?
If you're going to purchase a life insurance policy, you want to be sure that it will provide a death benefit minimum to any named beneficiaries. That can ease their financial burdens after your passing.
"You need at least enough life insurance to cover the cost of your burial, pay off debts that will survive your passing, and to leave a little nest egg for your loved ones," advises Cade.
Brian Martucci, finance editor with Money Crashers in Minneapolis, says that some people purchase only enough insurance to cover their funeral and burial costs, usually in the form of an affordable special permanent life policy known as final expense insurance.
Whether that funeral insurance is enough depends on your assets and debts -- and potential future costs like a child's college education.
Who needs life insurance?
Good candidates for life insurance include anyone who has significant financial obligations that they expect to outlive, according to Martucci.
"Financial obligations mean everything from maintaining your family's quality of life after your death to specific debts like a mortgage or college tuition bill," Martucci adds.
Life insurance is recommended -- especially if you have a spouse and/or dependents or any other relatives or loved ones who may be saddled by debts you leave behind or who will need financial assistance after your passing.
"The most typical situation that triggers a life insurance policy is when a couple starts a family. But individuals undergoing other life changes, such as buying a house, changing careers, or owning a business, should also consider the benefits of life insurance as a means of helping to protect themselves and their family through the uncertainties of the future," says Tim Heslin, president of AIG Life US.
What are alternatives to life insurance?
A life insurance policy isn't your only option if you want to provide a financial cushion for your survivors. Additional or alternative strategies to consider include: Should you consider life insurance as an investment?
While it's technically not an investment vehicle like a stock, bond, or mutual fund that can grow or decrease in value over time, a term life insurance policy can be considered as an investment of sorts. Term life is an asset that will help secure the financial well-being of your survivors.
Unlike other types of investments, your predefined death benefit won't decrease as long as the term life policy stays in effect, which means you can count on a specific return on your dollar if you pass away.
A whole life policy, by contrast, has a true investment component because it can include an equity-like component referred to as cash value. Whole life insurance policies that accumulate cash value have a specified interest rate that's credited each year, which compounds over time, accumulating a cash reserve that can be accessed for various purposes.
Whole life policies classified as "participating" provide the possibility of receiving policy dividends, which represent a portion of the insurance company's profits paid to policyholders (paid at the discretion of the life insurance company without any guarantee). A dividend may be taken as cash, or a policy may offer several other ways the dividend might be used, such as to reduce current premium payments.
A whole life policy's death benefit can also increase over time when your "paid-up additions" option is selected for the dividends or when your cash value exceeds the death benefit.
Another investment-like form of life insurance is a universal life permanent policy, which also includes a cash value account that typically earns a money market rate of interest. The cash value may rise based on the performance of assets within your account and per the declared crediting rate (which the insurer can increase or decrease at its discretion).
If you desire a policy that performs even more like an investment on the stock market, consider a variable life insurance policy, which combines death protection with a savings account that can be invested in money market mutual funds, stocks, and/or bonds that you choose.
Here are how other strategies to life insurance work and their pros and cons.
| Strategy | Pros | Cons |
| --- | --- | --- |
| Investing in stocks, bonds, or other commodities via retirement accounts or by purchasing shares directly | You may be able to get a much higher return on your dollar, without being required to die, and grow your wealth significantly over time | Unlike a term life insurance policy, investing is risky; any investment can lose value/money |
| Accidental death and dismemberment coverage | This policy may be less expensive than a traditional life insurance policy | This only covers deaths for certain types of accidents but does't cover death from illnesses or natural causes |
| Annuities | These function like savings accounts and can pay you income reliably during your life and into retirement and later pay your loved ones upon your death | Annuities may charge expensive fees compared to other investments; if you pass away prematurely, the value of an annuity is less |
| Mortgage insurance | This can ensure that your mortgage loan will be paid off if you die, default on your payments, or are not able to fulfill the loan's financial obligations | Mortgage insurance is usually more expensive than life insurance; policies are designed to have a decreasing benefit as time passes, and your premium will not decrease correspondingly |
| Savings accounts | You can salt away extra money into this account to be used by your survivors after your death | Savings accounts earn much lower interest than other types of bank accounts and will not grow your money as quickly as other options |
Frequently Asked Questions
When should you get life insurance?
The best time to buy life insurance is whenever you determine there's a need. If you expect that other people will depend on your income or if you have debt that you will carry on after your death, now's the time to consider purchasing life insurance, says Friedlander.
The younger you are when you begin coverage, the less your premiums. Life insurance companies differ in how they set rates, but one way to get cheaper rates is to buy a policy when you're in your 20s or 30s.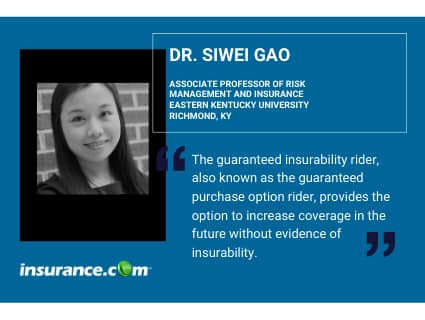 Consider that women outlive men, on average, by five years. That means many women stand to gain, as beneficiaries, from life insurance policies taken out by their husbands or loved ones.
Women are also increasingly primary breadwinners in their households and large contributors to supporting their extended family. Yet, only approximately 47% of women currently have life insurance -- 11% less than males, with their death benefit also well below that of men (by about 22%).
Professor Siwei Gao of Eastern Kentucky University encourages all women to consider life insurance coverage, regardless of whether or not they work for pay. "A full-time mom who takes care of her young children and household still needs life insurance to cover the costs of a nanny, housekeeper and other service providers in the event of an unexpected death."
Can you change life insurance coverage later?
The good news is that you may be able to increase or decrease your insurance coverage, depending on your policy, after initiating it.
"The guaranteed insurability rider, also known as the guaranteed purchase option rider, provides the option to increase coverage in the future without evidence of insurability." Professor Gao explains. "This can be an attractive option for young couples with limited resources."
You may be able to increase your death benefit with an existing permanent whole life policy, although for a term life policy you may need to repeat the application and underwriting processes, Martucci says.
You may also be required to provide evidence of insurability if you want to get additional coverage.
Is life insurance through an employer enough?
Supplemental life insurance provided through an employer can be a convenient way to get life insurance coverage, but it may not be sufficient. You should consider an individual life insurance policy separate from employer coverage because you may not be able to keep your group life insurance if you leave your job, says Heslin.
Helpful Life Insurance Articles & Guides