Why you should trust Insurance.com
Insurance.com is dedicated to informing, educating, and empowering you to make confident insurance decisions. Our content is carefully reviewed by insurance experts, and we rely on a data-driven approach to create unbiased, accurate insurance recommendations. Insurance.com maintains editorial integrity through strict independence from insurance companies.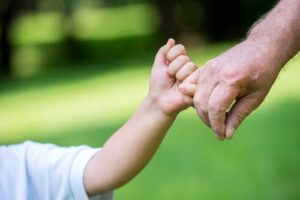 Anyone whose death would cause financial hardship to others needs life insurance.
Financial hardships can include everything from the risk of your family losing their current home to debts or expenses you have now or expect to have in the future. Even if you don't have kids now, if you plan to have them in the future, don't wait to buy life insurance.
"The typical situation that triggers a life insurance policy is when a couple starts a family. But individuals undergoing other life changes, such as buying a house, changing careers, or owning a business, should also consider the benefits of life insurance as a means of helping to protect themselves and their family through the uncertainties of the future," says Tim Heslin, president of life insurance at Corebridge Financial.
There are a lot of other situations where you might need life insurance.
Key takeaways
Anyone whose death would cause financial hardship to someone needs life insurance.
Life insurance isn't just for breadwinners; it can help to replace the work done by a stay-at-home parent or anyone who does work that will need to be paid for in their absence.
Even if you don't need life insurance now, consider future needs and buy young to get the best price.
Do I need life insurance?
If your death would cause financial hardship to someone in your life, you need life insurance. While most people think of the financial impact of an unexpected death on a spouse or children, life insurance can also protect other family members; even if you don't have a life partner or children, it will fall on someone to pay your final expenses and debts. Do you have retired parents on a fixed income to whom those costs would fall, for example?
While many people think only of direct income loss, you also need life insurance if your death would create the need to pay for services you currently provide, like childcare, that life insurance can cover.
Furthermore, if you own a business, life insurance can ensure it stays afloat after your death.
Who really needs life insurance?
Even if you saw yourself in the examples above, you may still wonder if life insurance is a necessity for you. When is life insurance necessary and not just recommended?
To dig a little deeper, look at your current debts and assets. Do you have enough savings or investments to ensure financial obligations are met? If not, you really do need life insurance.
How to decide if you even need life insurance
A simple calculation of your current finances along with a look into your future financial needs, income and obligations will help you to determine your life insurance needs.
A life insurance calculator can help you crunch the numbers and figure out first whether you need life insurance and then how much life insurance you need.
While there are plenty of ways to estimate, a calculator can provide you with a more accurate estimate of your needs.
Who doesn't need life insurance?
If you have little to no debt and your death wouldn't create a difficult financial situation for anyone, or you have a lot of savings or other alternatives to life insurance that will cover any final needs, you might not need life insurance.
However, it's important to note that life insurance is much cheaper if you buy it when you're young. So, before you decide you don't need life insurance, consider your future goals and how your financial needs will change.
Just because you don't have a family to worry about now doesn't mean you won't in the future. And a secure financial situation today might not be the same a few years down the line. Buying life insurance while it's affordable is a wise investment in your future and will ensure you don't discover when you do decide you need it that it's become unaffordable or unavailable to you.
When is life insurance necessary? The bottom line
Life insurance is absolutely necessary if your death would leave someone else in a difficult financial situation. But it's important to look beyond today's needs and try to estimate how your future needs will look; the sooner you buy a policy, the less you'll pay for it.
See How Much You Can Save
Helpful Life Insurance Articles & Guides