Why you can trust Insurance.com
Insurance.com is dedicated to informing, educating, and empowering you to make confident insurance decisions. Our content is carefully reviewed by insurance experts, and we rely on a data-driven approach to create unbiased, accurate insurance recommendations. Insurance.com maintains editorial integrity through strict independence from insurance companies.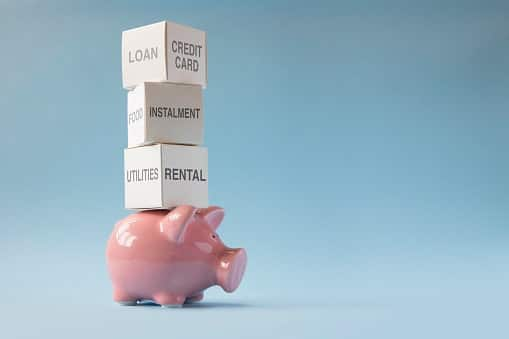 When you are approved for a new loan, you may also be offered loan protection insurance. A loan protection insurance policy pays off or suspends payments on your loan if you die, become disabled or lose your job.
However, they often cost more than they are worth, and may not be the best choice for protecting your family from debt. Read on to learn more about how loan protection insurance works and what it covers before you buy.
KEY TAKEAWAYS
Loan protection insurance pays off or makes payments on your credit card balances and other loans if something happens to you.
Mortgage insurance pays off your mortgage if you die, making the payment directly to the lender, unlike life insurance which pays a beneficiary of your choosing.
Some loan protection policies offer coverage for unemployment if you lose your job through no fault of your own.
How does loan protection insurance work?
Loan protection insurance is a policy that pays your credit card balances and loans if you become unemployed, are disabled or die. According to the Federal Trade Commission (FTC), there are four main types of loan protection insurance:
Credit life insurance pays off all or some of your loan if you die. Mortgage protection insurance is a common example.
Credit disability insurance makes loan payments if you can't work because you're ill or injured.
Involuntary unemployment insurance pays on your loan if you lose your job and it's not your fault.
Credit property insurance offers protection if personal property that is used to secure a loan is destroyed in an accident, theft or natural disaster.
While these are typically lumped together, there are differences. Credit insurance products, such as mortgage protection insurance, are regulated by the state, while debt protection products, such as those for credit cards, fall under the jurisdiction of the Consumer Financial Protection Bureau.
While a lender may recommend or even pressure you to purchase credit protection, the FTC warns it's illegal for a lender to include the insurance without your permission.
What does mortgage protection insurance cover?
When you take out a mortgage, you're likely to receive offers of mortgage protection insurance. The offers may come from your lender or from independent insurance companies.
Mortgage protection insurance pays the death benefit directly to the lender to pay off your mortgage. That differs from traditional life insurance, which makes payment to a beneficiary you have named.
Mortgage protection insurance is different from private mortgage insurance (PMI), which you may be required to buy as a condition of your loan if you put less than 20 percent down on a house. PMI doesn't pay off the mortgage; it pays the lender if you fail to make your payments.
Some mortgage protection insurance benefits gradually decrease over time, tied to the declining balance of your mortgage.
You also may see your premiums change over time. So you run the risk of premiums increasing and the payout decreasing.
You also may be offered mortgage disability insurance or mortgage unemployment insurance to cover your payments because of disability or job loss. The money will be paid directly to your lender. With traditional disability insurance, you receive compensation if you're unable to work for a certain period of time.
You may be offered similar types of life, disability and unemployment coverage if you take out an auto loan, open credit cards, or take out a personal loan.
How does gap insurance for a car loan work?
One type of extra insurance you might want to consider is gap insurance, which covers the difference between the actual cash value of your vehicle and the current outstanding balance on your loan if your car is totaled.
So if you owe $25,000 on your car and it's only worth $20,000 at the time it's totaled, gap insurance will make up the difference of $5,000.
You may be offered the insurance by the dealership where you buy your car, by the bank or credit union where you finance your car, or through some auto insurance companies. Be sure to shop around for the best price, as it can vary widely. Insurers typically offer the lowest price.
Not everyone needs gap insurance; if you put down a larger down payment, your loan may be close the depreciated value, even when you first buy it.
Should you buy life insurance instead of loan protection insurance?
If you're worried about leaving your loved ones with debts to pay if you die, life insurance is likely a better choice.
Even the FTC cautions it may be cheaper to purchase life insurance than credit insurance. Life insurance is usually more affordable and offers a more flexible death benefit. It can even include living benefits that pay out while you are still alive.
Consider a term life insurance policy, which covers you for a certain length of time, such as 20 or 30 years. If you die after 10 years, your beneficiaries would receive the face value of your policy when you die and not pay taxes on it. If you died after 35 years, they'd receive nothing.
Life insurance premiums are typically cheaper if you buy a policy when you're younger.
If you're older or in poor health, you might consider guaranteed or simplified-issue life insurance. Policies are generally offered for small amounts, such as $10,000 or $20,000.
If you worry about making your payments if you're disabled, you can purchase short- and long-term disability insurance.
Questions to ask about loan protection offers
If you're still interested in credit insurance and debt protection products, the FTC has a list of questions you should consider.
How much is the premium?
Will the premium be financed as part of the loan? If so, it will increase your loan amount and you'll pay additional interest.
Can you pay monthly instead of financing the entire premium as part of your loan?
How much lower would your monthly loan payment be without credit insurance?
Will the insurance cover the full length of your loan and the full loan amount?
What are the limits and exclusions on payment of benefits, or what exactly is covered and not covered?
Is there a waiting period before coverage becomes effective?
If you have a co-borrower, what coverage does he or she have and at what cost?
Can you cancel the insurance? If so, what kind of refund is available?
Helpful Auto Insurance Articles & Guides