Do auto insurance companies cover rental car insurance?
When you rent a car, you assume the risk of driving it. That means if you cause any property damage or injuries, you'll have to pay -- unless you have some form of insurance.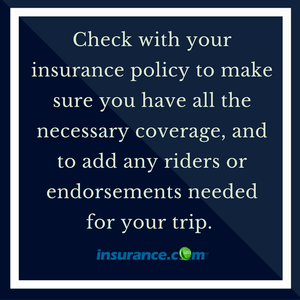 At the rental counter, you may be subjected to dire warnings about imminent poverty if you don't purchase rental car insurance and have a mishap with the vehicle. There are 15 people in line behind you, and you're supposed to decide instantly.
Car rental companies count on this. They get 10 percent of their revenue from add-ons like insurance, according to the Consumer Federation of America.
That's why it's important to read about rental car insurance and know exactly what you need before heading to the check-out counter.
In this guide, we'll take you through what is rental car insurance, who should purchase car rental insurance and how much it usually costs to get coverage from the rental car company.
What is rental car insurance?
Rental car insurance differs from your everyday auto insurance coverage in several respects. Here's a quick comparison:
Auto insurance = comprehensive and collision coverage
Rental car insurance = damage waivers
If your personal car is damaged or stolen, comprehensive coverage reimburses you (subject to your deductible). If renting for personal use, this coverage should also kick in if your rental vehicle is damaged or stolen. You'll have to pay your deductible.
The same goes for collision coverage. If you crash your vehicle, your car insurance's collision coverage should cover you. You'll have to pay your deductible.
When renting a car, you can purchase a loss-damage waiver (LDW) or collision damage waiver (CDW). In case of theft or damage, the car rental company will eat the cost. This isn't exactly an insurance policy; you'd be paying for the company to waive its right to pursue repayment from you.
Purchasing the waiver doesn't give you the right to go crazy with someone else's car. Speeding, driving while intoxicated, or driving on unpaved roads may void the waiver. Read the fine print before you try any Fast and Furious reenactments.
Auto insurance = liability coverage
Rental car insurance = supplemental liability protection
Your auto insurance policy includes liability coverage, which reimburses others for damage caused by you and your car. This coverage goes with you when you rent a car. So does your excess liability (umbrella) policy if you have one.
The rental car insurance equivalent is supplemental liability protection. You can typically purchase up to $1 million worth. Some companies offer "extended" supplemental liability coverage with higher limits (up to $2 million is typical).
If you don't own a car, and you don't carry non-owner auto insurance, you should buy this protection. If you rent frequently, consider buying a non-owner policy; it may provide better coverage for less money.
Auto insurance = PIP or MedPay
Rental car insurance = personal accident insurance
If you're injured in an auto accident in your own car, your medical expenses may be paid by personal injury protection (PIP) or health insurance. Medical care for passengers may be paid for by medical payments insurance. This coverage may also include reimbursement for funeral costs.
Rental companies offer personal accident insurance, which covers medical incurred by you and your passengers if you're involved in an accident. This includes ambulance, medical care and death benefits.
Homeowners or renters insurance = personal property coverage
Rental car insurance = personal effects coverage
If you have homeowners or renters insurance, your valuables are covered, even away from home. (Check your coverage limit; off-premises coverage is usually restricted to some percentage of your total coverage.) If you don't have either of these policies, or you don't have enough of this coverage, and you're traveling with expensive possessions, you may want added protection.
Personal effects coverage reimburses you, up to a specific limit, if your belongings are stolen from the rental car.
Some rental coverage is primary, which means it replaces your auto insurance policy if you have a mishap while renting. The advantage of this is that you don't make a claim with your regular insurer, and that can keep your insurance premiums down.
Who should purchase rental car insurance?
Not everyone needs rental car insurance. In fact, many personal finance experts advise most people to pass on insurance offered at the rental counter.
However, for those who do need it, skipping this coverage could result in financial disaster.
You should probably purchase rental car insurance if:
You don't own a car and you don't have a non-owner auto insurance policy.
You have the minimum required liability coverage in your state, and it's much less than the minimum required where you're going.
Your own insurer limits your coverage because you're renting for a week or longer.
Your own insurer restricts your coverage because your trip is business-related.
Your insurer does not cover all rental agency costs in the event of an accident.
You're traveling with expensive belongings or equipment and have no coverage or insufficient coverage from your home or renters policy.
Your deductible on your regular auto policy is very high, making the CDW more attractive.
You're a high-risk driver and would not want to make a claim with your insurer.
Even if you have to purchase a rental car insurance policy, you're not stuck with the rental company's rates. There are insurers that write standalone rental policies for consumers, allowing you to compare prices, select your level of protection without being rushed, and purchase it before you take your trip.
Another option is asking your current insurer to sell you a rider for your trip to plug any coverage holes you find.
Note that for most of these other sources of insurance -- your current insurer, a credit card, travel package or standalone policy -- you have to decline the coverage offered at the rental counter.
How does your car insurer cover rental car insurance?
Before you take a trip, check with your auto insurer to see what coverage goes with you when you rent.
Typically, you'll have the same limits and deductibles for your rental that you do with your regular car insurance.
However, there may be gaps in your auto policy coverage:
If you're renting for commercial or business purposes, your personal car insurance coverage may not apply.
Your auto policy might not cover the rental agency's administrative fees, towing charges, compensation for the loss of use of the vehicle while it's being repaired, and its diminished value.
For longer-term rentals (one week or longer), your current insurer might impose limits.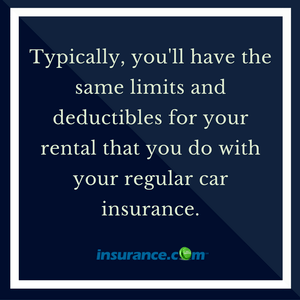 Check with your insurance policy to make sure you have all the necessary coverage, and to add any riders or endorsements needed for your trip. For instance, if your journey is business-related, or you will be transporting valuables or expensive equipment, you may need more coverage than you currently have.
You can find your limitations and restrictions in the Personal Auto Policy section of your documents, or you can simply contact your auto insurance agent.
How much does it cost to add rental car coverage to your existing auto policy? About $50 a year -- less than a few days of coverage at the rental counter.
Credit cards and rental car insurance
Rental car insurance coverage may be available if you rent using a credit card, especially a rewards card or other premium account, or if your car rental is part of a travel package, such as those including hotel, air and auto rental. Note that this coverage is secondary, meaning you still have to report the accident to your primary insurer, and then the secondary policy picks up some of the remaining costs.
Before renting a car, it's smart to verify the coverage your current auto insurer provides, and what, if any, insurance comes with your credit card account or travel package. This way, you're less vulnerable to a hard sell at the rental counter, and can avoid buying insurance you don't need.
You can't just assume that the insurance offered by your credit card will cover all potential costs. Credit card companies vary wildly in what they cover (and what they don't cover).
Most major credit cards offer some form of rental car insurance. Usually, it's secondary coverage, but some cards also offer primary coverage.
To get the free secondary insurance coverage from most credit card companies, you need to make sure you do the following:
Charge the entire rental to the card
Decline additional insurance at the rental agency
Rent the vehicle in your own name
You should also know:
Your coverage probably doesn't include reimbursement for administrative costs, taxes, and any diminished vehicle value.
Vehicles used for off-road fun are often excluded. Ditto expensive sports cars and luxury vehicles.
The secondary insurance coverage means you still have to file a claim with your primary insurer. You may have to pay costs upfront and be reimbursed later.
If you're liable for damage, the credit card may not cover your replacement rental.
Some cards exclude coverage for "loss of use" charges imposed by rental agencies. Check the fine print.
You'll have a limited time following the incident to make a claim for reimbursement -- 30 or 45 days is normal.
Coverage may only apply for a limited number of days -- for instance Visa covers up to 15 days in the US and 30 days overseas.
Coverage is not available for vehicles rented in the following countries: Ireland, Israel, or Jamaica. You may be unable to receive benefits in Australia, Italy, or New Zealand.
How much does rental car insurance cost?
If you purchase all four types of rental car coverage, it can add $20 to $40 per day to your rental costs. So it makes sense to compare your options. Here's a breakdown of the usual costs associated with getting rental car insurance through the rental company:
Loss-damage waiver (aka collision damage waiver): $10 to $20 per day
Supplemental liability coverage $1 million: $7 to $15 per day
Personal accident insurance: $1 to $5 per day
Personal effects coverage: $1 to $5 per day
Rental car insurance checklist
Verify this information before renting a car to save yourself time, angst and money.
Is my trip for business or personal reasons?
Will I be renting for a week or longer?
Does my current auto policy (or non-owner auto policy) apply to this rental?
Do any of my credit cards offer additional or better coverage if I use them to pay for my rental car?
Do I have to decline coverage at the rental counter for these coverages to apply?
Do I have medical coverage through my auto or health insurer?
Do I have homeowners or renters insurance to protect my personal belongings?
Is my rental part of a travel package, and is insurance included?
Does my auto policy cover rental agency administrative costs, loss of use and other expenses?
Rental car insurance for international travel
You may find that your US auto insurance policy excludes coverage in foreign countries. You can fill the gap by purchasing rental car insurance from the rental agency or through a standalone policy.
However, check your credit card benefits first. One real advantage they offer is coverage in many overseas locations. MasterCard, for instance, offers rental car coverage in countries worldwide except Ireland, Israel, or Jamaica. MasterCard says that you may be unable to receive benefits in Australia, Italy, or New Zealand.
How to file a rental car insurance claim
Whether you obtain your insurance through your auto insurer, rental car company, credit card or standalone policy, many steps are the same.
You report the incident to your agent, rental company, or plan administrator ASAP.
You provide a copy of the accident report form, repair estimate or itemized repair bill, photographs of the damaged vehicle, if available, police report, if obtainable, other documentation needed to prove your claim.
For your auto, credit card or standalone rental policy, you'll provide a copy of the rental agreement showing that you declined the offered coverage.
For secondary coverage from a credit card or other policy, you'll also supply:
A statement from your insurance company showing the costs you owe and any amounts that have been paid.
If you have no other insurance, you'll need a notarized statement that no insurance or reimbursement applies.
A copy of the declaration page from your automobile insurance carrier.
If you file a claim with your credit card company, you'll also be asked for proof that you paid for the rental in full with your credit card.
In most cases, that's all you need to do. Expect payment in about two weeks.
Rental car insurance is not a simple thing. Coverage, limitations, costs and procedures all vary. Trying to nail down your insurance in 30 seconds at the rental counter is obviously not the way to get the best protection for the least amount of money.