Why you should trust Insurance.com
Insurance.com is dedicated to informing, educating, and empowering you to make confident insurance decisions. Our content is carefully reviewed by insurance experts, and we rely on a data-driven approach to create unbiased, accurate insurance recommendations. Insurance.com maintains editorial integrity through strict independence from insurance companies.
Thanks to smartphones, mobile apps and of course, the internet, getting car insurance when you need it is easy. You can buy car insurance instantly from anywhere, and the process generally takes a matter of minutes.
While you can buy a policy online instantly, it's important to make sure you're choosing the right coverage and to take a little time to compare rates to avoid overpaying. There are also a few situations in which you might not be able to get instant auto insurance coverage. Read on for more.
Is it possible to get car insurance instantly?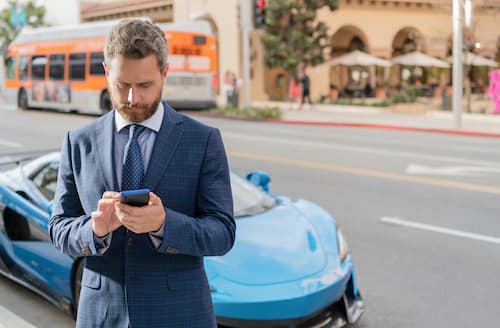 You can get car insurance in place very quickly, although to say that it's instant may not be entirely accurate. There is, of course a process to applying for a policy that may take a little time. However, once you've entered all of your information and made a payment on the policy, your coverage will go into effect immediately. That's pretty instant compared to the days when you had to either call or see an insurance agent in person.
Many people purchase auto insurance online directly from an insurance company and pay for their coverage immediately with a credit card.
"It is possible to get insurance quickly, probably within an hour," says Loretta Worters, vice president of media relations for the Insurance Information Institute.
Once you purchase a policy, you should be covered from that moment forward. Thanks to the conveniences of modern technology, you can even print your insurance card from home – giving you instant proof of insurance – so you can drive legally. Most insurers today also offer electronic proof of insurance that you can keep on your phone,
How long does it take to get car insurance online?
It takes a matter of minutes to hours, depending on what you need to do. If you already have car insurance and are adding a new car to your existing policy, you can expect to be done very quickly. You may or may not need to make a payment; in some cases you will just see the difference on your next bill.
If you're shopping for car insurance and aren't quite sure yet what coverage you need or which company has the best price, it might take you a little longer to do the research. However, once you've decided, it shouldn't take long to get the policy. You'll need to enter all of your driver and vehicle information, select the coverage you want, and then make a payment to complete the transaction. All in all, you should be done in less than an hour. Much less, in some cases.
Getting instant auto insurance quotes
If you are still in the shopping phase, you will want to start by getting auto insurance quotes to compare.
How to get an instant car insurance quote online
Most insurance companies will offer an instant online quote for car insurance on their website or mobile app. You'll enter some information and a quote will be returned quickly. You can do this individually company by company, but it can be more time consuming that way.
A much quicker way is to use a car insurance comparison tool, which allows you to compare quotes from multiple insurance companies quickly.
When you are looking for same-day auto insurance quotes, make sure you have some key information handy, including:
Your own driver's license number and those of any driver you plan to add to the policy
The make, model and year of your vehicle, as well as your vehicle identification number and registration information
Key information about your driving habits, including how many miles you drive annually and whether you use the car to commute to work,
Your history of accidents and violations going back at least a few years
What might prevent drivers from getting car insurance immediately?
In most cases, it is no problem to buy auto insurance online instantly. However, there may be a few situations where the process takes more time. "There might be issues if you're a high-risk driver," Worters says.
For example, getting insurance quickly may be more difficult if you:
Have a number of accidents on your driving record
Have been convicted of drunk driving
Have other circumstances that prevent you from getting insurance through the regular auto insurance market
In such instances, you may have to work longer with an auto insurer or shop around longer to get cheap instant auto insurance. And in some cases, you may need to accept that you will have to pay more for coverage.
Are there reasons for not buying same-day car insurance?
Buying same-day car insurance is a quick and easy way to get the coverage you need in place as soon as you need it. For most people, it's a good choice.
However, there are rare exceptions where getting same-day insurance can cost you. For example, Allstate offers what it calls an Early Signing Discount if you sign your policy seven or more days before it becomes effective. Several insurance companies have similar discounts. However, if you need insurance today, don't wait.
Best insurance companies for same-day car insurance
Most auto insurers will offer same-day car insurance. As long as you have a solid driving history and can make the premium payment, you should be able to get coverage fast.
However, some companies take pride in offering especially fast service. Progressive says you can get a quote within six minutes. Nationwide also promises to provide quotes "within minutes."
While these companies promise fast service, getting an auto insurance instant quote – and locking down a policy that same day – should not be difficult when purchasing a policy from the majority of auto insurance companies.
What to consider while buying instant auto insurance
While instant auto insurance generally is easy to find, you will be out of luck if you are looking for coverage for one month, one week or even one day. Instead, you likely will end up purchasing a policy that lasts at least six months.
"There is short-term car insurance, but not for a day," Worters says. Non-owner car insurance is usually available for a six-month period. Worters says it is "a good option for people who might borrow or rent cars frequently but don't have a car of their own to cover."
But if you are trying to insure your own vehicle, you typically will need to purchase a standard auto policy.
Also, when you purchase an instant auto insurance policy, double-check to make sure your policy is in effect immediately.
"It is illegal to drive without insurance, even for a day," Worters says. "Plus, should you have an accident, you most likely would be liable for any damages."
Helpful Auto Insurance Articles & Guides