Why you can trust Insurance.com
Insurance.com is dedicated to informing, educating, and empowering you to make confident insurance decisions. Our content is carefully reviewed by insurance experts, and we rely on a data-driven approach to create unbiased, accurate insurance recommendations. Insurance.com maintains editorial integrity through strict independence from insurance companies.
In the modern age, most of us want things fast – including our car insurance. Fortunately, if you shop for auto insurance right now, it is likely that you will have coverage before the day is done.
However, there are a few exceptions to that rule. And in many cases, it makes more sense to take a little time to think about your coverage needs and to compare rates before you jump in and quickly purchase a policy.
KEY TAKEAWAYS
It is typically easy to get same-day auto insurance, usually within one hour.
Even though you can get immediate car insurance, it often pays to take a little more time thinking about what types of coverage you need, and then comparing quotes.
There is no such thing as a "one-day" or "one-month" policy. However, short-term coverage – usually lasting one month – is available, typically for those who do not own a car.
Find out more about how to get same-day car insurance.
Is it possible to get car insurance instantly?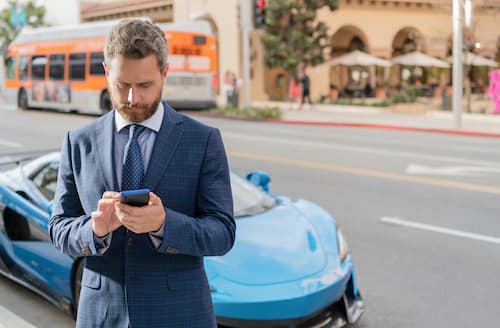 It depends on your definition of "instantly." In regards to car insurance, this refers to getting a policy within an hour to one day.
In fact, not only is it possible to get instant auto insurance coverage, but it is the norm, especially today. Many people purchase auto insurance online directly from an insurance company and pay for their coverage immediately with a credit card.
"It is possible to get insurance quickly, probably within an hour," says Loretta Worters, vice president of media relations for the Insurance Information Institute.
Once you purchase a policy, you should be covered from that moment forward. Thanks to the conveniences of modern technology, you can even print your insurance card from home – giving you instant proof of insurance – before heading out the door with it and driving anywhere your heart desires.
How long does it take to get car insurance online?
How long does it take to get car insurance? Not long.
Purchasing a same-day insurance policy should not take long once you find the right insurer. However, diligent shoppers know there is more to purchasing car insurance than simply opening up your web browser and quickly purchasing a policy from the first insurance company you find.
The act of purchasing car insurance begins long before you call an agent or buy directly from an insurance company website. You need to ask yourself -- and answer -- questions, such as:
How many miles do I drive each year?
Will other family members drive my car?
Can I afford a high deductible if it will save me money?
Do I want -- or need -- to carry comprehensive and collision coverage?
Are there extra coverages I would like to purchase?
Once you have a broad outline of the policy you want, begin comparison shopping to find the insurance company that best offers the coverage you need at a rate you can afford.
At that point, you are ready to go ahead and purchase a policy. From there, it should not take long to complete the process.
Getting instant auto insurance quotes
Getting instant car insurance quotes is easy. Most insurers that you contact can quickly approve your policy and get you insured within an hour.
How to get an instant car insurance quote online?
When searching for a car insurance instant quote, you need some basic information about your vehicle, driver profile and the type of policy you require. Once you provide that information, the quote process will proceed quickly, and you will be on your way to instant online car insurance.
One way to get quick car insurance quotes is to go to the websites of several insurers you are considering and plug all of this information into each company's quote form.
A much quicker way is to use a service like Insurance.com's car insurance comparison tool, which will give you free instant auto insurance quotes from many top carriers all on one page.
If you have questions, Insurance.com has insurance agents standing by to provide answers.
Insurance.com has dozens of licensed agents standing by to answer your questions, guide you as you shop and quickly help you find and purchase a new insurance policy. Find out more at our Compare Auto Insurance Quotes page.
When you are looking for same-day auto insurance quotes, make sure you have some key information handy, including:
Your own driver's license number and those of any driver you plan to add to the policy
The make, model and year of your vehicle, as well as your vehicle identification number and registration information
Key information about your driving habits, including how many miles you drive annually and whether you use the car to commute to work,
Your history of accidents and violations going back at least a few years
What might prevent drivers from getting car insurance immediately?
In most cases, it is no problem to buy auto insurance online instantly. However, there may be a few situations where the process takes more time. "There might be issues if you're a high-risk driver," Worters says.
For example, getting insurance quickly may be more difficult if you:
Have a number of accidents on your driving record
Have been convicted of drunk driving
Have other circumstances that prevent you from getting insurance through the regular auto insurance market
In such instances, you may have to work longer with an auto insurer or shop around longer to get cheap instant auto insurance. And in some cases, you may need to accept that you will have to pay more for coverage.
Are there reasons for not buying same-day car insurance?
Millions of drivers purchase same-day car insurance. If you shop for car insurance in the morning and purchase a policy that goes into effect later that day, you are in effect buying same-day car insurance.
So, in most cases, getting same-day car insurance makes sense. However, there are rare exceptions where getting same-day insurance can cost you. For example, Allstate offers what it calls an Early Signing Discount if you sign your policy seven or more days before it becomes effective.
Best insurance companies for same-day car insurance
Most auto insurers will offer same-day car insurance. As long as you have a solid driving history and can make the premium payment, you should be able to get coverage fast.
However, some companies take pride in offering especially fast service. Progressive says you can get a quote within six minutes. Nationwide also promises to provide quotes "within minutes."
While these companies promise fast service, getting an auto insurance instant quote – and locking down a policy that same day – should not be difficult when purchasing a policy from the majority of auto insurance companies.
Full coverage 100/200/100 $500 deductible - 30-year-old male with clean record and good credit :
| Company | Average annual rate |
| --- | --- |
| Progressive | $895 |
| GEICO | $1,200 |
| Farmers | $1,343 |
| Nationwide | $1,619 |
| Allstate | $2,164 |
What to consider while buying instant auto insurance
While instant auto insurance generally is easy to find, you will be out of luck if you are looking for coverage for one month, one week or even one day. Instead, you likely will end up purchasing a policy that lasts at least six months.
"There is short-term car insurance, but not for a day," Worters says. Non-owner car insurance is usually available for a six-month period. Worters says it is "a good option for people who might borrow or rent cars frequently but don't have a car of their own to cover."
But if you are trying to insure your own vehicle, you typically will need to purchase a standard auto policy.
Also, when you purchase an instant auto insurance policy, double-check to make sure your policy is in effect immediately.
"It is illegal to drive without insurance, even for a day," Worters says. "Plus, should you have an accident, you most likely would be liable for any damages."
Helpful Auto Insurance Articles & Guides