Why you should trust Insurance.com
Insurance.com is dedicated to informing, educating, and empowering you to make confident insurance decisions. Our content is carefully reviewed by insurance experts, and we rely on a data-driven approach to create unbiased, accurate insurance recommendations. Insurance.com maintains editorial integrity through strict independence from insurance companies.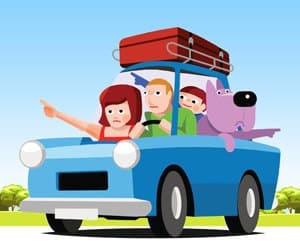 When planning your summer family road trip, you may want to focus on ways to keep your spouse -- not your children -- from irritating you while you're driving.
Husbands and wives are the worst backseat drivers, according to a survey of 500 drivers commissioned by Insurance.com.
Among men, 40 percent say their wives are the most annoying backseat drivers. When women are in the driver's seat, 34 percent cite their husbands as the most irritating passengers.
Mothers and friends also ranked high in the "Worst Backseat Drivers" survey:
Among men, wives were followed by friends (17 percent) and mothers (15 percent) as most annoying.
Among women, husbands were followed by mothers (18 percent) and friends (15 percent) as most annoying.
Children of all ages rank fairly low when results for men and women are combined.
Adult daughter: 7 percent
My teen daughter: 3 percent
My child, daughter: 3 percent
Commenting on driving speed is the most bothersome backseat driver behavior, outpacing the No. 2 offense -- giving directions -- by 18 points, according to survey results.
The top offenses of passengers are:
Comments on driving speed: 47 percent
Gives directions: 29 percent
Talks too much: 19 percent
Pushes imaginary "brake" with foot: 15 percent
Fiddles with radio or CD player: 10 percent
Talks on phone or texts: 7 percent
Rules of the road for passengers
When it comes to maintaining harmony during a road trip, Jane Greer, relationship expert, marriage and family therapist, author and radio host, says the rules of the road are the same as those for your home, which means you need to be considerate and compromise.
"With music, don't just change the station. Ask first if the person minds if you change the station," says Greer. "Better yet, before you get in the car, find a station or set of CDs you both agree to as a compromise. I love oldies but my husband loves classical and jazz music, so we listen to Sinatra."
Greer also recommends that you reframe what you're thinking before blurting out something that will annoy the driver. "Rather than commenting on how fast or how badly someone is driving, speak to the impact it is having on you," she says. "So instead of saying, 'You're going too fast,' say, 'I'm feeling scared and unsafe, this is making me uncomfortable, please slow down.' There's a better chance that will trigger a sense of responsibility and invoke the commitment to take care of you and the driver will be more responsive."
Sometimes it's not how you're speaking that bothers the driver, it's that you're saying anything at all. If you're a driver who likes to concentrate on the road or zone out to the music, let your passengers know ahead of time. "Tell them, let's keep the conversation light, or if I don't want to talk, don't take it personally, it's not about you, it's just how I feel when I'm driving," says Greer. "As a passenger, you don't have to understand it, but you have to accept it."
You're driving me crazy!
Survey respondents were also able to write in pesky passenger behaviors that were not listed, resulting in the following list of gripes:
Screams about something I'm already aware of
Blocks the rear view mirror
Gives incorrect directions
Points to turn after we passed it
Complains about me not braking softly enough
Reacts to things I have already seen and taken into account
Tells me to turn after it is too late to get over
Gives commentary on a video game with gun-firing sounds
Road trip tips
Sara Dimerman, psychologist and author, offers these tips for happier road trips:
Plan your itinerary together in advance on a GPS: No maps. The GPS has helped many couples avoid arguments about whose reading the map wrong. Now they can blame the GPS when they've gone off course. If a couple has their route well mapped out ahead of time, there is less opportunity for arguments about which roads to take.
Discuss length and frequency of stops to make: Short breaks may include a trip to a bathroom, to stretch your legs or take a picture of a spectacular view. Longer stops that include tourist attractions can be woven into the journey.
Divide and conquer: Rather than stepping on your partner's toes, figure out your respective strengths and weaknesses and assign tasks accordingly. Perhaps one of you will be the designated driver and the other more detail-oriented person would be responsible for researching local attractions that the family can enjoy along the way.
Plan passenger entertainment ahead of time: Involve everyone in selecting DVDs, books on tape or games for mobile devices, but don't ignore the opportunity to connect as a family by chatting and playing old fashioned games such as "Who can spot the…?"
If you're a nervous passenger: If your stomach muscles tense every time your spouse accelerates, share your worry ahead of time and ask for support and understanding. Ask the driver how he or she wants to be alerted about your discomfort. Many drivers say that they are made nervous or drive more poorly when their spouse "over reacts." Come up with a non-verbal signal such as gently touching the driver's arm when you feel your muscles tense. Let drivers know that although they're behind the wheel, you would appreciate him or her caring about your sensitivity to speed. You can also try sitting in the backseat and deep-breathing exercises.
Methodology:
Insurance.com commissioned a survey of 500 drivers age 18 and older. The survey was fielded in February 2013.
Helpful Auto Insurance Articles & Guides