Why you should trust Insurance.com
Insurance.com is dedicated to informing, educating, and empowering you to make confident insurance decisions. Our content is carefully reviewed by insurance experts, and we rely on a data-driven approach to create unbiased, accurate insurance recommendations. Insurance.com maintains editorial integrity through strict independence from insurance companies.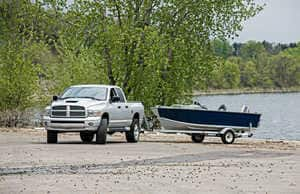 Towing a boat behind your car comes with several risks; not only is there a liability risk, but the trailer or the boat itself could be damaged in an accident. To properly insure your boat and trailer, you need a combination of insurance policies.
Your car insurance liability coverage will pay for any damage done to others, or injuries, as a result of towing your boat. However, other types of car insurance don't transfer the same way. Your vehicle's collision and comprehensive coverage won't pay for damage to the boat.
To cover damage to a boat and trailer while out of the water, you will need to purchase boat insurance, which normally extends some coverage to the boat while it's being towed.
Is boat insurance required when towing?
Whether boat insurance is required or not depends on state laws. If it is required, it's usually only to provide liability coverage in case someone is hurt while using your boat, or the boat damages property belonging to others.
You're not required to carry boat insurance to tow a boat, as a general rule, since your car's insurance covers you. If you have financed your boat, however, your lender might require coverage.
What kind of insurance do you need for towing a boat?
A boat insurance policy is the best way to fully protect your boat. It will provide you with both liability coverage as well as protection for damage to the boat itself.
Boat insurance doesn't just apply when your boat is afloat. It also can provide coverage for the trailer you use for towing it, says Lynne McChristian, Florida representative for the Insurance Information Institute.
"This is important protection to have because either the trailer or what you tow it with could have a breakdown," McChristian says.
She recommends talking to your insurance agent to find out exactly what your existing insurance covers - and what it doesn't. For example, your homeowners insurance policy will typically provide some coverage for boats, trailers and equipment such as motors, but the payout is limited to $1,500. There will also be limits on the type of boat that can be covered.
Some boat insurance policies include options like roadside assistance so that both your trailer and your vehicle are covered if you have a breakdown, run out of fuel, get a flat, or get stuck in the sand. There is coverage for on-water tows. There is even uninsured boater coverage.
Audrey Sylvan, vice president of product management for Farmers Insurance, says anyone towing a trailer should review their policy "to ensure they understand what types of coverages they have, before rolling out onto the highway."
How can you save on boat and trailer insurance?
The same kinds of factors that apply to your car insurance rates also affect the price of your boat coverage.
For example, if you haven't filed a claim, you'll pay less than someone who has. Your driving record also affects the rate you'll pay.
Insurance companies love customers who buy more than one policy, so look for a multi-policy discount if you purchase your boat insurance from the same company that provides your auto insurance or homeowners insurance coverage. You'll find the same kind of loyalty and early-payment discounts, too.
There are also discounts specific to boat insurance, such as a discount for taking a boating safety course. And, of course, shopping around will get you the best price.
Helpful Auto Insurance Articles & Guides