Why you can trust Insurance.com
Insurance.com is dedicated to informing, educating, and empowering you to make confident insurance decisions. Our content is carefully reviewed by insurance experts, and we rely on a data-driven approach to create unbiased, accurate insurance recommendations. Insurance.com maintains editorial integrity through strict independence from insurance companies.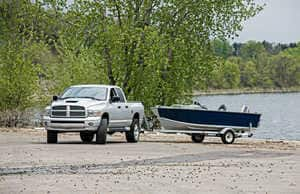 Millions of fishermen, sailors, paddlers, campers, bicyclists and dirt-bike riders are breaking out their summer gear. A lot of them will hook up a trailer to haul it.
But many of them risk losing their expensive toys.
Although the liability insurance on your automobile will cover your trailer while it's being towed, that's not the case with other types of car insurance. Your vehicle's collision and comprehensive coverage won't kick in to cover your trailer if something happens to it while you're hauling it down the road.
You'll likely need specific boat, travel trailer or personal watercraft insurance to make sure they're covered while you're en route to the local lake, nearby ocean or national park.
"If it's a boat or travel trailer that you're towing, then to have it covered for damages, you'd need specific coverage just for that item," says Penny Gusner, consumer analyst at Insure.com.
Towing is risky business
If you're towing any kind of trailer, you also need to be sure to understand how to hook it up properly. "As long as the item became unhitched while your vehicle was in motion, your car insurance should extend to the accident in caused," says Gusner, but she recommends talking to your insurance agent to make sure your general liability coverage extends to your trailer.
Each year, motorists are killed when trailers come lose and go hurtling down the road.
The National Highway Traffic Safety Administration (NHTSA) reports that nearly 400 people were killed in traffic accidents involving a passenger vehicle towing a trailer in 2012. The number includes both people killed when trailers came unattached, as well as other accidents involving trailers.
Between 2002 and 2012, more than 4,500 people were killed in wrecks involving trailers, with more than 500 killed in 2005 alone.
Before you hit the road, NHTSA recommends checking the tow rating of your vehicle to see the size, maximum load weight and maximum tongue weight (or the amount of trailer weight that would press down on the trailer hitch), of the trailer you plan to tow.
You also need to be sure to have the proper hitching and braking systems, along with wiring for lights and turn signals.
You should check the laws in your state and city to see if you need any special permits, licenses or equipment for the trailer you're towing before you head out on the road. And if you're traveling to another state, check that state's requirements as well.
Your toy needs its own coverage
Boat insurance doesn't just apply when your boat is afloat. It also can provide coverage for the trailer you use for towing it, says Lynne McChristian, Florida representative for the Insurance Information Institute.
"This is important protection to have because either the trailer or what you tow it with could have a breakdown," McChristian says.
She recommends talking to your insurance agent to find out exactly what your existing insurance covers - and what it doesn't. For example, your homeowners insurance policy will typically provide some coverage for boats, trailers and equipment such as motors, but the payout is limited to $1,500.
A boat insurance policy from Progressive, for example, includes such options as roadside assistance so that both your trailer and your vehicle are covered if you have a breakdown, run out of fuel, get a flat, or get stuck in the sand. There is coverage for on-water tows. There is even uninsured boater coverage.
Audrey Sylvan, head of product management of the Eastern Zone for Farmers Insurance, says anyone towing a trailer should review their policy "to ensure they understand what types of coverages they have, before rolling out onto the highway."
If you're towing a travel trailer to your favorite local campground or take it on a long haul across the country, she recommends you get extra coverage, just as you would for a boat.
Farmers' travel trailer policy provides comprehensive coverage, so if your travel trailer is damaged in a wreck, goes up in flames, is flooded out, battered by hail, attacked by animals, damaged by low-hanging branches, or sustains similar types of damage, it's covered. You'll also be covered for damage to additional items, such as awnings and satellite dishes.
And don't forget the discounts
The same kinds of factors that apply to your car insurance rates also affect the price of your boat or camper coverage.
For example, if you haven't filed a claim, you'll pay less than someone who has. Your driving record also affects the rate you'll pay.
But you'll find a lot of familiar discounts as well.
Insurance companies love customers who buy more than one policy, so look for a multi-policy discount if you purchase your boat insurance from the same company that provides your auto insurance or homeowners insurance coverage. You'll find the same kind of loyalty and early-payment discounts, too.
But some benefits won't be available on your everyday Camry or Explorer, like:
A discount if you take a boating safety course.
Emergency expense coverage if your travel trailer is damaged or destroyed while on the road.
Campsite liability for any accidents that occur once you've parked your travel trailer.