Why you should trust Insurance.com
Insurance.com is dedicated to informing, educating, and empowering you to make confident insurance decisions. Our content is carefully reviewed by insurance experts, and we rely on a data-driven approach to create unbiased, accurate insurance recommendations. Insurance.com maintains editorial integrity through strict independence from insurance companies.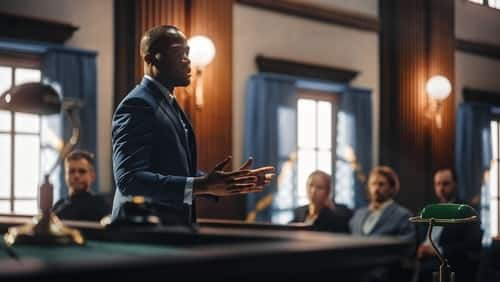 Finding the best car insurance for lawyers can be difficult, but if you take the time to shop around you can find some great deals. Most major companies offer lower base rates due to the low-risk nature of lawyers and other highly-educated professionals.
You might also be able to get a discount through membership in a group like the American Bar Association, and shopping around is, as always, the best way to save.
Key takeaways
The American Bar Association offers discount car insurance for lawyers through an affinity program.
Lawyers are considered low-risk by insurance companies, which leads to lower rates.
Lawyers pay less than the national average for car insurance.
What is the cheapest car insurance for lawyers?
Car insurance for lawyers is lower than the national average, largely due to a low-risk career and higher education. Remember that your specific rate will be determined by many factors like your location, the car you drive, and any endorsements you add to your base plan.
Below, the table shows the average rates for lawyers at eight top insurance companies.
| Company | Average base rate | Average rate for lawyers | Price difference ($) | Price difference (%) |
| --- | --- | --- | --- | --- |
| Acuity A Mutual | $2,245 | $2,179 | $66 | 2.94% |
| AAA | $2,455 | $2,382 | $73 | 2.97% |
| Geico | $1,757 | $1,586 | $171 | 9.73% |
| Country Financial | $1,645 | $1,555 | $90 | 5.47% |
| Grange Mutual | $1,154 | $1,046 | $108 | 9.36% |
| Mercury Insurance | $2,276 | $2,166 | $110 | 4.83% |
| Progressive | $2,446 | $2,032 | $414 | 16.93% |
| State Auto | $4,277 | $4,143 | $134 | 3.13% |
When compared across a group of insurance companies, it's clear that Progressive offers the best car insurance for lawyers, both in terms of dollars saved and in percentage, at just under 17%. However, Progressive's rate is still higher than several of the other companies listed so what you pay will depend on your actual base rate; if it's lower than average you may pay less overall.
On the other end, Acuity and AAA have discounts that are less than 3% off the average rate, and higher base rates, making both companies more expensive. Again, however, your rates will vary.
Car insurance discounts for lawyers
Members of the American Bar Association can get car insurance and many other types of personal insurance through the organization as a membership benefit. The insurance the association offers is administered by USI Affinity, a company with 70 years of experience in administering insurance for affinity groups of all types.
Lawyers may also get cheaper car insurance simply because they are a lower risk.
"They're looking at a certain set of data and saying 'if we write insurance for a certain group of people, how often and what amount are we paying out for claims'," says Josiah Hatch, owner of Bender Hatch Insurance in Boston, Mass.
How else can lawyers get cheaper car insurance rates?
Like everyone else, the best car insurance rates for lawyers can be found by price shopping. If you compare car insurance rates for lawyers from multiple companies, you'll find the cheapest auto insurance option for your needs. And if you ask about the following discounts you could lower your premiums even more::
Low mileage
Safety equipment
Every company is different and will offer different rates, so the more you search and the more companies you compare, the more likely you are to find the best plan at the best price for you.
Methodology
Insurance.com commissioned rates from Quadrant Data Services in 2022 for a 40-year-old driver with a clean record and good credit, with full coverage. Base rates were compared to rates for lawyers from each company.
Helpful Auto Insurance Articles & Guides