Elephant Insurance Review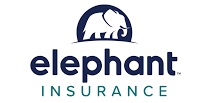 Elephant Insurance highlights:
Deep multi-car discounts
Bundle for extra discount savings
Good student discount
Answer a few questions to get a custom quote from
Elephant
!
Based on your info, it seems like
Elephant
might not be the right match
One more step. Click through to
Elephant's
secure site to get your custom quote.
Overview
Elephant Insurance, headquartered in Richmond, Virginia, is an affiliate of Admiral Group PLC, a U.K. insurer with operations across eight countries and serves 6 million customers.
Elephant, founded in 2009, offers car, homeowners, and other types of insurance products.
Elephant auto insurance is currently available in eight states:
Georgia
Illinois
Indiana
Maryland
Ohio
Tennessee
Texas
Virginia
The company's share of the property and casualty business is 0.08%, according to the National Association of Insurance Commissioners' (NAIC) 2022 market share report.
Types of coverage available from Elephant Insurance
Auto
Home
Renters
Condo
Motorcycle
Life
Offerings can vary by state.
Elephant auto insurance discounts
Multi-car discount - Up to 46% discount for having all the vehicles in your household insured under one policy.
Early bird discount - Get up to 10% discount for switching from another insurer to Elephant insurance five or more days before the expiration of your current policy
Multi-policy discount - By bundling your auto insurance with homeowners insurance through Elephant, you can save up to 12% on your premiums. Bundling auto insurance with renters, condo, motorcycle, or life insurance can earn you a discount of up to 4%.
Homeowners discount - Discount for being a homeowner.
Claims-free discount - No claims in the past five years.
Student Discount - For full-time students under the age of 25 with a GPA of 3.0 or a B average.
Work-from-home discount - Elephant Insurance offers you discounts if you work from home.
Pay in full discount - If you pay your premiums upfront, you can expect to save an average of 8-15% on your car insurance premiums.
Electronic signature discount - Save up to 3%, on average, by using e-signature to purchase and update your policy.
Paperless account discount - Just like the electronic signature discount, there is a paperless account discount of 3%, on average.
Online quote discount - On average, you'll get a 3% discount if you got your quote online.
Offerings can vary by state. Some features may be optional
Not all companies/options/discounts available in all states/situations. This description is an example and is subject to change. Verify all details before purchase. Logos, trademarks and service marks are owned by the respective companies represented on this web page.
Elephant Insurance claims and contact information