Infinity Insurance Reviews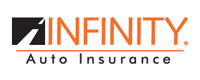 Key features of Infinity Insurance
Free access to roadside assistance
Emphasis on serving Hispanic market
Answer a few questions to get a custom quote from
Infinity
!
Based on your info, it seems like
Infinity
might not be the right match
One more step. Click through to
Infinity's
secure site to get your custom quote.
Overview
Nearly 13,000 independent agencies and brokers proudly sell Infinity.
Infinity Property & Casualty Group claimed 1.24 percent of the private passenger auto insurance market as of June 2015, the most recent data available from data analyst A.M. Best. That makes Infinity the 12th-largest auto insurance carrier among the more than 1,400 tracked by Best.
Types of coverage available from Infinity
Auto
Homeowners
Renters
Condominium
Mobile home
Motorcycle
Boat
RV
ATV
Classic car
Umbrella liability
Offerings can vary by state.
Infinity auto insurance discounts
Anti-theft discount: Anti-theft devices, such as a security alarm, GPS tracking device, fuse cutoff technology, wireless ignition authentication, kill switches and smart keys can get you a discount.
VIN etching discount: VIN etchings or vehicle identification number engravings on your windshield and windows, could provide discounts as well.
Vehicle safety discount: Vehicle safety devices, like airbags, anti-lock brakes (ABS), seat belt pre-tension, and stability control may also afford you a discount.
Driver education course: Another discount that is available to students or parents of a student is an auto insurance discount for taking a driver safety course.
Affiliate memberships discounts: Being a member of certain affiliates, like AAA or some universities, may mean you qualify for a discount. Be sure to ask your local auto insurance agent what affiliations or partnerships they are connected to. Military members and college students may also receive discounts.
Loyal customer discounts: You may be offered a discount for just being a long-term customer. If you have had a policy for quite some time, this loyalty discount may already be built in.
Low mileage discount: Part of your insurance premium may be based on the number of miles you drive, so you may be eligible for a discount if you are a low mileage driver.
Multi-car discount: Up to 38 percent in savings when you insure more than one car with Infinity Auto Insurance.
Safe driver discount: As much as 25 percent lower rates for a good driving record.
Paid In full discount: Save up to 15 percent if you pay upfront for the whole policy term.
Electronic payment: Switch to automatic payments every month and save.
Switch-And-Save Discount: Switching your coverage over to Infinity Auto Insurance means a discount of up to 15%.
Offerings can vary by state.Some features may be optional
Not all companies/options/discounts available in all states/situations. This description is an example and is subject to change. Verify all details before purchase. Logos, trademarks and service marks are owned by the respective companies represented on this web page.
Infinity claims and contact information