Carrying just your state's minimum insurance requirement for auto insurance can put you at risk of being an underinsured motorist -- and may not properly protect you and your family's finances if an accident should happen.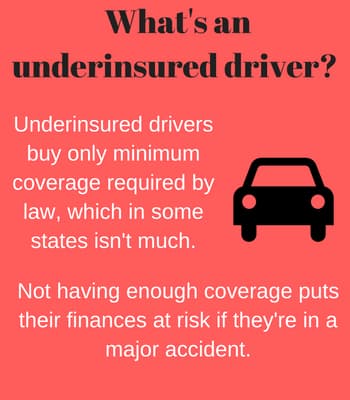 Going with just bare bones car insurance coverage required for your state means you will be on the hook and paying much more out of your own pocket if a major accident or another calamity should happen.
Here are seven ways to avoid being an underinsured motorist.
Go beyond the state minimum for bodily liability
Bodily injury liability insurance covers you as the car's driver for any type of injury that you may cause someone else when you're behind the wheel.
Don't settle for your state's minimum bodily injury liability coverage with this important protection. Most states are either $25,000 per person and $50,000 ($25,000/$50,000) per incident of bodily injury coverage or $20,000/$40,000.
The highest state minimum for bodily liability is Maine and Alaska, which are both $50,000 per person and $100,000 per incident.
In California, drivers are only required to carry $15,000 per person and $30,000 per incident of bodily injury coverage.
In Florida, the bodily injury liability requirement is just $10,000 per person and $20,000 per accident. So Florida drivers choosing just the state minimum for bodily injury liability could be on the hook for a lot of medical expenses if they should harm another when they are behind the wheel.
How much bodily injury liability coverage should you get?
Insurance experts recommend carrying at least $100,000 per person and $300,000 per accident for bodily injury coverage. Otherwise, any additional cost from the accident comes out of your pocket.
The good news is that ncreasing liability coverage to get the best auto insurance protection comes cheap. Consider the following, based on Insurance.com's analysis of rates from up to six major insurers for nearly all ZIP codes:
The nationwide average cost for state minimum liability coverage is $526
Increasing that coverage to $50,000/$100,000/$50,000 averages only $561. So, you only pay another $35 a year by increasing your coverage.
If you increase that to $100,000/$300,000/$100,000 with comprehensive and collision and a $500 deductible, that average goes up to $1,350, which is $824 more per year or $69 per month.
Get auto insurance coverage for property damage
Don't forget about property damage liability coverage. That covers any damages you may cause with your car to someone else's property or vehicle.
Property damage liability minimums by state range from $5,000 (Massachusetts, California, New Jersey and Pennsylvania) to $25,000 in most other states, with several in the middle in at $10,000.
Protect yourself against uninsured and underinsured drivers
This important and often required auto insurance coverage protects you if an uninsured or underinsured driver is at fault in an accident and they don't carry enough insurance to cover the damages you've sustained in the accident. This coverage also applies if you are victim of a hit-and-run collision or if you are hit as a pedestrian, according to the Insurance Information Institute.
Uninsured drivers are everywhere. Nearly 30 million drivers in the US are uninsured (nearly 13%). At least 20% of drivers in Florida, Mississippi, New Mexico, Michigan and Tennessee aren't insured so you want to make sure you're protected.
Check health insurance before choosing medical expenses coverage
Medical payments or personal injury protection covers the treatment of your own or a passenger's injury or a pedestrian's injury following an accident. It also covers things such as lost wages.
This coverage could cost anywhere from a few dollars to $50 or so a month. You'll want to check the extent of your health insurance policy and any disability coverage that you already have before deciding just how much of this required auto insurance coverage to get. With hospital and medical expenses so high, you don't want to go too low with your coverage amount.
Don't be sideswiped by going without collision coverage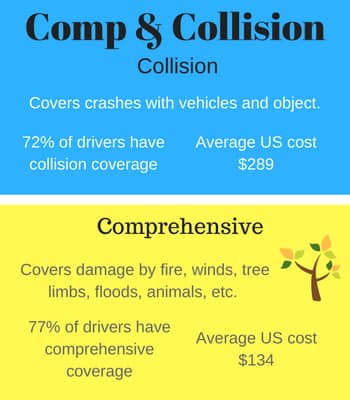 Collision coverage covers your own car when in an accident with another vehicle or an object, such as a tree or road sign. This optional coverage is sold with a deductible so the higher the deductible you choose the lower your premium amount will be.
If you have new drivers in the house, collision insurance may be a good coverage to get for any bumps that may occur along the path of becoming responsible drivers. It also is wise to carry collision if you drive a car that is less than 10 years old, is older than 10 but worth more than $3,000 or if you simply can't afford to repair or replace it if it's damaged.
The US average cost for collision coverage is $289.
Be smart with your comprehensive coverage
Your auto insurance's comprehensive coverage protects you from the costs of unexpected emergencies including damage caused by fire or falling objects, explosions, earthquakes, floods, hail, windstorms, and contact with animals. It also pays to replace stolen cars.
This optional coverage is sold with a deductible.
So once again, the higher your deductible the lower your premium will be for comprehensive coverage. If you live in a place where earthquakes, high winds or floods have been known to happen, it's important to have enough coverage to protect your car from these types of weather-related damages.
Like collision, it's prudent to carry comprehensive insurance if your car is less than 10 years old, worth more than $3,000 or if you can't budget to have cash on hand to pay for repairs or to replace it if stolen.
The US average cost for comprehensive coverage is $134.
Get enough coverage to protect your assets
Are you still wondering just how much insurance do I need? Are you worried that you may be underinsured somewhere with your auto insurance coverage?
A good rule of thumb is to get enough auto insurance coverage to protect the total amount of your assets. Those assets include your savings and investments and your home's value. Have no doubt that your home could be at risk.
If you're at fault in the accident and your insurance doesn't cover the full amount of the damages, the other driver may sue you in court and a judgment against you could mean a lien on your house.
Once you've protected your assets through adequate auto insurance, take some time before choosing an insurance company. Shopping around for car insurance quotes will insure you get the best rates for the coverage you select for you and your family.
Shop and compare with our auto insurance coverage calculator