Why you should trust Insurance.com
Insurance.com is dedicated to informing, educating, and empowering you to make confident insurance decisions. Our content is carefully reviewed by insurance experts, and we rely on a data-driven approach to create unbiased, accurate insurance recommendations. Insurance.com maintains editorial integrity through strict independence from insurance companies.
If you're planning to rent a car, you might be wondering how to handle car insurance. You don't want to be stuck with a huge bill if you're in an accident, but you also don't want to pay more than necessary for coverage.
When renting a car, you have several rental car insurance coverage options. Read on to learn more about what insurance is required, how much it costs and what situations require which types of car insurance coverage.
Key takeaways
Most rental cars are automatically covered up to the state's minimum liability limits, which may or not be enough coverage to protect you financially in the case of an accident.
You can purchase optional rental car insurance directly from the rental agency, though it may not be necessary for many situations.
If you have an existing auto insurance policy, it may cover rental car as well, with some exceptions.
Alternatively, you can purchase a standalone rental car insurance policy from a third-party company.
Some credit cards offer rental car insurance as an added benefit.
Do you need car insurance to rent a car?
Technically, you don't need to have your own car insurance policy to rent a vehicle. That said, you won't be able to drive off without some sort of coverage.
In general, rentals are automatically covered according to the state's minimum for liability at no cost. The exact amount will depend on the rental company's policy and the state where you rent the vehicle, according to Brian Savoy, senior manager, physical damage/estimatics for Metromile.
That may or may not be enough to cover all expenses in the case of an accident.
"Additionally, some rental car companies will not rent to people below a certain age, without a major credit card or full coverage insurance," he said.
One thing to keep in mind: though you need a minimum level of insurance coverage on your rental vehicle, the additional protection offered through the rental agency is optional. You may feel pressure to purchase their coverage when checking out, but as long as you have adequate coverage through another source, you don't need to buy theirs.
It's up to you whether you want to rely on an existing car insurance policy, buy coverage through the rental company or go through a third party to ensure you're fully covered (or maybe a combination of those options).
What happens when renting a car without car insurance?
You're financially responsible for damages or bodily injury that result from causing an accident when you rent a vehicle. If you rent a car without insurance, you could be personally on the hook for those expenses. That could mean paying out-of-pocket for thousands of dollars.
That's true even if you buy the minimum amount of coverage required but don't have enough coverage in an accident. For example, liability insurance pays for property damage and bodily harm you cause to others, but your personal property and medical bills aren't covered. That's why it's important to be sure you have adequate insurance coverage for the vehicle and situation.
Rental car insurance options
You have several insurance options when renting a car: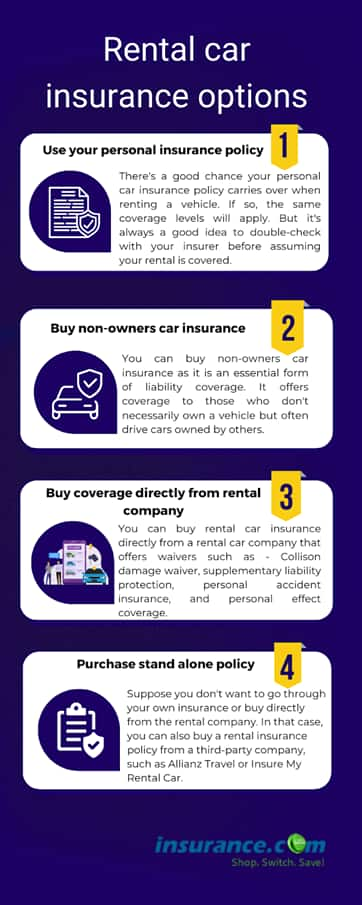 Use your personal insurance policy
There's a good chance your personal car insurance policy carries over when renting a vehicle. If so, the same coverage levels will apply. But it's always a good idea to double-check with your insurer before assuming your rental is covered.
"It typically depends on the insurance carrier and the policy you have," Savoy said. "Most major insurance carriers do transfer, but you should first check with your individual insurer to clarify coverage."
That's because there may be some restrictions in place. For example, your policy may only cover a rental car for a certain period, such as one week, or only within the U.S. and Canada. The type of vehicle you're renting also matters. It's common for specialized vehicles such as trucks, motorcycles or commercial vans to be excluded, as well as luxury vehicles. Additionally, vehicles rented for business use are often excluded from coverage.
Another thing to consider is that if you rely on your personal auto insurance provider, you'll need to pay your deductible if you file a claim. However, if you're already paying for a full-coverage policy, which includes collision and comprehensive coverage costs an average of $723 per year, it probably makes sense to take advantage of your coverage when renting, too, if you can.
Buy Non-owners car insurance
You can buy non-owners car insurance as it is an essential form of liability coverage, offering coverage to those who don't necessarily own a vehicle but often drive cars owned by others.
This specialized policy safeguards drivers against the potential financial responsibility for any injuries and/or damages resulting from an accident involving borrowed or rented cars.
Buy coverage directly from the rental company
You can buy rental car insurance directly from a rental car company. But what most people think of as rental car insurance isn't actually true insurance at all. Rather, a rental car company's insurance is one of several types of damage waivers that cover rental cars:
Collision Damage Waiver (CDW): Also known as a Loss Damage Waiver (LDW) or Physical Damage Waiver (PDW), CDW covers damage or theft of the vehicle.
Supplemental Liability Protection (SLP): This usually provides $1 million of liability protection, much more than most drivers have under their own insurance policies.
Personal Accident Insurance (PAI): This coverage provides medical, ambulance and death benefits for the rental's driver and passengers if the car is involved in an accident.
Personal Effects Coverage (PEC): This provides additional coverage for any personal belongings in the car that are stolen. Typically, this coverage kicks in after you've used your own insurance policy benefits.
"It may make sense to pay for added coverage from the rental company when you are traveling abroad," Savoy said.
You might also want to purchase rental car insurance to protect your existing insurance policy premiums from going up if you have to file a claim or you want to increase your coverage levels.
How much does rental car insurance cost from rental companies?
You shouldn't pay for car rental insurance if you don't need it because it can easily add $20 to $40 per day to your rental costs. Below is a closer look at the typical costs associated with rental car insurance:
Loss-damage waiver (aka collision damage waiver): $10 to $20 per day
Supplemental liability coverage $1 million: $7 to $15 per day
Personal accident insurance: $1 to $5 per day
Personal effects coverage: $1 to $5 per day
Purchase a standalone policy
If you don't want to go through your own insurance or buy directly from the rental company, you can also buy a rental insurance policy from a third-party company, such as Allianz Travel or Insure My Rental Car.
These policies tend to be cheaper than the waivers offered at the rental desk, ranging from around $8-$12 per day. You usually need to decline the rental company's insurance to take advantage of a third-party policy.
Take advantage of your credit card benefits
Some credit cards, particularly travel rewards cards, offer rental car coverage as an added perk. Typically, you need to pay for the full cost of the rental with that card, decline the rental agency's coverage and rent the vehicle in your own name for the insurance to apply.
Additionally, most cards offer secondary coverage, according to Savoy.
"Your own auto insurance company would have to handle the initial claim, and anything not covered could possibly be covered by the credit card," Savoy said.
However, a few higher-end cards offer primary coverage, meaning you don't have to go through your insurer at all.
Keep in mind that there may be a limit on the number of days your credit card's insurance will cover your rental (usually two to four weeks, depending on the location). Some countries are often excluded from coverage as well, such as Ireland, Jamaica and Israel. And certain specialized vehicles may be excluded, too.
Finally, certain charges typically aren't covered by a credit card's rental car insurance, such as loss-of-use and diminished value expenses.
Other requirements for renting a car
Securing adequate insurance coverage is a major consideration when renting a car. But it's not the only requirement. The exact rules vary by the rental agency, but in general, you must also meet the following requirements to rent a car:
Have a valid driver's license with a photo
Be at least 25 years old (or pay a young driver fee)
Pay with a credit or debit card
Frequently Asked Questions
Do you really need insurance on a rental car?
What insurance do you need to rent a car?
At minimum, you need enough insurance coverage to meet the state's minimum liability coverage requirements. Rental cars are automatically covered for the bare minimum. However, if you cause an accident, there's a good chance that your expenses will exceed what liability insurance covers, in which case you could still have to pay out of pocket. That's why you may want to secure additional coverage through your own policy or a third-party option.
Do you need insurance to rent a car from Enterprise?
According to rental car company Enterprise, you don't need your own personal auto insurance policy to rent a car from them. However, if you don't have your own policy at the rental counter, you may want to purchase additional coverage. It currently offers customers Damage Waiver, Personal Accident Insurance, Personal Effects Coverage, Supplemental Liability Protection and Roadside Assistance Protection.
Is rental car insurance a rip-off?
Whether or not rental car insurance is worth it depends on the situation. If you already have an auto insurance policy, chances are that it covers your rental, too.
If your policy includes comprehensive coverage, there's no reason to purchase coverage from the rental company. You might also have additional coverage through a credit card.
However, if you don't have your own insurance policy, or it won't cover a particular rental (you're driving abroad, for business, or renting a truck or van, for instance), then buying rental car insurance may be necessary and can save you thousands of dollars in the case of an accident.
Is personal auto insurance required when renting a car?
No, renting a car is possible without your own auto insurance policy. In this case, you'll likely need to purchase coverage through the rental company or a third-party insurer since relying on minimum liability coverage could be financially risky.
Does my credit card have rental car coverage?
Many credit cards offer rental car coverage as a perk, especially travel rewards credit cards. However, not all cards offer this benefit. And most only provide secondary coverage vs. primary insurance.
To find out if you have credit card coverage, you can call the number on the back of your card and ask. If it does, be sure to find out the exact terms of the coverage, including any exclusions.
Know more about will credit card insurance really covers your rental
Can you rent a car without insurance?
By law, you need to have at least the bare minimum level of insurance coverage to drive a car. And many rental car agencies require a certain level of coverage as well.
Basic liability coverage is automatically applied to rental cars in most cases, but you may want to consider buying a more robust policy, so you're not stuck paying out-of-pocket for expenses that exceed the coverage limits if you're in an accident.
Helpful Auto Insurance Articles & Guides