Why you should trust Insurance.com
Insurance.com is dedicated to informing, educating, and empowering you to make confident insurance decisions. Our content is carefully reviewed by insurance experts, and we rely on a data-driven approach to create unbiased, accurate insurance recommendations. Insurance.com maintains editorial integrity through strict independence from insurance companies.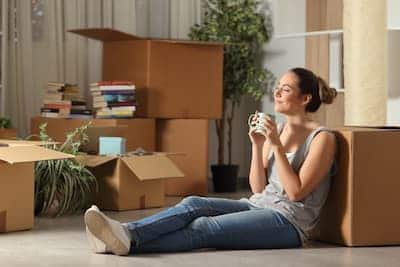 Renters insurance is not required unless your landlord mandates it as part of your lease, but that doesn't mean you don't need it. Without renters insurance, there is no coverage for anything you own. Your landlord's policy will only cover the building; anything you own inside of it is your responsibility.
If a fire were to destroy everything you own, could you afford to replace it? That includes your furniture, your dishes, your linens, your clothes and everything else you own. Most people couldn't afford it, and that's exactly what renters insurance is for.
Renters insurance is a low-cost way to protect yourself. Read on to find out why renters insurance is worth it.
What are the benefits of having a renters insurance policy?
The biggest benefit of renters insurance is peace of mind. As with any insurance, you hope you'll never need to use it. But if you do need it, you'll be glad you have it.
What does renters insurance cover?
There are typically three areas that renters insurance covers.
Personal property. Renters insurance covers all of your personal property, from your sheets to your TV. Whether there is a fire or a break-in, it will pay to replace your things. There are special limits on high value items, like jewelry or art.
Liability coverage. If you're responsible for damage to someone else's property, or an injury, your renters insurance will cover the damages. Liability starts at $100,000, but it costs very little to add more.
Loss of use (additional living expenses). If you can't live in your apartment due to damage and you need to find a hotel in the meantime, renters insurance will usually pay for those additional living expenses.
How much does renters insurance cost?
According to our analysis, renters insurance costs, on average, $347 per year or $29 per month for $40,000 personal property coverage, $100,000 liability coverage and a $1,000 deductible.
How much you'll pay for your renter's policy depends on where you live, what types of coverage limits you need, your credit score and more. In general, however, renters insurance is very aoffordable
Renters insurance discounts
As cheap as renters insurance is, you may be able to knock the price down a bit. Some typical renters insurance discounts you'll find include:
Bundling with auto (multi-policy). If you have car insurance and get your renters insurance with the same company, you may save a bit. Progressive, for instance, shaves off 3% when you bundle policies. You'll want to shop around, though, in case you can save more by going with an insurer that isn't the one you already have.
Senior discount. You may qualify if you're over a certain age. For instance, Allstate offers a "55 and retired discount," where you can get up to 25% off your premium if you are retired and not looking for a full-time job.
Burglar alarm discount. Check with your insurance company, but if you have a burglar alarm, or any sort of special device to keep threats out, from smoke detectors to deadbolts, you might be able to get a discount. Nationwide says, "if your home has smoke detectors, fire alarms, burglar alarms or other qualifying devices, you may be able to lower your premium."
If your apartment has a robust security system, that's probably going to be factored into the cost of your renters insurance premium already. Still, it's worth asking about potential discounts.
What is not covered by renters insurance?
Renters insurance does have exclusions, and only covers you up to the policy limit.
Bugs and rodents. If your apartment is invaded by bedbugs or rats, generally, insurers see that as the landlord's fault. Insurance tends to cover risks, and the risk that you have a landlord who isn't on the ball is a chance many insurers aren't willing to take.
Flooding and earthquakes. You may be able to get a separate flood or earthquake insurance policy if you want that coverage..
Your roommate's property. Unless you're sharing the cost of renters insurance and their name is on the policy, your policy would only cover what you own.
Any excluded peril. Make sure to read the list of covered perils on your policy. If it's not listed, it's not covered.
Is renters insurance worth it?
The bottom line: yes, renters insurance is worth it. Although the added expense can seem like a burden if you're on a tight budget, imagine the burden if you had to replace all of your belongings. If you think you can't afford to have renters insurance, you probably can't afford not to have it.
Like any insurance, renters insurance is something you pay into hoping you'll never use it, and it's possible that you won't. But not having it when you do need it can spell financial disaster.
See How Much You Can Save
See How Much You Can Save
Helpful Home Insurance Articles & Guides