Why you can trust Insurance.com
Insurance.com is dedicated to informing, educating, and empowering you to make confident insurance decisions. Our content is carefully reviewed by insurance experts, and we rely on a data-driven approach to create unbiased, accurate insurance recommendations. Insurance.com maintains editorial integrity through strict independence from insurance companies.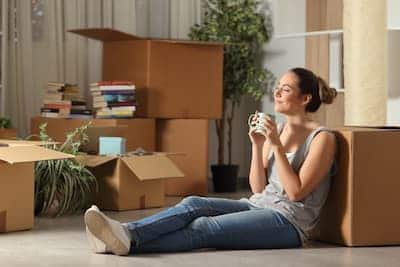 At some point in your life, unless you get through life having never rented a place to live, you will most likely ask yourself: Should I buy a renters insurance policy?
Renters insurance is pretty affordable for the coverage it provides. On the other hand, if you're strapped for cash (and most of us have been there) and don't have a lot of excess funds, you still may be worried about buying renters insurance.
Before you proceed, answer this question: if something happened to your belongings in your apartment, like a fire destroyed everything or if a burglar made off with your stuff, would it be a financial nightmare to replace what you lost?
If the answer is "yes," you need renters insurance.
What are the benefits of having a renters insurance policy?
Let's get into the details of what renters insurance covers and how it will benefit you.
What does renters insurance cover?
There are typically three areas that renters insurance covers.
Personal property coverage
You are confident that you would never leave your cigarettes lying around your apartment to catch on fire – or maybe, you don't smoke. But do your neighbors?
Apartment fires make the news all too often for things like cigarettes being discarded improperly and unattended kitchen stoves. Water damage can happen, also and wreak havoc on your personal property. Your upstairs neighbor could one day leave their bathtub water running, causing it to overflow through the ceiling and onto your expensive shoe collection.
A renters insurance policy covers your personal property in scenarios like that - plus theft.
Liability coverage
What if you're the one who leaves the bathtub overflowing? What if the neighbor below demands that you pay for the ruined Monet on the wall? OK, it's a knockoff, but they spent $300 on it, and they want financial satisfaction even if they have to call in an attorney. Your landlord isn't too happy with the damage you caused either. A good renters insurance policy can make most of those headaches go away.
Loss-of-use coverage or additional living expenses coverage
If you can't live in your apartment due to damage and you need to find a hotel in the meantime, renters insurance will usually pay for those additional living expenses.
How much does renters insurance cost?
According to our analysis, renters insurance costs, on average, $326 per year or $27 per month for $40,000 personal property coverage, $100,000 liability coverage and a $1,000 deductible.
How much you'll pay for your renter's policy depends on where you live, what types of coverage limits you need, your credit score and more.
Whatever price you land on, though, it won't be a fortune. Renters insurance is generally affordable because if your apartment was damaged due to a fire, a car crashing into the property and so on, your landlord's insurance would pay for the structural damages. Renters insurance only pays for what's inside.
Renters insurance discounts
As cheap as renters insurance is, you may be able to knock the price down a bit. Some typical renters insurance discounts you'll find include:
Bundle discount
If you have car insurance and get your renters insurance with the same company, you may save a bit. Progressive, for instance, shaves off 3% when you bundle policies. You'll want to shop around, though, in case you can save more by going with an insurer that isn't the one you already have.
Senior discount
You may qualify if you're over a certain age. For instance, Allstate offers a "55 and retired discount," where you can get up to 25% off your premium if you are retired and not looking for a full-time job. The thinking is that you are lower risk if you're in your apartment most of the time. Lower risk equals lower renters insurance rates.
Burglar alarm discount
Check with your insurance company, but if you have a burglar alarm, or any sort of special device to keep threats out, from smoke detectors to deadbolts, you might be able to get a discount. Nationwide says, "if your home has smoke detectors, fire alarms, burglar alarms or other qualifying devices, you may be able to lower your premium."
If your apartment has a robust security system, that's probably going to be factored into the cost of your renters insurance premium already. Still, it's worth asking about potential discounts.
Renters insurance drawbacks
Nothing is perfect, and renters insurance isn't perfect either. So, with that in mind, here is a breakdown of some things your renter's insurance won't likely cover.
What is not covered by renters insurance?
Bugs and rodents. If your apartment is invaded by bedbugs or rats, generally, insurers see that as the landlord's fault. Insurance tends to cover risks, and the risk that you have a landlord who isn't on the ball is a chance many insurers aren't willing to take.
Certain catastrophic situations.Flooding and earthquakes are rarely covered with a renters insurance policy. You may be able to get a separate flood or earthquake insurance policy if you want that coverage..
Your car.If your vehicle is stolen from your apartment complex, your renter's coverage almost certainly won't cover that (although if you had valuables in your car at the time, it would most likely cover that). But if you have comprehensive car insurance, that will cover the expenses of replacing or stolen car.
Your roommate's property. Unless you're sharing the cost of renters insurance and their name is on the policy, your policy would only cover what you own.
The verdict: is renters insurance worth it?
When it comes to renters insurance, it's similar to home insurance in that everybody's situation is going to be different. Not having it may not even be an option, as some rental agreements require renters insurance. But, if it's up to you to decide, consider this:
If replacing your property, covering liability costs and paying for additional living expenses would not cause you financial hardship, you might make a case for not purchasing renters insurance. But let's face it, for most of it, that is rarely the case.
If you'd have a difficult time covering those costs without racking up debts - and if you have kids, and they have belongings - the benefits of renters insurance are pretty straightforward. In that case, renters insurance may be as helpful as a smoke alarm or fire extinguisher. And every apartment should have those, too.