Why you should trust Insurance.com
Insurance.com is dedicated to informing, educating, and empowering you to make confident insurance decisions. Our content is carefully reviewed by insurance experts, and we rely on a data-driven approach to create unbiased, accurate insurance recommendations. Insurance.com maintains editorial integrity through strict independence from insurance companies.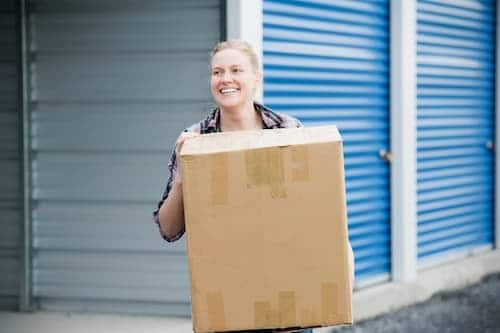 Whether you have moved to a smaller place and need to keep some things in storage or you simply have some things you don't want to part with, storage units are an economical way to keep your possessions safe. However, nothing is completely secure and things do go wrong at storage facilities, from fires to break-ins.
Most storage units will suggest insuring your things, and in some cases, the storage agreement requires it. Buying insurance directly through the storage company is an added expense that can get pretty pricey, but if you have renters insurance, you might already be covered/
What does renters insurance cover in a storage unit?
Similar to homeowners insurance, most renters insurance policies include a special caveat for storage units. Most of the personal property you would typically store in your home are also covered when you keep them in an off-site storage unit. This includes personal property like your clothes, furniture, appliances, and electronics.
The average renters insurance policy will cover your stored personal property for up to 10% of your policy's total value. For example, if your total policy is worth $50,000, you would have coverage of $5,000 for items off-premises, such as in a storage unit.
There are some exclusions, which vary from company to company, and are often addressed in a rider within your policy. It's not unusual to see some popular types of valuables and other items subject to different coverage limits.
It's best to contact your insurance company to find out exactly what your renters insurance covers in a self-storage unit.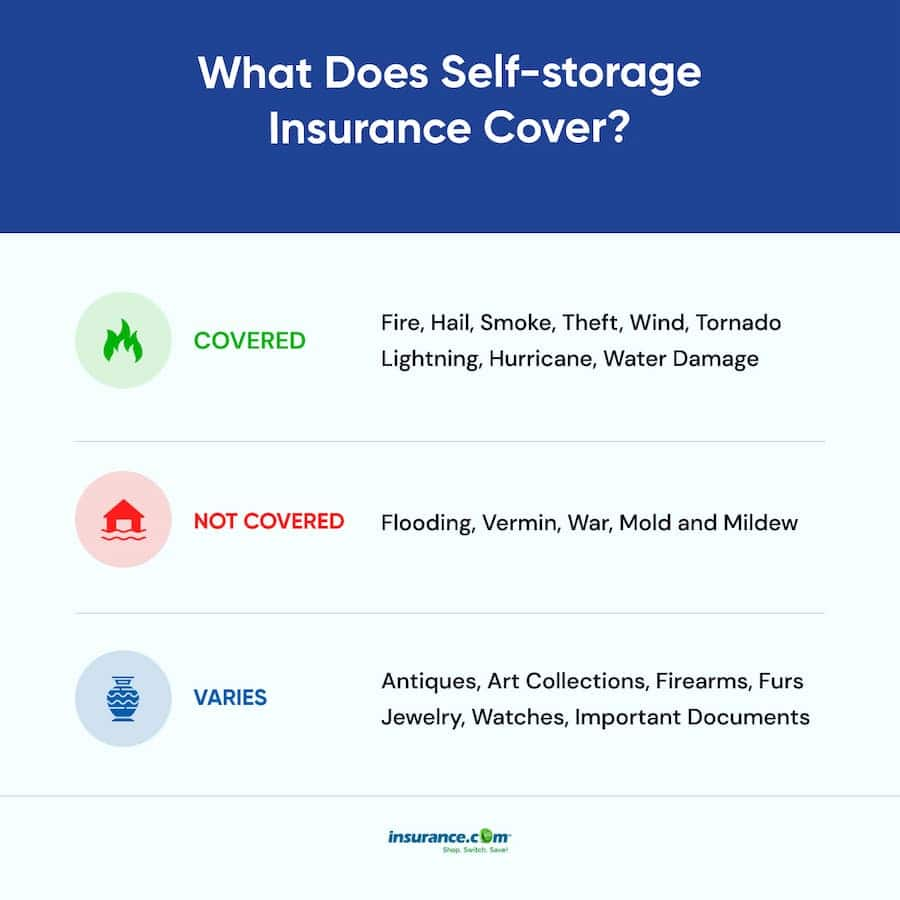 You might want to consider a self-storage unit insurance policy if your renters insurance doesn't provide enough coverage.
How much is renters insurance for a storage unit?
The average renters insurance rates are $347 each year or $29 a month. For less than $30 a month, you can secure the majority of your belongings both at home and in a self-storage unit. That's for coverage limits of $40,000 for personal property and $100,000 of liability protection with a $1,000 deductible. It is some of the most affordable security you can buy.
When can you file a renters insurance claim for a storage unit?
Your renters insurance policy specifically covers some perils while explicitly excluding others. Before you move any of your belongings to storage, check to see which perils are included with your renters insurance.
These are some of the most common named perils in a renters insurance policy.
Aircraft damage
Explosion
Falling objects
Lightning
Riot or civil commotion
Smoke
Vandalism
Vehicle damage
Should your belongings be damaged by any of the named perils in your policy, you can then file a claim, so your insurance company reimburses you for your loss. The most crucial part is knowing what is not included, so you're not caught off-guard in an emergency. This is a look at some of the most prevalent causes for loss.
Does renters insurance cover storage unit flooding?
Floods are one peril that is generally excluded from the average renters insurance policy. This is a coverage that usually requires the addition of a specialized policy. You can buy flood insurance from some renters insurance companies or through FEMA's National Flood Insurance Program.
Does renters insurance cover earthquake damage to a storage unit?
Earthquakes are not commonly covered by renters insurance. There are some similar perils like windstorms, hail, and falling objects that may offer protection. However, if you experience a full-blown earthquake, your renters insurance probably won't be enough to cover your storage unit belongings.
Does renters insurance cover storage unit fires?
Renters insurance does typically include protection from fires. Additionally, policies generally provide coverage for smoke damage to give you extra peace of mind. There's often even coverage for damages due to lightning.
Does renters insurance cover theft from a storage unit?
Thefts are a standard peril named in most renters insurance policies. There are also usually specific protections for vandalism and malicious mischief. Even if someone manages to break past the security barrier of your storage facility, your belongings will likely still be covered by your renters insurance.
Can I buy additional coverage for a storage unit?
Sometimes, additional coverage may be needed to supplement or replace traditional renters insurance coverage. When you sign up for your new storage unit, you also have the option to purchase additional storage insurance. However, just like storage units limit what items you can store there (like not allowing firearms), it's also typical for them to limit what items they insure.
This is what storage unit insurance typically includes.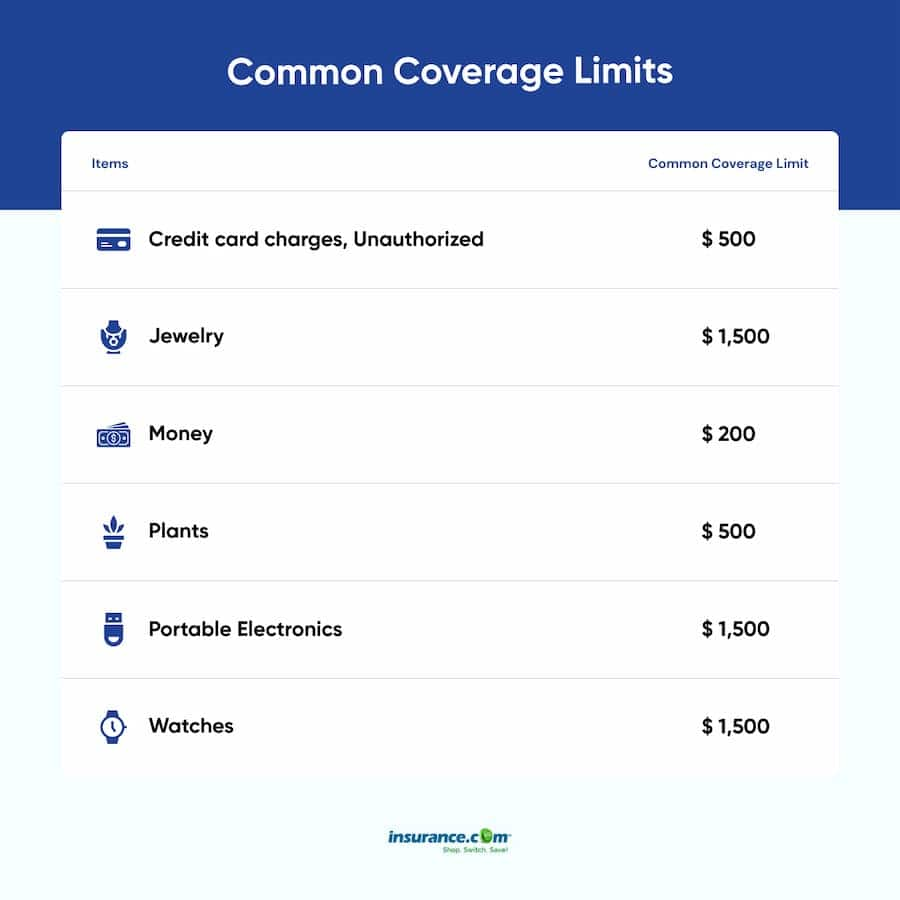 How much does storage unit insurance cost?
The price of self-storage insurance varies, depending on a few factors. Rate factors typically include how much coverage you choose, what you are storing, the value of your items, and your storage unit's size. Every company prices its policies differently, so be sure to explore your options before choosing a policy.
Where can I buy storage unit insurance?
Storage unit insurance is available directly from most storage companies. When you sign up for your new unit, there is typically an offer for insurance. This may be sold through the storage unit and fulfilled through a third-party provider, so it's important to research who you will be working with should you need to file a claim. Other companies that offer storage unit insurance include Geico, Nationwide, Progressive, and USAA.
How to file a storage unit insurance claim
When you file an insurance claim for a storage unit, the process can vary a bit. Some storage unit companies will maintain the insurance policy themselves with their coverage, while others will outsource your policy to a third-party provider. The process of filing a storage unit insurance claim will ultimately depend on how your storage company maintains its insurance.
When you need to file a storage unit insurance claim, you should first contact your insurance provider to disclose the damage and inquire about the next steps.
Renters insurance vs. storage unit insurance
Spring cleaning can come early this year now that you have a plan. Regarding renters insurance vs. storage unit insurance, it's always best to evaluate your belongings and shop coverage before choosing coverage. If you are a renter or homeowner, you may not need a new policy at all. You could already have all of the extra protection that you need, thanks to the coverage that your renters insurance or homeowners insurance affords you.
See How Much You Can Save
See How Much You Can Save
Helpful Home Insurance Articles & Guides