Why you should trust Insurance.com
Insurance.com is dedicated to informing, educating, and empowering you to make confident insurance decisions. Our content is carefully reviewed by insurance experts, and we rely on a data-driven approach to create unbiased, accurate insurance recommendations. Insurance.com maintains editorial integrity through strict independence from insurance companies.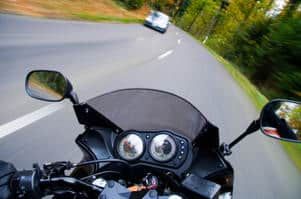 The Governors Highway Safety Association says motorcycle deaths dropped in 2014 for the second year in a row, but warns that riders still face a threat many times greater than other drivers do.
The GHSA's report, released Wednesday and based on preliminary accident numbers from every state, projects fatalities last year fell nearly 2 percent nationwide from 2013 levels, following a 6 percent decline in 2013. The GHSA notes that poor weather in much of the country last year -- including relentless snowstorms in the Northeast and Midwest -- kept many motorcyclists off highways and figured in the drop.
Weather makes a big difference. In Hawaii, 28 percent of all vehicle fatalities are motorcyclists. In North Dakota, it's 6 percent.
But the GHSA says motorcyclist deaths are still 26 percent higher than a decade ago and far outpace other vehicle fatalities, which fell 28 percent during the same period. (Note that the number of registered motorcycles has more than doubled since 1997.)
There were 3,614 motorcycle deaths reported through the first nine months of 2014, in contrast with 3,849 the previous year. The GHSA estimates the total motorcycle fatalities for 2014 will reach 4,584, compared with 4,668 for 2013.
"We are glad to see a continued decrease, but the number of motorcyclist deaths on our roadways is still unacceptable," Kendell Poole, GHSA chairman and director of the Tennessee Office of Highway Safety, said in a written statement. "While we support technology advances such as antilock brake systems and traction control, state laws and behavioral changes are critical to saving more motorcyclist lives."
The report points out that motorcycles, despite being only 3 percent of all road vehicles, are involved in 14 percent of highway deaths.
The states recording the most fatalities in the January-July 2014 recording period were:
Texas: 354
California: 338
Florida: 321
Pennsylvania: 167
North Carolina: 128
Further, the GHSA says recent statistics from the National Highway Traffic Safety Administration (NHTSA) show that "per mile driven, fatality rates for motorcyclists were 26 times that of passenger vehicle occupants in 2013."
That's one big reason that owners need to give motorcycle insurance more than a cursory glance; with severe injuries more likely, coverages such as uninsured motorist and guest passenger liability become far more important.
The fix: Pass laws -- and obey them
To curb injuries and deaths, the association has long pushed states to adopt universal helmet laws. Nineteen states and Washington, D.C. currently require all riders wear the protective gear. Another 28 mandate helmets for riders younger than age 18 or 21, while three (Illinois, Iowa and New Hampshire) don't have laws.
"By far, helmets are the single most effective way to prevent serious injury and death in the event of a motorcycle crash," stresses Poole.
Many motorcyclists, however, strenuously reject mandatory laws; they have argued that riders should have the right to wear one or not, despite potential road hazards.
Beyond supporting helmets, the GHSA says states can make roads safer for cyclists by spotlighting several key areas, including:
No drinking. The association notes that 28 percent of riders who died in accidents had a blood alcohol level above the legal limit of .08 percent.
Stop speeding. The report says that "according to the most recent data, 34 percent of riders involved in fatal crashes were speeding, compared with 21 percent for passenger vehicle drivers."
Make sure motorcyclists are licensed. The GHSA says 25 percent of motorcyclists involved in fatal crashes in 2013 didn't have a valid license, compared with 13 percent of those who died in passenger vehicles.
All drivers must be aware of motorcyclists. "According to NHTSA, when motorcycles crash with other vehicles, the other driver is often at fault," the report points out. "Many states conduct 'share the road' campaigns to increase awareness of motorcyclists."
Motorcycle insurance discounts start with safety
Car insurance discounts aren't the only ones out there -- motorcycle breaks are also available. (See "Is riding a motorcycle cheaper?")
For starters, most insurers give good driver discounts to riders who take a safety course -- which usually emphasizes wearing a helmet -- provided by the Motorcycle Safety Foundation and others. GEICO, for instance, provides a 10 percent cut for class certification. Five percent discounts are offered by Allstate and Nationwide. Many insurers provide similar discounts, some up to 15 percent, according to the Insurance Information Institute (III).
Nationwide adds that the insurer's standard motorcycle policy includes up to a $3,000 reimbursement for any damage done to safety gear. Other companies have similar provisions in varying amounts.
You can expect a discount for antilock brakes; Nationwide's is 5 percent.
Discounts for bundling and theft prevention
A motorcycle policy may help win you a bundling discount if you bring your homeowners or renters insurance policy along. You'll save on both policies.
If you are insuring a car already, some insurers will count your motorcycle toward a multi-vehicle discount; others won't.
Depending on the carrier, you also might see discounts for anti-theft devices, membership in a riding association, or carrying multiple policies such as life and auto.
Be aware that some insurers limit the amount of discounts you get for some coverages; your reduction total may be capped at a certain percentage, even if you qualify for all the discounts offered. Ask your insurer; they should tell you if discounts are capped.
Here are other ways the III says you can save money when buying motorcycle insurance as a stand-alone policy or adding it to your car coverage:
Maintain a good driving record with no moving violations.
In many northern states, riders may save with a "lay-up" policy. All coverage except comprehensive is suspended during winter months with a lay-up.
Find mature rider discounts for experienced riders.
Keep in mind that the annual miles you drive and where the motorcycle is parked or stored can impact the rate. Also, the motorcycle's age and type could figure into the final premium amount.
See How Much You Can Save
See How Much You Can Save
Helpful Motorcycle Insurance Articles & Guides