Why you should trust Insurance.com
Insurance.com is dedicated to informing, educating, and empowering you to make confident insurance decisions. Our content is carefully reviewed by insurance experts, and we rely on a data-driven approach to create unbiased, accurate insurance recommendations. Insurance.com maintains editorial integrity through strict independence from insurance companies.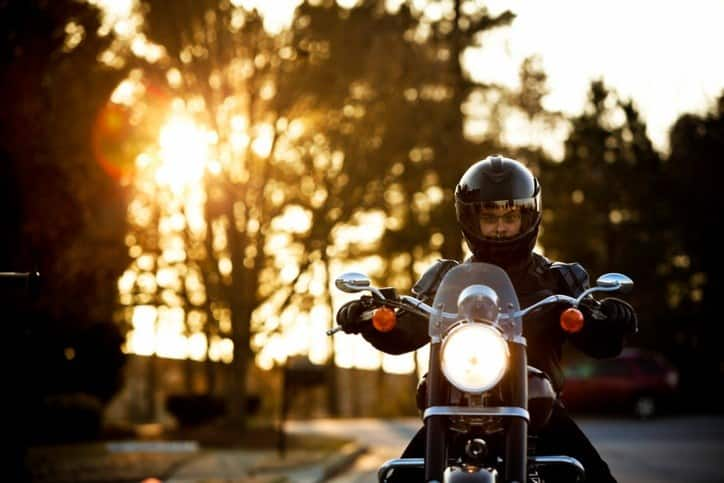 You bought a new motorcycle and you're ready to hit the road. Right? Not so fast. You may think that safety gear is all you need to protect yourself, but if you don't know the basics of motorcycle insurance, you could injure your finances. (I know, I know, it's a terrible joke. But hey, I write for an insurance website, so cut me some slack!)
KEY TAKEAWAYS
Motorcycle insurance is required by law in many states and can protect you from losing your house or life savings if you're responsible for causing personal injuries or property damage.
There are two types of motorcycle insurance: liability coverage, which covers medical bills and property damage for other people if you cause an accident; and optional coverage, which covers expenses for you and your riders.
Some optional coverages include uninsured/underinsured motorist coverage, medical payments coverage, collision coverage, comprehensive coverage, accessory Coverage Roadside assistance Rental Coverage Trailer Coverage Trip interruption Coverage.
Discounts on motorcycle insurance may be available if you take motorcycle safety classes or are a member of a riders club.
Why buy motorcycle insurance?
It's pretty simple. Motorcycle insurance is required by law in many states. Besides that, it can protect you from losing your house or life savings or both if you're responsible for causing personal injuries or property damage. It can also cover your medical bills, theft and damage from vandalism. And, if you have a loan or lease, the lender will usually make you buy coverage for the bike itself.
Types of motorcycle insurance coverage
Liability coverage
This is the legally required coverage most people think of when they talk about insurance. It breaks down into two categories:
Bodily injury liability: Can pay for medical bills, pain and suffering, and loss of wages for people you kill or injure in an accident you cause. Sometimes you don't have to be completely at fault. Even if you're partially responsible for the accident, you might still have to pay.
Property damage liability: Can pay for repairing or replacing the property of other people, like cars, telephone poles and so forth.
This coverage will also pay for your defense costs if you're sued because of an accident.
Consider buying more than the minimum amount of coverage required in your state. Why? Well, if you have a lot of assets to protect, you'll want to make sure you're protecting those assets. And if you don't have a lot of assets, how will you pay the bills?
Optional motorcycle insurance coverages
Although these coverages are usually optional, they all protect you and your property directly. Unless you're rich, take a good look at them.
Uninsured and underinsured motorist coverage: Can cover expenses caused by other drivers with little (underinsured) or no (uninsured) auto insurance. It can cover things like your medical bills, lost wages and pain and suffering. It even protects your riders and other people covered by your policy while they're riding in/on other vehicles or when they're pedestrians.
Medical payments coverage or personal injury protection (PIP): Can cover a small amount of medical or funeral expenses (or both) for you and your riders, in addition to other people covered by your policy while they're riding in/on other vehicles or when they're pedestrians.
Comprehensive insurance: Can pay for damage to your bike not related to an accident (e.g., fire, flood, vandalism, theft and animal collisions). Comprehensive is kind of a dumb name for it, since it's pretty cheap coverage that doesn't apply in all situations – but that's what they call it.
Collision: Can pay to repair or replace your motorcycle if it's damaged in an accident. It doesn't matter who caused the accident – it could even be with a tree. Animals don't count, however. Why is hitting an animal not a collision? It just isn't. However, you can't buy collision without buying comprehensive, so you'll have coverage for animal accidents either way.
Other coverage options
These are some of the smaller and most-overlooked coverages, but they're all relatively cheap for the protection they provide. However, if you don't need them, they're a waste of money.
Accessory coverage: Can pay for damage to or loss of accessories like modifications, custom paint, safety equipment, wheels and more.
Roadside assistance: Can cover towing, minor repairs, and fuel delivery if your bike breaks down, gets stuck near the road or runs out of fluids.
Rental coverage: Can cover the cost of renting a replacement motorcycle if yours is in an accident.
Trailer coverage: Covers a trailer used to transport your bike.
Trip interruption coverage: Covers expenses like food and lodging if your bike breaks down away from home.
And if I buy all that, I don't pay anything else?
If you believe that, you'll believe anything! There's no such thing as "full coverage." It's just something people say so they won't worry. Here's what you usually end up paying for:
Deductibles: These are what you agree to pay yourself before your insurance takes over. You can choose different deductibles for different coverages. Liability coverage never has a deductible.
Exclusions: These are situations your policy specifically mentions that it won't pay for. Examples include wear-and-tear and intentional acts. Racing is also excluded.
Excess costs: Your policy lists a dollar amount for coverage limits. Anything over this amount won't come from your motorcycle insurance company.
Discounts and savings
Many motorcycle insurance discounts are similar to auto insurance discounts. These are some special ones for riders:
Motorcycle safety training classes (bonus points if you're an instructor)
Riders club membership
Theft recovery systems (like LoJack®)
Comparison shopping: boring but useful
Motorcycle insurance quotes for the same coverage on the same bike can be different from each company. If you're getting insurance for the first time or think you're paying too much, it pays to check prices. Just make sure you're comparing the same coverage and make sure the company has a good financial strength rating.
See How Much You Can Save
See How Much You Can Save
Helpful Motorcycle Insurance Articles & Guides