Why you should trust Insurance.com
Insurance.com is dedicated to informing, educating, and empowering you to make confident insurance decisions. Our content is carefully reviewed by insurance experts, and we rely on a data-driven approach to create unbiased, accurate insurance recommendations. Insurance.com maintains editorial integrity through strict independence from insurance companies.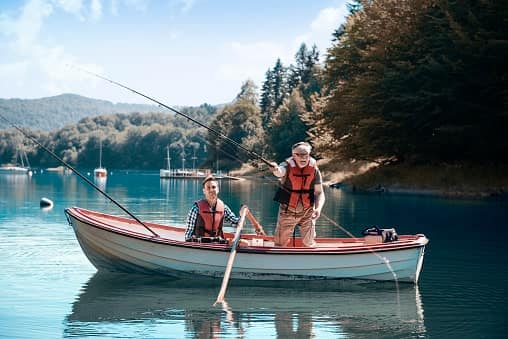 Boat insurance provides coverage both for the risks of owning a boat, such as injuries to others, and to protect the boat itself if it's damaged.
Many states require a minimum amount of liability insurance on your boat. And if you have a boat loan, your lender probably requires you to carry insurance for the boat itself. Additionally, many marinas and yacht clubs won't allow you to dock your boat unless you're insured. Whether required or not, it's a good idea to protect your investment.
Below we'll discuss how boat insurance works, what it covers, and why you need it.
Do I need boat insurance?
A boat insurance policy is a good idea for just about any type of boat. The only type that doesn't need its own policy is a canoe, kayak, raft, or other similar craft.
Most types of boats qualify for boat insurance. These include small fishing boats, speedboats and sailboats. You'll probably need to search for a company specializing in boat insurance if you have an unusual boat, such as:
Houseboats used as a main residence
Amphibious or exotic boats
Boats with excessive horsepower or capable of speeds over 75 mph
Boats used for business or commercial purposes
Boats traveling beyond 75-125 nautical miles from shore
Personal watercraft (e.g., jet skis)
Does home insurance cover boats?
Homeowners insurance usually includes limited coverage, such as $1,000 for damage to your boat while stored at your home. Home insurance may also provide a small amount of personal liability coverage to protect against claims from accidents you cause with your boat. Jet skis and other personal watercraft are typically excluded from homeowners insurance coverage.
What does boat insurance cover?
Boat insurance policies are similar to auto insurance policies. A boat insurance policy can include these common coverages:
Liability. Pays for injuries and property damage for which you are at fault if there is an accident involving your boat.
Uninsured/underinsured boaters coverage. Like uninsured/underinsured motorist (UM/UIM) coverage for a car, this protects you if you're involved in a boating accident with an uninsured boat.
Medical Payments coverage - can pay for a smaller amount of medical or funeral expenses for you, your passengers and others on your policy. Water sports coverage extends this protection to waterskiing and similar activities outside of the boat.
Comprehensive and collision (physical damage). Pays for damage to the boat regardless of fault from an accident or other incident like vandalism.
Boat insurance will also cover your boat and its trailer for physical damage out of the water, including when it's being towed.
Additional boat insurance coverage options
Because boats live on the water and have special needs, there are some specialized coverages you can add.
Fishing equipment. Covers fishing supplies on the boat or while being transferred on or off the boat.
Personal property. Covers personal effects on the boat or while being transferred on or off the boat.
Towing and roadside assistance. Provides towing on or off the water.
Fuel spill/accident cleanup. Covers removal of debris from an accident.
How much is boat insurance?
The cost of boat insurance depends on a lot of factors, including where you live, the type of boat you own and the waterways you us it on. As an example. Progressive estimates that a boat insurance policy ranges from $263 to $537, largely depending on the region.
Your driving record may affect the cost of boat insurance, and of course the value of your boat. A fancy speedboat will cost more to insure than a fishing skiff.
Are there boat insurance discounts?
Many boat insurance discounts are similar to auto insurance discounts. Here are some specific to boats:
Fire suppression system discount.
Diesel fuel discount.
Safety device discount.
Many insurance companies will also offer a discount if you insure your boat along with your home and/or car with the same company.
Helpful Auto Insurance Articles & Guides