Why you should trust Insurance.com
Insurance.com is dedicated to informing, educating, and empowering you to make confident insurance decisions. Our content is carefully reviewed by insurance experts, and we rely on a data-driven approach to create unbiased, accurate insurance recommendations. Insurance.com maintains editorial integrity through strict independence from insurance companies.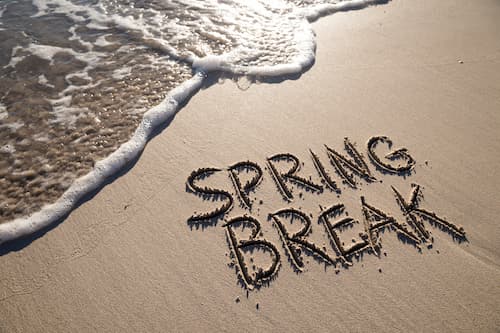 Spring break is a highly anticipated time to escape school, work and other responsibilities. Whether you're traveling with the kids or have a college student headed to warmer shores with their friends, there are some things to keep in mind when it comes to insurance.
From whether to accept that insurance at the rental car desk to what happens if you cause damage to a vacation home, you need to know what insurance follows you, what's covered and what additional coverage you should buy.
Here's what you need to know to keep your spring break worry-free.
Key takeaways
Your own insurance or a credit card may provide coverage for a rental car; check to see what coverage you have before you buy more.
Your homeowners insurance provides on-the-go coverage for personal property and liability.
If you're leaving the U.S., you need to be aware of limitations on health, car and other insurance policies in other countries.
What kind of insurance do you need for spring break travel?
When planning your spring break trip, you have probably already considered travel insurance. It's the first thing that comes to mind when you think of insurance for a trip. Travel insurance provides a lot of comprehensive coverage that can protect you in case of unexpected cancellations, trip interruptions, lost baggage and more.
But travel insurance isn't the only thing you need to keep in mind when planning your trip. There are a lot of additional risks to keep in mind. The good news is you might already have the coverage you need, and additional coverage is easy to obtain.
Coverage for a vacation rental or hotel room
Airbnb and VRBO are both popular options, especially when traveling as a family and offer all the comforts of home. But what happens if you accidentally break something or if someone is hurt on the property?
Both Airbnb and VRBO provide coverage to the owner that protects their property and provides liability insurance, but if you're to blame for the incident, you can be held liable. And that means you're financially responsible.
The good news is that your homeowners liability insurance extends to protect you away from home, and you can file a claim if needed.
"Most home insurance policies would cover the Insured, or other household members, for instances that occur off the property," Lauren McKenzie, senior agent at A Plus Insurance in South Carolina, says.
You may also be offered an insurance plan when you book your rental that provides additional protection. Some hosts even require it, and if that's the case, you will have to buy it. If it's not required, however, and you have a home insurance policy with a solid liability coverage level, you can likely skip it.
Bear in mind, though, that intentional destruction is not covered. If your college student throws a party where things get out of hand and items are intentionally destroyed, they're on the hook. And if they're a minor, you're the one that's on that hook.
What about insurance coverage for a hotel room? Again, your homeowners liability will extend to the hotel, but again, not for intentional damage. There's a reason hotels take a credit card at check-in; they'll happily charge that card if you leave damage behind.
"Damages covered off property may include damages to a hotel room…up to your selected liability limit. Each insurance provider has guidelines to follow, so check with your home insurance provider on specifics to ensure you would be covered in the event of any damages," McKenzie says.
Is personal property covered on vacation?
Both home and renters insurance cover your personal property anywhere in the world, but it's important to know that there are limitations.
First of all, the total amount of coverage for personal property off-premises (anywhere that's not the insured property) is reduced. The usual limit is 10% of the total personal property coverage.
Second, you should be aware that there are limits on coverage for certain high-value items, like computers and jewelry. Your best bet is to leave these items at home when you travel, but if you must bring them, consider a floater. This will add additional dollar-value coverage and also extend the circumstances in which the item is lost. While home insurance usually doesn't cover "mysterious disappearance" (which means you lost the item), a floater does.
Car insurance coverage across state lines and national borders
If your spring break involves a road trip, it's important to know how your car insurance works when you're away from home.
A U.S. car insurance policy will cover you in all U.S. states and territories (although you're probably not driving to Puerto Rico) as well as in Canada. However, it won't transfer to Mexico. Call your car insurance company before you go to ask if they offer Mexican coverage. Many companies offer it online, and you can even buy it right at the border.
If you're involved in an accident in a state with different minimum coverage levels than your home state, your insurance company will usually automatically adjust your coverage to match that state's minimum. However, it's always a good idea to increase your coverage above the legal minimum, which is rarely enough to cover an accident.
What if you lend your car to your college student to take on a spring break trip? Good news - your child is covered under your policy if you lend them the car. Even if your student no longer lives at home and isn't on your insurance anymore, they're covered as a permissive user.
Rental car insurance
Renting a car when you arrive at your spring break destination? Again, most car insurance companies will extend coverage to a rental car if you rent and drive it in any U.S. state or territory or in Canada. Always call your insurer to confirm the coverage before you go, however.
It's also a good idea to check with the credit card you're using to rent the car. Many credit cards offer rental car coverage.
If neither of these applies, consider buying the coverage offered by the rental car company; you don't want to be on the hook if something goes wrong. You should also consider buying that coverage if you carry liability-only insurance, as your policy will transfer over only what you carry on your own car. You'll have no coverage for damage to the rental.
"If you have liability coverage on your auto policy and need comprehensive and collision to extend to your rental car, you can change the coverages on your auto policy for the time you will be renting the vehicle, or you can purchase comprehensive and collision through the rental car agency," McKenzie says.
Travel health insurance
This is a big one to consider if you are leaving the U.S. or even, in some cases, within the country. Health insurance plans vary in terms of what coverage they will offer outside the country or even outside of the state.
If you have an HMO, you have no out-of-network coverage. That means that even in another state, you might find yourself far from an in-network provider. While health plans should cover out-of-network care if it's an emergency, you could run into trouble if there's a serious injury or accident and need to be in the hospital for a long time.
Outside the country, the rules vary. Again, emergencies may be covered. Non-emergency treatment (your child gets an ear infection, for example) may be covered as out-of-network care or may not be covered at all. You may have to pay out of pocket and submit for reimbursement, which could be a hefty upfront payment.
Call your insurance company before you travel, especially if you have a chronic condition that could flare up. Find out what's covered and how.
To be safe, it's a good idea to buy travel health insurance. This may be included in a travel insurance package plan, or you can buy it as a standalone policy. Bear in mind that most travel health insurance plans don't cover regular medical care, just emergencies and unexpected illnesses. Make sure you bring any prescriptions you might need along and take care of any medical needs before you travel.
Medical evacuation coverage
It's important to know that health insurance, even travel health insurance, may not cover the cost to bring you home if something goes seriously wrong on your spring break trip. If you're severely injured or ill and need to be returned home under medical care for further treatment, it can be astronomically expensive.
Medical evacuation coverage may be included in some amount on a travel health or other travel insurance plan. Be sure to check the limits of coverage. You can often add additional coverage or buy a standalone policy that covers evacuation and repatriation, which is a worst-case scenario coverage to return remains to the U.S. for burial.
Trip cancellation, trip interruption and other travel insurance
Travel insurance policies are largely there to protect you from financial loss if you have to cancel your trip, cut it short, or if other issues arise related to travel. This can include lost luggage or costs related to flight delays or missed connections.
Whether or not you need this coverage depends on whether you're willing to risk the loss of non-refundable travel, like tours, hotel rooms, tickets and other costs. Make sure you read the fine print before you buy, as most plans have exclusions and limitations.
Again, check with your credit card company as well to find out if any travel insurance is included.
Do you need to buy extra insurance for spring break?
It's only a week, and you might think not much could go wrong in that time. Travel insurance is, like any insurance, a matter of what risk you are willing to take and what peace of mind is worth to you.
If you're traveling within the U.S., much of your existing coverage will follow you and is likely enough. Outside the country, however, you should make sure you put some research into how things operate in your destination country and consider buying extra protection where you need it. The Department of State offers information on travel outside the U.S.
The right insurance lets you relax and enjoy your spring break, knowing you're protected if something goes wrong.
Helpful Auto Insurance Articles & Guides