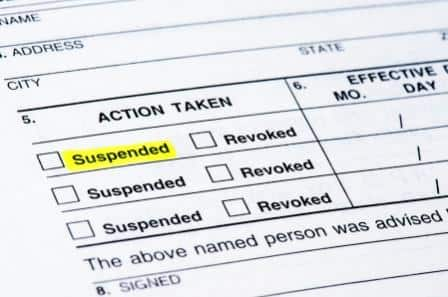 Bad drivers probably shouldn't be on the road. On this point, people agree.
Lawmakers, though, have added their own logic. They think many good drivers shouldn't be on the road either, like those who litter or fail to vaccinate the dog.
Dozens of no-no's unrelated to highway safety can get your license yanked.
"It's evolved into something that is used to gain social conformance," says Rob Mikell, a former prosecutor and now commissioner of the Georgia Department of Driver Services. "But at some point it began to overwhelm the system."
The American Association of Motor Vehicle Administrators (AAMVA) estimates that about 7 percent of U.S. drivers have a suspended license at any given time. Of those 15 million drivers, 39 percent lost their licenses for reasons that had nothing to do with driving. (See "Car insurance with a suspended license.") A large number of them will need to ask their insurance companies to file an SR-22 as part of their path toward license reinstatement.
What kinds of reasons? Read on. (For a look at laws by state, see "59 ways to lose your license.")