Why you can trust Insurance.com
Insurance.com is dedicated to informing, educating, and empowering you to make confident insurance decisions. Our content is carefully reviewed by insurance experts, and we rely on a data-driven approach to create unbiased, accurate insurance recommendations. Insurance.com maintains editorial integrity through strict independence from insurance companies.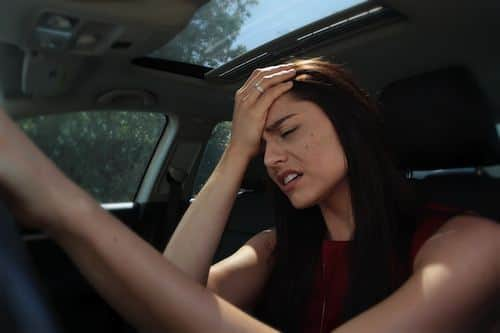 Sharon Rosenblatt did not start her driving career on a high note.
The Connecticut resident managed to fail the driving test twice, once for speeding and the second time for "brushing up" against a parked car in the DMV lot.
Sharon was 19 before she finally scored a license, and then quickly racked up two speeding tickets, one of which was knocked down from a reckless driving charge for cruising through sleety conditions at 20 mph over the speed limit.
Sharon's experience is more common than you would hope. Recently licensed drivers, regardless of their age, tend to be some of the most risky and dangerous drivers out on the road.
Age matters, but experience matters more
A 2002 study in Nova Scotia analyzed crash rates for young drivers.
The results clearly showed that the first six months of licensure were the most dangerous. Crash rates dropped 41 percent from the first month after licensure to the seventh month and 60 percent by the time they had been behind the wheel for two years.
In 2011, the U.S National Institutes of Health (NIH) conducted an observational assessment of teens and their parents during their first 18 months of licensure. In-car cameras recorded data on mileage, acceleration and GPS positioning, letting researchers see exactly what teens were doing wrong.
The young drivers managed to get in 37 accidents over the course of the study, while their parents were involved in two. Near-crash situations were just as bad: 242 for the teens compared with 32 for the adults.
The data showed that the teens were 12 times more likely to get in an accident in the first month of driving than they were after one year of experience.
Most recently, a 2014 AAA Foundation for Traffic Safety study looked at teen crash rates in New Jersey. The Garden State doesn't allow unsupervised driving until the age of 17 and is the only state that extends GDL restrictions to all novice drivers under the age of 21.
Again, data confirm that the first months of licensure are the most dangerous, regardless of age. Crash rates for the youngest drivers dropped 26 percent over the first six months they had their licenses and, by the end of the first year, fell 45 percent.
Drivers who were licensed at 17 years old had crash rates 25-35 percent lower after one year of experience than 18-year-olds who were just starting to drive.
Why are teen drivers so dangerous?
It's no secret that teens are risk-takers out on the road.
"Teens feel invincible and don't fully understand their own driving limitations or the limitations of the vehicles they are responsible for controlling," says Dan Wagner, founder of Teen Driving Solutions School, based in Raleigh, North Carolina.
The NIH study discovered teens were five times more likely to make risky maneuvers out on the road when compared with their parents. While greater speed, harder braking and rapid starts were all popular, teens really loved to hit the corners hard. Sharp turns by teens were recorded at rates 25-30 times more frequently than the adults.
Unfortunately, the risk-taking doesn't stop even as they gain experience. Results showed that even after a teen was involved in a crash or near-crash, they continued to engage in risky behaviors.
While crash rates declined, it was mainly due to their ability to better control the car during risky maneuvers.
You expected cheaper insurance?
Expect your rates to double or possibly triple after your teen gets a license.
Insurance.com asked Quadrant Information Services to compare full-coverage rates from six major carriers in each state for a 40-year-old driver insuring a 2014 Honda Accord both before and after adding a 16-year-old driver.
On average, the adult driver by himself would pay $1,215 a year for full coverage.
Adding a newly licensed 16-year-old girl, the average increase was 129 percent, to $2,775 a year.
Adding a newly licensed 16-year-old boy was even more expensive, increasing rates by 176 percent a year on average, to $3,344.
Increases vary dramatically by state, from more than 200 percent in California and North Carolina to virtually nil in Hawaii, which doesn't allow age-based rates.
Rates also differ substantially by carrier. For example, in Irvine, California, the Accord-driving parent adding a newly licensed 16-year-old boy would find rates as low as $2,369 a year or as high as $9,875.
Even on an older, run-of-the-mill car, expect a big bump. "Insuring a teen in a 2000-ish Toyota Camry could result in a $1,200 annual increase," says Christopher Michaut with Williamson Insurance in Ohio.
Time and a clean record work wonders
Because your rates are already inflated simply by the teen joining the policy, the impact is that much worse when a ticket or accident occurs.
Even a simple rear-end collision can push your already high rates up another 25 percent. "For minor accidents, I'd pay out of pocket if I could," says Insurance.com Managing Editor Des Toups. "Save the insurance for the big stuff." Settling a car accident without insurance can save you money.
A clean record is critical, says Penny Gusner, consumer analyst at Insure.com, and not just to keep rates from soaring after an accident or traffic violation. "Three years of incident-free driving and your teen may be eligible for a good driver discount, which can be up to 25%," she says.
And rates do go down for most drivers, slowly but surely, with every additional year of experience, Toups says. By the time a driver reaches age 25 – with 10 years on the road – the penalty for inexperience is gone completely. (See "When car insurance rates go down.")
How to keep them safe
While it may be an unpopular decision with your teen, delaying solo driving is one of the best ways to keep them safe.
According to Dr. Allison Curry, lead author of the AAA report, "Regardless of age and experience, we found that teens experienced an abrupt spike in crash rates when they transitioned from an intermediate to a full license."
Age is not always the best indicator for a full license, says Jennifer Ryan, AAA's director of State Relations. "Evaluate your teen's readiness and, as the parent, make the decision whether they are ready to be out on the road solo."
Ryan also encourages parents to stay involved, "Every time your teen wants to drive alone, require a check-in before handing over the keys. Make sure your teen tells you the destination, route, who will be in the vehicle (more passengers equals more risk), and return time."
Setting a good example is key, Wagner says. "Lead by example and communicate with your teen throughout their first few years of driving. If you want your child to put away their phone, wear their seatbelt, and drive the speed limit, you must do the same."
Finally, keep the ideal GDL restrictions in mind even after your teen qualifies for a solo license. AAA recommends the following:
Novice drivers have at least 50 hours of practice, with 10 hours at night.
No driving between 10 p.m. and 5 a.m. for at least first six months of licensure.
No more than one non-family passenger under age 20 for at least first six months.
Ban the use of all mobile electronic devices.
Use the seat belt every time.