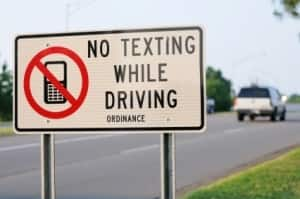 There are few places in this country where you won't get busted for texting while behind the wheel -- 45 states and Washington, D.C., have outlawed texting for all drivers, according to the Governors Highway Safety Association.
Another three states -- Texas, Missouri and Oklahoma -- ban texting for new drivers, usually 18 and under. Arizona and Montana are the only states without any texting laws.
Beyond a fine, a texting ticket adds points to your driving record in some states. That's important because you could lose your license if you rack up too many. In California, for instance, four points in a 12-month period gets you a six-month license suspension and year-long probation. (See "Car insurance with a suspended license.")
The states with a texting law specifying that violations add points or are considered a moving violation include:
Alabama: 2 points
Colorado: 1 point
District of Columbia: 1 point and a moving violation; 3 points if it is judged to have caused an accident.
Florida: 3 points and moving violation for second ticket within five years; 2 additional points if texting ticket received in school safety zone; 6 points if found that unlawful use of wireless communications device results in a car crash
Georgia: 1 point
Kentucky: 3 points
Maryland: 1 point and a moving violation; 3 points if the texting contributed to an accident
Missouri: 2 points
Nebraska: 3 points
New York: 5 points
New Jersey: 3 points for third offense
North Dakota: moving violation
Nevada: first offense not considered a moving violation; repeat offenses add 4 points
Vermont: 2 points for first offense and 5 points for a subsequent offense
Virginia: 3 points
West Virginia: 3 points for third offense
Wisconsin: 4 points
While these penalties -- compared with states that don't levy points -- may seem harsh, consider what happens when you are convicted of a major traffic offense. Nevada levies 4 points for a repeat-offender texting ticket, but compare that with reckless driving (8 points) or a DUI (no points at all -- instead, your license is suspended automatically).
Will your insurance go up?
Points also affect car insurance. If they show up in a review of your driving record, they'll probably lead to a rate hike, especially if you have other infractions or have been in a recent accident. (See "What you need to know about driver's license points.")
"If you live in a state that treats a texting ticket as a moving violation, it's treated by insurance companies like any other minor ticket," says Des Toups, managing editor of Insurance.com. "But there's a big difference in how individual companies handle tickets. With some, a single ticket might not affect your rates at all. Others might decide you don't qualify for a good driver discount anymore. And some might actually raise your rates a bit."
Based on a survey of six insurance carriers in 10 ZIP codes in every state, commissioned by Insurance.com, the average rate increase after a single moving violation such as a minor speeding ticket was 14 percent. That doesn't mean all carriers raise your rates, though.
For example, for a 40-year-old driver in a 2014 Honda Accord in Watertown, Tennessee (ZIP code 37184) who gets a speeding ticket for less than 10 mph over the limit, two of the six carriers don't raise rates at all, two raise rates less than 5 percent, one raises them 12 percent – and one increases them by 34 percent.
Multiple moving violations on your record almost certainly guarantee a rate increase, Toups says.
In some states, pay the fine and it's over
Several states make an insurance surcharge less likely by specifying that breaking the texting law won't result in extra points or be considered a moving violation. They include:
California: no points and not a moving violation
Delaware: no points
Idaho: no points; not a moving violation
Iowa: no points; not a moving violation
Louisiana: no points; not a moving violation
North Carolina: no points; not a moving violation
Pennsylvania: no points; not a moving violation
Tennessee: no points; not a moving violation
Washington: no points; not a moving violation
There are a few states that prohibit insurers from raising rates based on texting violations. These are:
Idaho
Massachusetts
North Carolina
Washington