Why you should trust Insurance.com
Insurance.com is dedicated to informing, educating, and empowering you to make confident insurance decisions. Our content is carefully reviewed by insurance experts, and we rely on a data-driven approach to create unbiased, accurate insurance recommendations. Insurance.com maintains editorial integrity through strict independence from insurance companies.
The holiday season is filled with opportunities for celebrations and merriment, but unfortunately, there is a dark side to what should be a joyful season. Each year, the holidays bring an increase in impaired drivers on the roads as people leave dinners and parties after drinking and get behind the wheel.
DUIs not only put lives at risk but are incredibly costly. DUI insurance rates are incredibly high but not as high as the price paid by the hundreds of people who lose their lives in alcohol-related accidents every holiday season. An estimated 1,316 will die over the 2022 holiday season, according to the National Safety Council's 2022 Holiday Traffic Fatality Estimate*.
The good news? It's never been easier to get a sober ride home, thanks to rideshare services like Uber and Lyft. But does ridesharing reduce DUI fatalities? Studies say yes. Read on for the sobering facts about drunk driving during the holidays and how ridesharing can save you from a DUI while saving lives, too.
Key takeaways
41% of fatal crashes during the holidays from Thanksgiving to New Year's are alcohol-related.
49% of fatal crashes on New Year's are caused by drunk driving.
Ridesharing services like Uber reduce fatal crashes and the overall number of DUI arrests.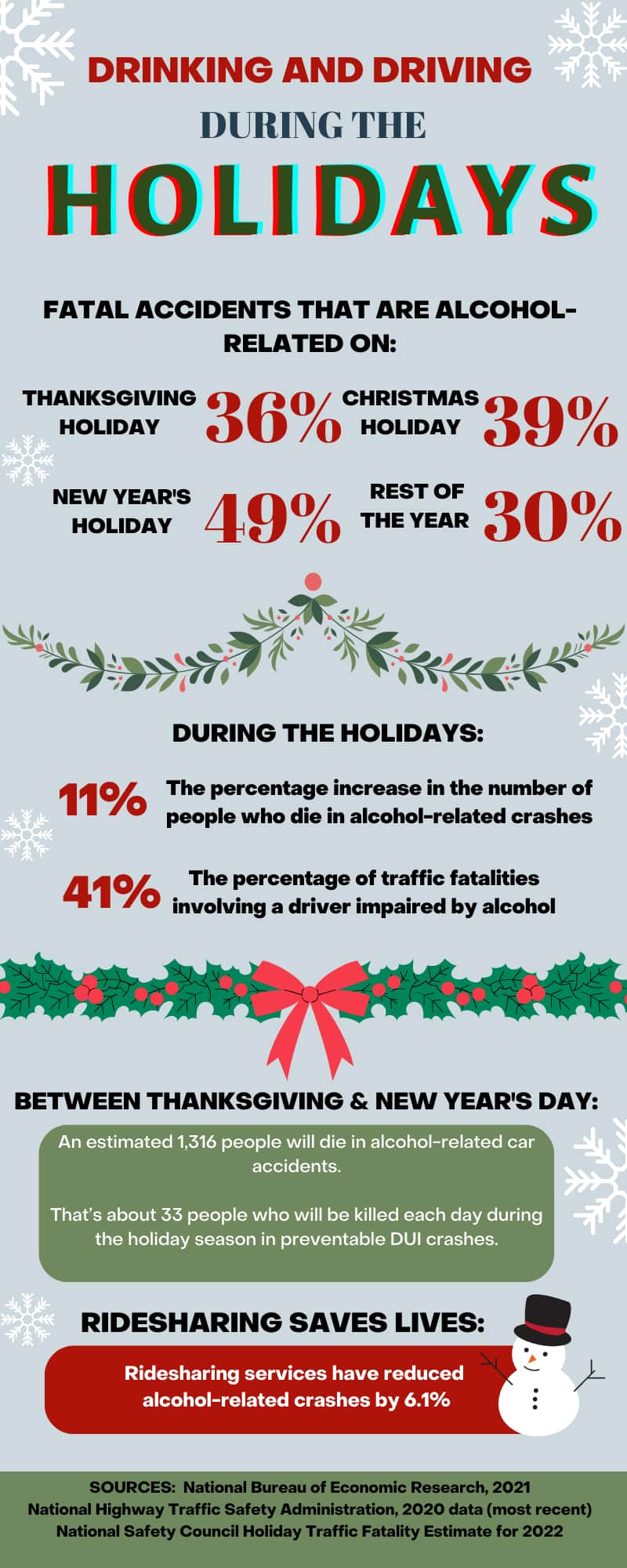 Ridesharing saves lives
The statistics are scary: It's estimated that more than 1,300 people will die in preventable accidents during the 2022 holiday season. DUI fatalities increase by an average of 41% during those few days of the year that should be filled with joyful celebrations.
Multiple studies have been done on the impact of ridesharing on DUIs and related fatalities, and the picture has become clear in recent years. Using ridesharing services like Uber and Lyft reduces deaths on the road.
A 2021 study by the National Bureau of Economic Research found a 6.1% decrease in fatal DUI accidents due to the use of Uber. An estimated 214 lives were saved in 2019 alone.
A study published in 2021 in the Journal of the American Medical Association came to a similar conclusion. The study based in Houston found that ridesharing reduces alcohol-related crash trauma as well as DUI convictions.
Ridesharing prevents DUI convictions and penalties
Drinking and driving during the holidays can have fatal consequences, but the penalties are serious even if you don't cause an accident.
A DUI conviction can result in losing your license, fines and jail time. Beyond the legal consequences, you can expect to see a major increase in your insurance rates. Car insurance after a DUI goes up an average of 127%. You'll pay that increased rate for at least three years. That makes the cost of an Uber home very affordable by comparison.
Other ways to get a ride home during the holidays
Ridesharing is an easy way to get a sober ride home, but you have other options, too. In fact, during the holidays, you may have even more options.
Many cities offer free ride programs during the holidays. The key is to make sure you've done the research ahead of time. Find out what free ride services are available and have the contact information ready.
In addition, many public transportation services offer no-fare holiday rides, and even rideshare services may offer free rides on nights like New Year's Eve.
Of course, the best way to ensure you don't drive home drunk is to leave your car at home. Use alternate transportation to get to your holiday celebrations and back, and you won't be tempted to get behind the wheel.
*NSC estimates traffic deaths ahead of each holiday based on past statistics. The estimated total is based on a combination of 2021 and 2022 data.
Helpful Auto Insurance Articles & Guides