Why you can trust Insurance.com
Insurance.com is dedicated to informing, educating, and empowering you to make confident insurance decisions. Our content is carefully reviewed by insurance experts, and we rely on a data-driven approach to create unbiased, accurate insurance recommendations. Insurance.com maintains editorial integrity through strict independence from insurance companies.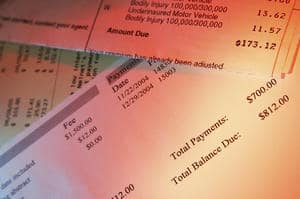 A clerical error is what descended upon New York driver Alison Elder, who made the mistake of believing the insurance agent who told her: "All set. Your insurance will transfer to the new car."
Later, Elder pulled up to her mailbox in that new car to find a stern letter from the Department of Motor Vehicles: She'd driven for eight days without auto insurance.
"The worst part is everyone I spoke with made me feel like I was a criminal," says Elder, who learned that her registration had been automatically revoked and her license would soon be suspended if she didn't promptly pay. She wisely paid the $64 fine immediately and left the sorting of the blame for later. If she does want to switch, it's easy to learn how to switch insurance companies.
Speed is indeed of the essence when an auto-insurance payment is missed, for any reason. Not only is liability insurance mandatory in every state except New Hampshire, but insurance providers are under no obligation to observe a grace period to accommodate late payments.
That means the day after that existing policy end-date - at 12:01 a.m., to be precise - the insurance coverage has technically "lapsed." And unless you've already turned in your plates to the DMV, you're now considered to be operating without insurance, even if the car is parked in a locked garage and you're on a job in another state.
Once that happens, the clock starts ticking. First, there are fines from the DMV, thanks to the electronic reporting systems used by a growing number of states, which require insurers to immediately transmit the name of a lapsed policyholder. In New York state, an $8-a-day fine starts on Day 1 and increases further after 30 days. Some states don't issue fines until 10 or 30 days have passed. Others are less forgiving: In Nevada, a $250 fee is imposed after one day.
"The important thing to do is get in contact with your insurance company right away," says Bob Passmore, senior director of personal lines policy at the Property Casualty Insurance Association of America (PCI). "If you haven't had an accident, you can probably pay the back payment and be fine."
But we were on a break
But what if you don't get reinsured within, say, 30 days? Now comes a second hit, one that even affects drivers who did turn in their plates and officially take themselves off the road: You now have a lapse in auto insurance on your record. In the eyes of insurers, you've suddenly become a high-risk driver and would need high-risk car insurance.
It may not seem logical, or even fair, but insurers remain competitive by charging riskier customers higher premiums. And statistically, they say, drivers without steady coverage tend to file more claims. To compensate, insurers will either issue a lapse surcharge or remove any discount for continuous coverage.
"The insurance companies believe if you can't keep continuous coverage it just shows you're more of a risk," said Penny Gusner, a consumer analyst with Insure.com. "It's something they've certainly instilled in drivers, that you can't have a lapse."
Some insurance companies won't even take customers who can't show six months of prior coverage, and others may jack up rates to double the price.
For example, look at the results when we compare car insurance quotes for a six-month policy on a 30-year-old man with a clean driving record on a 2014 Kia Soul in the Seattle area. When he was merely switching from one insurance company to another, we found three carrier quotes ranging from $758 to $1,074. When he was getting insurance after a one-year lapse in coverage, one carrier did not return a quote at all, and the other two ranged from $1,767 to $1,855.
But this is not always the case. California, for example, prohibits insurers from using continuous coverage as a rating factor. Other states may require that insurers provide exemptions for military serving overseas or people who have been hospitalized or suffered a job loss. A driver's history with a company can make a difference, too.
"If you've bounced around companies, or you've only been with them six months, they might not be as understanding. They might just think this is something you do," says Gusner. "With some companies, they might not want to take you back if you're not currently insured. Others won't mind as long as it's less than 30 days."
It can get even worse
Some drivers may have more than the DMV or an insurance company to deal with.
Drivers who have an outstanding loan are obligated to protect the lender's collateral with collision and comprehensive insurance.
If a bank or credit union does not have your current insurance information on file, it will send you a notice that it is buying insurance to protect its interest in the car. This "forced-place" insurance - also known as collateral protection insurance or lender-placed coverage - will be tacked onto your monthly payments.
"Forced-place coverage is very, very expensive," says Insurance.com managing editor Des Toups. "And it doesn't even cover you for liability- just the car itself - so you still wouldn't be legal to drive."
And then there's the matter of dealing with law enforcement.
Driving without insurance does more than just annoy your insurance company - it's a misdemeanor in most states that carries the possibility of a fine, demerit points on your motor vehicle record, license suspension and even immediate confiscation of the vehicle itself.