Why you should trust Insurance.com
Insurance.com is dedicated to informing, educating, and empowering you to make confident insurance decisions. Our content is carefully reviewed by insurance experts, and we rely on a data-driven approach to create unbiased, accurate insurance recommendations. Insurance.com maintains editorial integrity through strict independence from insurance companies.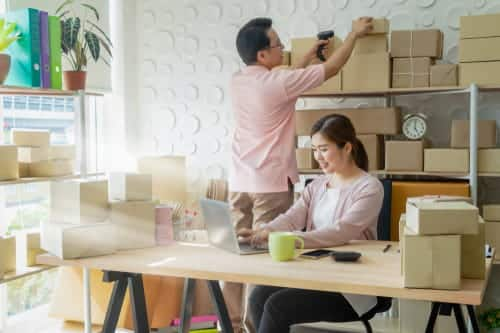 If you run a business out of your home, you have assets to protect and liability risks that go beyond what homeowners insurance is designed to cover. Home business insurance can close the gap and ensure your livelihood and home are protected.
Not everyone who works from home needs home-based business insurance. If you telecommute and are employed by a company, you may not need additional coverage. But if you run your own business, whether a daycare or a real estate agency, you need to consider extra insurance.
Your homeowners insurance doesn't cover things like large amounts of business inventory or the risks of having clients in your home, and if you don't have the right business insurance when something goes wrong, your company could be left with the bill.
Key takeaways
Home insurance doesn't protect you if someone is injured while visiting your home for business purposes, nor does it protect business equipment and inventory.
If you run a business out of your home, you need additional coverage to protect your company.
Home-based business insurance provides liability, loss of income and business property coverage, among other coverages.
Do you need home business insurance?
Not everyone who works at home needs home business insurance. You likely don't need extra coverage if you aren't self-employed and simply telecommute. The same goes for someone like a writer, who may work in a home office but has no clients or business equipment.
To decide if you need insurance for a home business, ask yourself a few questions:
Do clients visit your home office or any other part of your home property, like a workshop?
Do you keep business inventory or equipment at your home?
Do you have employees?
Could you continue to work elsewhere if your home were damaged so you couldn't use it for work?
You would need home business insurance if you answered yes to any of these questions.
Does home insurance cover business property?
Most home insurance policies include a small, minimal amount of business property insurance, usually intended to cover a laptop, desk or similar equipment used for work. It may also cover things like samples used for sales jobs or a small amount of inventory.
This limit can be increased, and it may be enough if your business is small and has little inventory and equipment on hand. But if you have a lot of high-value inventory or equipment, or additional risks like clients visiting your home, consider home business coverage.
While a small amount of business property coverage is included with a homeowners policy, homeowners insurance liability doesn't cover business activities.
What does home business insurance cover?
What is covered depends on the coverage you purchase, which, in turn, depends on your home-based business.
Here are some of the options to consider:
Home business endorsement
Most home insurance companies will offer an endorsement that can be added to your policy to provide extended coverage for a business in your home. This will expand coverage for business property, add business liability and often include some coverage for loss of income if a covered claim prevents you from doing business at home.
Home business policy
Some companies offer a separate in-home business policy with higher limits and fewer limitations than an endorsement. This type of policy is usually best for small businesses without many risks or exposures. It covers property, liability and loss of income, but plans vary by insurance company.
Business Owners Policy
Often shortened to BOP, the Business Owners Policy provides broad protection for most types of small businesses. In addition to the basics included with an endorsement, it can include professional liability coverages, which protect you if you make a mistake that damages a client somehow. A BOP may also include coverage for equipment breakdown.
Other commercial insurance options
In addition to basic coverage for business operations in your home, you may want to consider the following:
Commercial auto insurance, if you use a vehicle owned by the company for business purposes
Worker's compensation, if you have employees
Specialized liability coverage, such as errors and omissions, which might not be included in a home business insurance policy.
How much is home business insurance?
The cost of a home business policy is difficult to estimate. It depends on the type of business, whether you have employees, what kind of coverage you need and your location.
To find out how much your policy will cost, and to make sure you buy the right coverage, it's best to discuss your needs with an insurance agent specializing in business insurance.
What happens if you don't have insurance for your home business?
Your home insurance policy provides minimal coverage for businesses on the premises. If someone is injured on the premises during the course of a business meeting or visit to your home office, workshop or other business space, home insurance can and will deny the claim.
Your company will be held responsible for any injuries or damage to someone else, and you could be sued. Without business insurance, you'll have no recourse to pay legal fees or any judgment against you.
And, of course, coverage for your business equipment and inventory is limited under a homeowners insurance policy, and you will have to pay to replace anything beyond that yourself.
Furthermore, if you operate a business out of your home and don't tell your insurance company, they could decide to non-renew your policy.
See How Much You Can Save
See How Much You Can Save
Helpful Home Insurance Articles & Guides