Why you should trust Insurance.com
Insurance.com is dedicated to informing, educating, and empowering you to make confident insurance decisions. Our content is carefully reviewed by insurance experts, and we rely on a data-driven approach to create unbiased, accurate insurance recommendations. Insurance.com maintains editorial integrity through strict independence from insurance companies.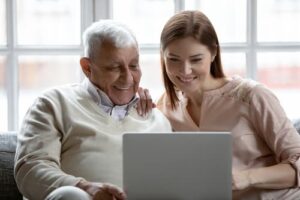 Life insurance can be one of the best ways to look out for your loved ones financially. Perhaps you want to ensure your spouse has enough money to raise your children if you die unexpectedly. Or maybe you want to leave an inheritance for your kids or a charity you care deeply about.
Whatever the motivation, getting life insurance can be a good way to leave money behind. But when should you get life insurance?
Typically, life insurance premiums get more expensive with age. So, it can pay to act sooner than later. However, some people prefer to wait, as life insurance needs can change over time. The choice can also depend on the type of life insurance you buy.
Key takeaways
The younger you are, the less life insurance typically costs.
Determining when to get life insurance depends on what you want to protect, such as the cost of raising kids or affording retirement.
Term life insurance is often a better fit for young people, while older people might choose permanent life insurance due to more complex financial situations.
At what age should you get life insurance?
The younger you are, the more affordable life insurance tends to be. That's because a younger person generally has a lower chance of dying, thus reducing the likelihood of an insurance payout.
Still, it can make sense to buy life insurance as a young adult to protect against future risks. In 2023, 40% of Gen Zers (ages 11-26) and 48% of Millennials (ages 27-42) say they have life insurance, according to a survey by LIMRA and Life Happens.
The most common reason why people in these age groups buy life insurance is to cover burial and final expenses, followed by transferring wealth or leaving an inheritance, according to the survey.
However, young people aren't the only ones who need life insurance. Seniors, for example, might buy smaller policies specifically geared toward covering final expenses, like burial and legal costs. Seniors often buy life insurance to prevent their families from paying for these final expenses out of their pockets.
When do you need life insurance?
The age at which to buy life insurance can vary based on what you need life insurance to cover.
For example, when you get married, you and your spouse might start sharing bills, like a mortgage and car payments. If you pass away young, that could leave your spouse without your income to split expenses. So, some couples choose to get life insurance around the time they get married to protect against this possibility.
Similarly, you might buy life insurance when you have kids to help cover the costs of caring for them if you pass away early. For example, a 20- or 25-year-term life insurance policy might last long enough to ensure your kids have enough money to get through college if you pass away before then.
But you don't have to be in these earlier life stages to buy life insurance. People over 50, for example, might buy life insurance as a form of retirement security for their spouses. Or, you might want to leave a nest egg for your children or grandchildren.
The type of life insurance policy you should buy based on your age
Many people start with term life insurance policies, which last for a designated period of around 10-30 years and are a good life insurance choice for young people. So, these policies can cover a good portion of your pre-retirement life.
"Typically, we will see age ranges between 20 to 60 years old using term insurance to provide a safety net for families' earning capacity in the event of premature death," says Krisstin Petersmarck, investment advisor representative at Bridgeriver Advisors.
Others might opt for permanent life insurance, such as whole life or universal life, which can provide benefits whenever you pass away in exchange for higher premiums. These policies can also build a cash value during your lifetime, which can help those who struggle to save on their own.
"Due to the higher cost of whole life and universal insurance, the age range is usually 40 to 65 years old," says Petersmarck.
Bear in mind that some permanent life insurance policies, particularly universal, can come with financial risks; talk to an expert before you buy.
Seniors might also buy a form of permanent life insurance known as final expense insurance to avoid putting family members in a bind after the policyholder dies.
When to buy term life insurance
Term life insurance can be helpful for those who have a time-bound risk. For example, if you know that you're buying life insurance primarily to support your children if you pass away before they turn 18, then you could buy a term policy that aligns with that period.
After that term expires, you might not have as much financial responsibility, so you might decide to forego insurance later in life. Or, you might choose to buy another term policy to help you bridge any remaining years until you can withdraw from your retirement accounts penalty-free.
Plus, the lower cost of term life insurance compared with permanent life insurance can make it a great fit for those who are new to life insurance and want to start with a more affordable policy.
"Term insurance is great for individuals that are younger, due to its affordability and versatility in coverage applications," says Petersmarck.
When to buy permanent life insurance
While many young people opt for term life insurance, older individuals might choose permanent life insurance, particularly as their financial needs become more complex.
"As you age and can afford a whole life or [universal] policy, the benefits increase beyond only a death benefit," says Petersmarck. "These policies can accumulate cash value as well and be used for tax-advantaged distributions or long-term care provisions while the policyholder is still alive."
Because they tend to cost more than term life insurance policies and may have risks, however, it's important to make sure you understand the cost/benefit of using permanent life insurance policies for these other purposes. Compare these policies with other options, like saving more money in your retirement accounts.
How to get life insurance
To buy life insurance, you can easily compare quotes online by answering a few questions about yourself. With some companies, you can also talk to an insurance agent on the phone or in person for further assistance.
Once you get quotes, you might need a medical exam to complete your application, depending on the policy. However, some carriers offer no-exam life insurance policies, depending on your situation. With these policies, you can sometimes go from quotes to coverage in minutes.
Before you get too far down the insurance rabbit hole, however, take some time to reflect on what you want to protect to determine how much life insurance you need and do some research to see what policies would work for you. Enlisting the help of a trusted professional can also make the process easier.
"To determine the type of coverage to buy, you need to ask yourself what it is you are looking for and what you can afford. After you determine those questions, work with a financial professional who specializes in life insurance to ensure you are getting the best policy for your needs as well as your money," says Petersmarck.
See How Much You Can Save
Helpful Life Insurance Articles & Guides