Why you should trust Insurance.com
Insurance.com is dedicated to informing, educating, and empowering you to make confident insurance decisions. Our content is carefully reviewed by insurance experts, and we rely on a data-driven approach to create unbiased, accurate insurance recommendations. Insurance.com maintains editorial integrity through strict independence from insurance companies.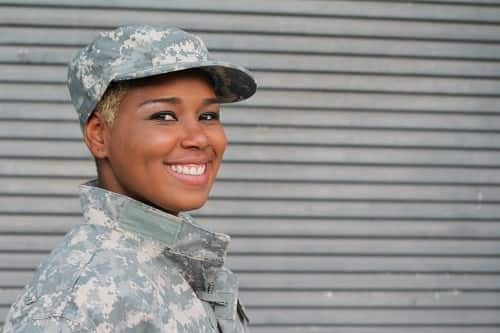 Veterans need the same coverage as anyone else who drives. However, many providers offer military and veteran car insurance discounts for additional savings on your policy each year.
There are also some providers who specialize in car insurance for veterans, offering exclusive services, excellent resources, and some of the cheapest rates you'll find anywhere. USAA is the best known, but there are a few more.
If you're in the market for a new insurance policy, we've got you covered with the best cheap car insurance for veterans and some expert tips on finding the best deal.
Key takeaways
The average cost of car insurance is $1,682 per year for a full coverage policy.
You might be eligible for membership in the USAA if you are already a member of the Veterans of Foreign Wars or the American Legion.
GEICO offers up to 15% off of your premium if you are a veteran or a military member.
Cheap car insurance companies for veterans
The average cost of car insurance is $1,682 per year for a full coverage policy, but rates vary based on location and personal factors.
Car insurance companies start with a base rate for each driver. That amount depends on where you live, what kind of car you drive, your age, gender, and driving record and more. People with numerous claims will pay more than someone with a clean driving record. Discounts, like military discounts, are deducted from your rate after everything else is considered.
You may find more savings with another insurer, so it pays to compare. Below are three of the top picks for veteran car insurance.
USAA car insurance for veterans
USAA was created by military members for military members, both active and retired. They also offer car insurance for veterans families.
USAA is the best car insurance for military discounts in the Insure.com 2023 best company ratings for its exclusive military discounts, such as an annual mileage discount that rewards you for low mileage each year. USAA is exclusively available to current military members, veterans and their families.
GEICO car insurance for veterans
Military members and veterans receive up to 15% off their car insurance premiums with GEICO.
Another opportunity for discounts comes from your membership in an applicable associations or organizations. You can save extra money on your car insurance premium when you belong to organizations like the Association of the United States Army (AUSA), Armed Forces Benefit Association (AFBA), or even Navy Federal Credit Union (NFCU).
Armed Forces Insurance for veterans
Like USAA, Armed Forces Insurance offers some of the best automobile insurance for veterans and current members of the military, as well as their families. Military discounts are available but vary by state, so be sure to inquire about your discount options when shopping your policy.
Other ways veterans can get cheap car insurance
There are a lot of ways to get cheaper car insurance beyond looking for veteran car insurance discounts.
Regardless of whether you work with a military-oriented provider for cheap car insurance, there are some common discounts that most car insurance companies typically provide.
This can include car insurance discounts like the following:
Vehicle safety discounts. Common discounts include savings for anti-lock brakes, anti-theft devices, green/hybrid vehicles, new cars, and safety and restraints.
Customer loyalty discounts. Providers like GEICO reward you with extra savings on your veteran car insurance when you bundle homeowners and auto insurance or have insurance policies for multiple drivers with the same company.
Policy discounts. Pay-per-mile programs also reward you for less time spent on the road. Many companies also offer extra savings when you pay-in-full, sign up for auto-pay, or use paperless statements.
Maintain a clean driving record
One of the best ways to save money on your veterans car insurance is to keep a clean driving record. Drivers without tickets or accidents pay a lot less for insurance because they're a lower risk to the insurance company.
Improve or maintain good credit
Your credit score is a significant indicator of your responsibility as a policyholder. Insurance companies in nearly every state can use credit as a rating factor when calculating your rates. Keeping a good credit history means you'll pay less for car insurance,
Final thoughts on cheap car insurance for veterans
A lot of companies offer discounts to those those who have served in the military. This includes extra discounts car insurance for veterans. These savings are in addition to the everyday opportunities to save with common car insurance discounts companies normally offer, such as vehicle safety discounts or customer loyalty discounts. Programs frequently change, too, so it's always recommended that you shop around for the best car insurance for veterans before you renew each year.
Helpful Auto Insurance Articles & Guides