Why you should trust Insurance.com
Insurance.com is dedicated to informing, educating, and empowering you to make confident insurance decisions. Our content is carefully reviewed by insurance experts, and we rely on a data-driven approach to create unbiased, accurate insurance recommendations. Insurance.com maintains editorial integrity through strict independence from insurance companies.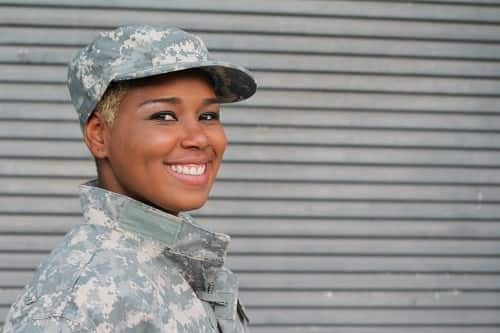 You make many sacrifices when you join the military. You give up time with family, time at home, and so much more, all in the name of protecting our Grand Old Flag and the freedoms we enjoy as Americans. As a way to say thank you, insurers offer ways to save on your veterans' automobile insurance.
Keep in mind that veterans need the same coverage as anyone else who drives. However, many providers offer military and veteran discounts for additional savings on your policy each year.
There are also some providers who specialize in cheap car insurance for veterans, offering exclusive services, excellent resources, and some of the cheapest rates you'll find anywhere.
If you're in the market for a new insurance policy, we've got you covered with the best cheap car insurance for veterans and some expert tips on finding the best deal.
Key takeaways
The average cost of car insurance is $1,758 per year for a full coverage policy.
You might also be eligible for membership in the USAA if you are already a member of the Veterans of Foreign Wars or the American Legion.
Military discounts vary by states, but the members can save money on their auto insurance policies by simply inquiring about the available discounts.
GEICO offers up to 15% off of your premium if you are a veteran or a Military member.
What insurance company has the best automobile insurance for veterans?
The average cost of car insurance is $1,758 per year for a full coverage policy, but you'll want to use apples-to-apples comparisons when shopping. An analysis done by Insurance.com shows a wide margin between the cheapest and most expensive policies. For instance, the average car insurance premium in Michigan is $3,111, while in Maine, the average cost of car insurance is only $1,080.
Car insurance companies base rates on multiple factors. There is a base rate that depends upon where you live, and they then assess your risk. People with numerous claims will pay more than someone with a clean driving record. Finally, an insurance company will cut your rates by including discounts, like military discounts. If your military discount is 15% and your annual premium is $1,080, you will save $162 each year.
You may find more savings with another insurer, so it pays to compare multiple providers to find the best veterans automobile insurance.
USAA for veterans
USAA was created by military members for military members, both active and retired. They also offer car insurance for veterans families. They proudly save members an average of $707 per year when they switch to USAA auto insurance, and it's no wonder why.
USAA wins best car insurance for military in the Insure.com 2021 review for its exclusive military discounts, such as an annual mileage discount that rewards you for low mileage each year. You can also earn up to 15% when you garage your car on-base, and USAA will discount your policy up to 60% if you need to store your car. It's savings like these that make an enormous difference when tallying the final bill.
GEICO for veterans
Military members and veterans receive up to 15% off their car insurance premiums with GEICO. There are also emergency deployment discounts to help those who are suddenly deployed. When you are deployed to imminent danger pay areas recognized by the Department of Defense (DoD) and Congress, GEICO will discount your auto insurance when you store it under an approved storage protection plan.
Another opportunity for discounts comes from your membership to applicable associations and organizations. You can save extra money on your car insurance premium when you belong to organizations the Association of the United States Army (AUSA), Armed Forces Benefit Association (AFBA), or even Navy Federal Credit Union (NFCU).
Armed Forces for veterans
Like USAA, Armed Forces Insurance offers some of the best automobile insurance for veterans and current members of the military, as well as their families. In addition to its comprehensive car insurance, AFI extends helpful considerations to its membership, like assessing no penalties in the event of a lapse in coverage for active-duty policyholders. Military discounts are available but vary by state, so be sure to inquire about your discount options when shopping your policy.
How military members and veterans can get cheap car insurance
There are also ways to lower your car insurance premium by using exclusive policy options and military and veteran car insurance discounts.
If you are a member of the Veterans of Foreign Wars or the American Legion, you might also be eligible for membership in the USAA. Although not specifically targeted for veterans, the USAA offers plenty of discounts that will leave more green in your wallet every month. Those benefits include accident forgiveness, flexible payment options and multi-policy bundling discounts.
There are other discounts you can use, too.
Veterans car insurance discounts
Regardless of whether you work with a military-oriented provider for cheap car insurance, there are some common discounts that most car insurance companies typically provide.
This can include car insurance discounts like the following:
When you have extra safety technology in your vehicle, it helps you drive safely and reduces your chances of an incident on the road. Common discounts include savings for anti-lock brakes, anti-theft devices, green/hybrid vehicles, new cars, and safety and restraints.
Customer loyalty discounts
Providers like GEICO reward you with extra savings on your veteran car insurance when you bundle homeowners and auto insurance or have insurance policies for multiple drivers with the same company.
Many insurance providers also offer special savings programs for good students, new homeowners, and seniors.
Usage-based discounts are popular, which reward you for less time spent on the road, and many companies also offer extra savings when you pay-in-full, sign up for auto-pay, or use paperless statements.
Maintain a clean driving record
One of the best ways to save money on your veterans car insurance is to maintain safe driving habits. You can enjoy several discounts when you have a safe driving record that is accident-free and a claims-free history with your provider. You can also usually earn extra discounts when you complete driver safety or driver education courses.
Improve or maintain good credit
Your credit score is a significant indicator of your responsibility as a policyholder. Insurance companies want to be sure that you will pay what you owe and demonstrate safe driving habits on the road, so they look to your credit score to see what they can reasonably expect from you as a potential policyholder.
Reduce or suspend car insurance while deployed
One way that active-duty military and members of the National Guard can save money on car insurance is by reducing the amount of coverage you have on your insurance policy while deployed, if not suspending coverage altogether. Many insurance providers like USAA, GEICO, and AFI will work with you while you are away on deployment, so you don't waste money on coverage you don't need.
Final thoughts on cheap car insurance for veterans
When you are a military member, you earn a lifetime of savings that can save you a ton of money over the years. This includes extra discounts on already-cheap car insurance for veterans. These savings are in addition to the everyday opportunities to save with common car insurance discounts companies normally offer, such as vehicle safety discounts or customer loyalty discounts. Programs frequently change, too, so it's always recommended that you shop around for the best car insurance for veterans before you renew each year.
After your service and sacrifice, you deserve all the recognition and kudos you receive, including military discounts for cheap car insurance.
Helpful Auto Insurance Articles & Guides