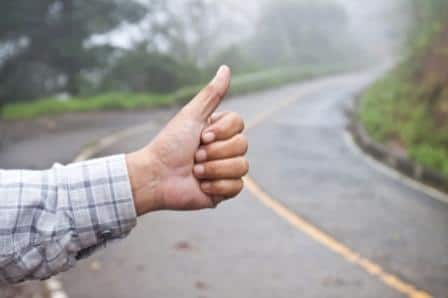 List of rideshare insurance companies
If you are driving for Uber or Lyft, here's what you need to know about rideshare insurance.
Drivers need traditional types of car insurance -- especially liability -- to cover their personal use, and ridesharing companies typically offer coverage that kicks in when a paying passenger is in the car.
In between, though, there's been a huge gray area: the period when a driver is available for fares but does not yet have a passenger.
The good news, for drivers in some states at least, is that major insurance companies are offering ridesharing insurance options and they are typically quite a bit less costly than a full-blown commercial policy.
Unfortunately for rideshare drivers, personal auto insurance policies specifically exclude coverage if the driver is engaged in commercial activities such as pizza delivery, or say, acting as a taxi. A commercial policy that includes livery coverage -- and its much higher liability limits -- typically costs $5,000 to $8,000 depending on location. It can easily cost more.
Fortunately, as Uber and Lyft have become more popular, car insurance companies have started to accommodate drivers with special rideshare insurance that is less expensive. But it is not yet offered in all states. "If rideshare insurance isn't available yet in your state, you will have to bite the bullet and buy a commercia policy to ensure you have sufficient coverage," says Penny Gusner, Insurance.com consumer analyst. "But even if your rideshare company offers coverage for all time periods involved, you still need to tell your persoanl auto insurance company, or you risk having your own coverage canceled."
What is Period 1? When does rideshare insurance kick in?
Here is how coverage works:
Period 0: You do not have the rideshare app on, and your own auto insurance is in effect for coverage.
Period 1: You have the rideshare app on and are available to accept a passenger. Your own car insurance doesn't cover you, and Uber and Lyft coverage proivdes just limited liaiblity coverage, which doesn't cover your car or your injuries.
Period 2: You accept a ride request, so the rideshare company's insurance is in effect and provides coverage.
Period 3: Your passenger is the car, so the rideshare company's insurance is in effect and provides coverage.
When Uber launched, it put a commercial policy in place that provided $1 million of liability coverage per incident for their drivers. Lyft offered similar coverage. The rub is that these policies were only in force from the time a driver accepted a trip from Uber's app till the driver dropped the passenger off, referred to as Period 2 in the rideshare business.
This leaves the driver, or more accurately, the driver's personal insurance policy, on the hook when the app is on and the driver is seeking riders, referred to as Period 1. Uber added Period 1 liability coverage in March 2014. Unfortunately, the coverage is contingent in most states, meaning a driver must file a claim with his or her insurer first (and risk cancellation) before Uber's coverage will kick in. Lyft offers a similar contingent plan. (See what Uber insurance covers and doesn't cover.) This contingent coverage is not very helpful to drivers since you're likely to have your own insurance cancelled.
Here is how Uber and Lyft insurance coverage works:
Period 1: Liability insurance that pays $50,000 per person injured, up to $100,000 per incident, with $25,000 for damage to others' property.
Periods 2 and 3: Liability insurance of $1 million per incident, along with $1 million of uninsured/underinsured motorist coverage. If you have comprehensive and collision coverage on your personal policy, you also get up to the value of your car paid out for damage to your own vehicle, though deductibles of $1,000 for Uber and $2,500 for Lyft apply.
Rideshare insurance companies
A number of insurers are taking steps to close the gap between when a driver is available for a fare and when a passenger actually gets in the car for a ride. While some are only covering Period 1, others are taking on the full ride. Options vary dramatically between states, and not all carriers operate in all states. However, at least one auto insurance company offers ridesharing coverage in every state, except New York, which requires a commercial policy to operate within the city. Allstate does offer a commercial policy tailored to Uber drivers in NYC, while rideshare forum members have said that MetLife offers ridesharing coverage outside of the city, but doesn't advertise that it does so.
Review summary information for various insurers then scroll down for a table where you can search for insurers that cover your state.
Allstate: The company unveiled a "Ride for Hire" endorsement for ride-sharing drivers in certain states (see table below). It expects the additional coverage to add $15 to $20 a year to a driver's bill. Policy helps with deductible for collision/comp if rideshare company deductible is higher than your personal deductible.
Farmers Insurance: Policy covers between rides and ride requests until driver logs off app, but it does not cover the time once a passenger is picked up until the drop-off. Rideshare coverage in Florida is available under the Foremost brand, a member of the Farmers Insurance Group
"One of the unique benefits of the Farmers Rideshare endorsement is that it provides the same coverages a driver currently has in place and extends those benefits to customers during the Period 1," says Mariel Devesa, Farmers' head of product innovation.
Coverage reverts back to the ridesharing company when the driver picks up a rider.
MetLife: MetLife initially only covered Lyft drivers, and that was for all three phases of rideshare driving time. But, in 2017, MetLife began offering coverage for all ridesharing companies, but just for Periods 1 and 2. However, existing Lyft endorsements that covered all three time periods were grandfathered in, so those policies still apply to Period 1, 2 and 3.
Geico: The policy offers coverage during all phases of driving. Pricing falls somewhere between a personal and commercial policy. Restriction on annual mileage. If full time, driver may need Geico commercial auto policy instead.
Other notes on rideshare insurance coverage:

Erie: Business use coverage typically has an exclusion for carrying people for money, but Erie lifted that exclusion for rideshare drivers.
Progressive: Offers two options, one as an endorsement on a personal policy, orYou can also purchase a commercial for-hire livery policy as well.
Travelers: Endorsement provides coverage when the ridesharing app is on, but before accepting a passenger (period 1).
USAA: Must be a military member, or a spouse or child of military member who is an USAA member, to buy a policy from USAA.
Ridesharing insurance coverage by state and insurance company
As of July, 2018
Insurance company
States available
Periods covered
Cost (above personal policy)
Allstate
AK, AL, AR, AZ, CA, CO, CT, DC, DE, GA, HI, IA, ID, IL, IN, KS, KY, LA, MA, MD, ME, MN, MO, MS, MT, NC, ND, NE, NH, NJ, NM, NV, OH, OK, OR, PA, RI, SC, SD, TN, TX, UT, VA, VT, WA, WI, WV, WY
All*
Adds extra $15 to $20 to annual personal auto policy premium
American Family
Period 1
Adds about $15 a month to policy costs.
Erie
IL, IN, KY, MD, OH, PA, TN, VA, WV, WI & D.C.
All
Estimated to be $9 to $15 extra per month
Esurance
Only in California
Period 1
Available with quote
Farmers Insurance
AL, AR, AZ, CA, CO, GA, FL, IA, ID, IL, IN, KS, MD, MI, MN, MO, MT, ND, NE, NJ, NM, NV, OH, OK, OR, TN, TX, UT, WI
Period 1
Estimated 8 percent increase in rates in California, estimated $15 per month in other states.
Geico
AL, AR, AZ, CA, CO, CT, DC, DE, FL, ID, IL, IN, IA, KS, LA, ME, MD, MA, MN, MS, MO, MT, NE, NH, NM, ND, OH, OK, OR, PA, RI, SC, SD, TN, VT, VA, WA, WI, WV, WY
All
Less than traditional commercial policy (estimated to be $25 extra per month)
MAPFRE
MA
Period 1
Available with quote
Mercury
AZ, CA, GA, IL, OK, NV and TX
All**
Mercury is advertising that the coverage "can cost as little as 20 cents a day," in addition to your usual personal auto policy premium.
Metlife
CA, CO, IL, TX & WA
Period 1,2
Premiums will vary based on mileage driven for ridesharing (estimated to raise rates by 10%)
Progressive
AL, AZ, CO, DE, GA, ID, IL, IN, IA, KY, ME, MA, MI, MN, MS, MO, NE, NM, ND, OH, OK, PA, RI, SD, TN, TX, VA, WV
All
Available with quote
Safeco
AZ, CO, IL, IN, KS, MN, MO, OK, OR, TX, UT, WA & WI
Period 1
Estimated to be less than $10 a month
State Farm
AL, AZ, AR, CA, CO, CT, DE, GA, FL, ID, IN, IA, KS, KY, LA, ME, MD, MI, MN, MS, MO, MT, NE, NV, NH, NJ, NM, ND, OH, OK, OR, PA, SC, TN, TX, UT, VT, VA, WA, DC, WV, WI, WY
All**
15% to 20% above regular policy according to website
Travelers
CO & IL
Period 1
Available with quote
USAA
AL, AZ, CA, CO, GA, IA, IL, IN, KS, KY, MA, NJ, MD, ND, NE, NV, OH, OK, OR, TN, TX, WA, WY.
Period 1
An extra $6 to $8 per month, or approximately $40 to $50 per six-month policy term.
* Period 1 - all coverages, Period 2 & 3 - Allstate provides deductible help in certain situations
** Period 1 - full coverage available, Periods 2 & 3 - Mercury & State Farm provide coverage in excess of ridesharing company coverage