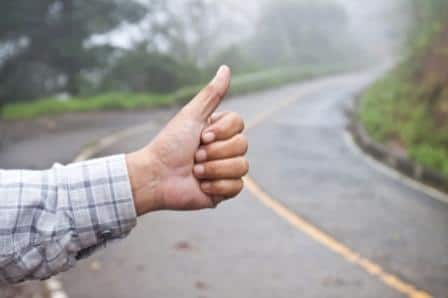 At least 2 million rideshare drivers shuttle passengers to airports, restaurants, to and from home and nearly everywhere in between.
Recent reports indicate that rideshare drivers earn almost $19 an hour on average. But while driving for Uber or Lyft can provide flexible incomes and schedules, it also comes with insurance costs, namely in the form of additional coverage with a rideshare insurance policy.
If you're considering becoming a rideshare driver, here's what you need to know about rideshare insurance and why you need it.
What is rideshare insurance?
The various available types of auto policy covers the everyday use of your car, if you drive for Uber or Lyft either part-time or full-time, you'll need rideshare insurance since you're using your vehicle for business purposes.
Rideshare insurance is designed to fill coverage gaps not covered through Uber and Lyft's insurance policies, which have high deductibles of $1,000 and $2,500, respectively.
Coverage limits on these policies are also lower. Uber's coverage and Lyft's coverage both include $100,000 of bodily injury coverage per accident, $25,000 of property damage coverage per accident and $1 million of coverage if you were to get into a covered accident while the app is on.
However, Uber and Lyft's liability coverage often isn't enough. Most insurance experts recommend $100,000 of bodily injury coverage per person, $300,000 of bodily injury coverage per accident and $100,000 of property damage coverage.
Dan Karr, the founder and CEO of Valchoice, a free auto insurance grading tool that helps consumers determine the strengths and weaknesses of their coverage plans, says most rideshare drivers need additional coverage beyond what Uber and Lyft offer to cover their car loan or the vehicle replacement in the event of an accident.
He says drivers generally shouldn't rely solely on insurance coverage offered through rideshare companies. This coverage may not be as good about paying claims as a traditional insurer. You also should check with your personal insurance company to determine whether that company will even allow you to buy rideshare insurance through another insurer, Karr says.
If this is the case, your next best or only option may be to purchase this coverage from your original insurer or add an endorsement to your policy, if your insurer offers it.
Rideshare insurance companies
Various insurers offer gap insurance to cover rideshare drivers either throughout all three periods or during Period 1, when the app is turned on, you've received a ride request and are on your way to pick up a passenger.
However, this coverage varies by state and by insurer. Here's a summary of what some major insurers offer. The table below also has more details for different insurers.
Allstate: Offers a "Ride for Hire" endorsement for ride-sharing drivers in certain states (see table below). This additional coverage may add $15 to $20 a year to your premium. This add-on to your policy helps to cover the deductible if Uber or Lyft's deductible is higher than your personal deductible.
Farmers Insurance: Offers coverage during Period 1, when the app is on and you haven't picked up passengers yet. Farmers also provides rideshare coverage in Florida under its Foremost brand.
Geico: Offers coverage for all three periods. The company says the cost for rideshare insurance, which comes with a $250 deductible, is slightly higher than a personal auto policy. However, if you're a full-time rideshare driver, you'll probably need commercial auto insurance, which is more expensive.
MetLife: MetLife initially only covered Lyft drivers for all three periods. However, in 2017, the company began offering coverage for all ridesharing companies for Periods 1 and 2. However, existing Lyft endorsements that covered all three time periods were included.
Progressive: Offers rideshare insurance either as an endorsement on a personal auto policy or as a commercial for-hire livery policy, which comes with a higher premium.
USAA: You must be a military member, or a spouse or child of military member who is an USAA member to buy a policy from USAA. Rideshare drivers can get coverage for as little as $6 a month.
When does rideshare insurance kick in?
An Uber or Lyft ride generally encompasses three main coverage periods for drivers. However, there's a period -- known as Period 0 -- when you don't have the rideshare app on and your personal policy is in effect.
"Rideshare insurance coverage starts when a rideshare driver is signed into their app and has been matched with a customer. The coverage ends when they drop the passenger off," Karr says
The three main periods once the app is on include:
Period 1: The app is on but the driver is waiting for a passenger. During this period, Uber and Lyft provide limited liability coverage, which only covers damage or injury to other vehicles or motorists.
Period 2: The app is on, the driver accepts a ride request and is going to pick up a passenger. Uber and Lyft's insurance provides comprehensive and collision coverage during this period.
Period 3: The app is on, a passenger is in the vehicle and the ride is underway. Uber and Lyft's insurance provides comprehensive and collision coverage during this period until the end of the trip.
Even though you may be covered by Uber and Lyft when you're picking up and transporting passengers, buying gap insurance is a good idea so that you have comprehensive coverage and reduce your financial risk. In recent years, several major insurers have expanded their product offerings to include rideshare insurance.
Ridesharing insurance coverage by state and insurance company as of March 2020
Insurance company
States available
Periods covered
Cost (above personal policy)
Allstate
AL, AR, AZ, CA, CO, CT, DC, DE, GA, HI, IA, ID, IL, IN, KS, KY, LA, MA, MD, ME, MN, MO, MS, MT, NC, ND, NE, NH, NJ, NM, NV, OH, OK, OR, PA, RI, SC, TN, TX, UT, VA, VT, WA, WI, WV, WY
All*
Adds extra $15 to $20 to annual personal auto policy premium
American Family
Period 1
Adds about $15 a month to policy costs.
Erie
IL, IN, KY, MD, OH, PA, TN, VA, WV, WI & D.C.
All
Available with quote
Esurance
CA, IL, NJ
All 1
Available with quote
Farmers Insurance
AL, AR, AZ, CA, CO, DC, DE, GA, FL, HI, IA, ID, IL, IN, KS, MD, MI, MN, MO, MT, ND, NE, NJ, NM, NV, OH, OK, OR, PA, SD, TN, TX, UT, VA, WI, WV
Period 1
Estimated 8 percent increase in rates in California, estimated $15 per month in other states.
Geico
AL, AR, AZ, CA, CO, CT, DC, DE, FL, ID, IL, IN, IA, KS, LA, ME, MD, MA, MN, MS, MO, MT, NE, NH, NM, ND, OH, OK, OR, PA, RI, SC, SD, TN, VT, VA, WA, WI, WV, WY
All
Less than traditional commercial policy (estimated to be $25 extra per month)
Liberty Mutual
CT, MA, ME, NH, RI, VT
All
Available with quote
Mercury
AZ, CA, FL, GA, IL, OK, NV, OK and TX
Period 1
As little as $.90 a day
Metlife
CA, CO, IL, TX & WA
Period 1,2
Premiums will vary based on mileage driven for ridesharing (estimated to raise rates by 10%)
Progressive
AL, AZ, CO, GA, ID, IL, IN, IA, KY, ME, MA, MI, MN, MS, NE, NM, ND, OH, OK, PA, RI, TN, TX, VA, WV
All
Available with quote
Safeco
AZ, CO, IL, IN, KS, MN, MO, OK, OR, UT, WA & WI
Period 1
Estimated to be less than $10 a month
State Farm
AL, AZ, AR, CA, CO, CT, DE, GA, FL, ID, IN, IA, KS, KY, LA, ME, MD, MI, MN, MS, MO, MT, NE, NV, NH, NJ, NM, ND, OH, OK, OR, PA, SC, TN, TX, UT, VT, VA, WA, DC, WV, WI, WY
All**
15% to 20% above regular policy according to website
Travelers
CO & IL
Period 1
Available with quote
USAA
AL, AZ, CA, CO, GA, IA, IL, IN, KS, KY, MA, NJ, MD, ND, NE, NV, OH, OK, OR, TN, TX, WA, WY
Period 1
An extra $6 to $8 per month, or approximately $40 to $50 per six-month policy term.
* Period 1 - all coverages, Period 2 & 3 - Allstate provides deductible help in certain situations
** Period 1 - full coverage available, Periods 2 & 3 - Mercury & State Farm provide coverage in excess of ridesharing company coverage
Helpful Auto Insurance Articles & Guides