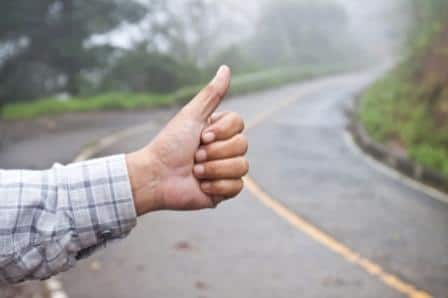 Auto insurers are finally starting to make peace with rideshare drivers.
List of rideshare insurance companies
In case you have been tucked away in the suburbs, rideshare drivers are everyday people who use apps run from companies such as Uber and Lyft to turn their personal cars into taxis of sorts.
Ridesharing -- sometimes called "ride-hailing" -- has been growing at an impressive clip.
As drivers embrace the chance to earn extra money hauling strangers around, insurance companies have balked about the risk. Drivers need traditional types of car insurance -- especially liability -- to cover their personal use, and ridesharing companies typically offer coverage that kicks in when a paying passenger is in the car.
In between, though, there's been a huge gray area: the period when a driver is available for fares but does not yet have a passenger.
The good news, for drivers in some states at least, is that major insurance companies are at last offering options that deal with "transportation network companies," TNCs, as regulations now label them -- and they appear to be quite a bit less costly than a full-blown commercial policy would be.
When is a taxi not a taxi?
When Uber X launched, it put a commercial policy in place that provided $1 million of liability coverage per incident for their drivers. Lyft offered similar coverage.
The rub is that these policies were only in force from the time a driver accepted a trip from Uber's app till the driver dropped the passenger off, referred to as Period 2 in the rideshare business.
This leaves the driver, or more accurately, the driver's personal insurance policy, on the hook when the app is on and the driver is seeking riders, referred to as Period 1.
Unfortunately for rideshare drivers, every personal auto insurance policy ever written specifically excludes coverage if the driver is engaged in commercial activities such as pizza delivery, or say, acting as a taxi.
This led to a lot of lies to insurance companies by rideshare drivers, not to mention denied claims. Even if an insurer decided to cover a rideshare claim, the driver often received a cancellation notice in the mail shortly after the check cleared.
"Commercial policies are more expensive than personal auto insurance for a reason," says Penny Gusner, consumer analyst for Insurance.com. "An injured person might press harder for damages if there is a perception that the driver was working for a multibillion-dollar company at the time – even if that isn't exactly the case for Period 1 drivers who are seeking a fare but don't have a passenger on board yet."
A commercial policy that includes livery coverage -- and its much higher liability limits -- typically costs $5,000 to $8,000 depending on location. It can easily cost more.
The 'app-on, app-off' dilemma
That "insurance gap" became a huge issue in late 2013 when an Uber driver hit and killed a 6-year-old girl in San Francisco.
Uber quickly absolved itself of liability because the driver didn't have a passenger in the car. The driver had $30,000 in bodily injury liability on his personal policy – the California state minimum, nowhere near enough personal coverage to handle the damages. The family sued both Uber and the driver.
Uber and the family eventually reached a confidential settlement, but not before provoking discussions that are now helping to define requirements for these not-quite-taxis.
Several states have now passed laws outlining rules for "transportation network companies" covering background checks, training and insurance requirements. That's allowed a raft of insurance companies to step in with hybrid policies that straddle personal and commercial use.
In addition, Uber added Period 1 liability coverage in March 2014. Unfortunately, the coverage is contingent in most states, meaning a driver must file a claim with his or her insurer first (and risk cancellation) before Uber's coverage will kick in. Lyft offers a similar contingent plan. (See what Uber insurance covers and doesn't cover.)
Rideshare companies
A number of insurers are taking steps to close the gap. While some are only covering Period 1, others are taking on the full ride. Options vary dramatically between states, review summary information for various insurers then scroll down for a table where you can search for insurers that cover your state.
Allstate: The company unveiled a "Ride for Hire" endorsement for ride-sharing drivers in certain states (see table below). It expects the additional coverage to add $15 to $20 a year to a driver's bill.
MetroMile: Uber drivers (and only Uber drivers) in the states listed in the table below can sign up with MetroMile, which recently started offering protection for that all-important Period 1. MetroMile is a specialty insurer that uses a plug-in device called a Metronome to track mileage and charges only for miles driven, also known as pay-per-mile insurance.
Get an Uber quote from MetroMile >
The simplicity of the system is a key advantage, according to MetroMile. All data verification happens behind the scenes. Because the Metronome device is plugged in at all times, all miles are logged.
The MetroMile policy is in force until a passenger is assigned, and then Uber coverage takes over for Period 2. Integrated databases allow MetroMile to determine miles that Uber covers versus personal and Period 1 miles.
Farmers Insurance: Farmers Insurance doesn't care which ride-sharing company a driver is working for, as long as he or she lives in the states shown in our table below.
"One of the unique benefits of the Farmers Rideshare endorsement is that it provides the same coverages a driver currently has in place and extends those benefits to customers during the Period 1," says Mariel Devesa, Farmers' head of product innovation.
Coverage reverts back to the ridesharing company when the driver picks up a rider. In California, Farmers expects a rideshare endorsement to add 8 percent to a customer's premium.
MetLife: MetLife is also in the game in selected states (see table below) and is offering Lyft drivers a policy that goes beyond simple Period 1 coverage.
Get a Lyft quote from MetLife >
Geico: Geico offers ridesharing coverage in several states, as shown in our table below. The policy offers coverage during all phases of driving. Pricing falls somewhere between a personal and commercial policy.
Ridesharing insurance coverage by state and insurance company
As of December, 2016
Insurer




Name of coverage

States available

Rideshare providers covered

Periods covered

Cost (above personal policy)

Info

Allstate
Ride for hire endorsement

Arizona, California, Colorado, Georgia, Illinois, Indiana, Kentucky, Minnesota, Oklahoma, South Carolina, Tennessee, Texas, Utah, Washington & D.C.

All
All*
Adds extra $15 to $20 to annual personal auto policy premium
Policy helps with deductible for collision/comp if TNC's deductible is higher than your personal deductible.
Erie
Extends ridesharing coverage if you carry business use coverage
Illinois, Indiana, Kentucky, Maryland, Ohio, Pennsylvania, Tennessee, Virginia, West Virginia, Wisconsin & D.C.
All
All
Estimated to be $9 to $15 extra per month
Business use coverage typically has an exclusion for carrying people for money, but Erie lifted that exclusion for rideshare drivers.
Geico
Ridesharing policy - hybrid policy that replaces existing personal auto policy
Alabama, Arizona, Colorado, Connecticut, Delaware, Georgia, Idaho, Illinois, Indiana, Iowa, Kansas, Louisiana, Maine, Maryland, Minnesota, Missouri, Nebraska, New Mexico, North Dakota, Ohio, Oklahoma, Oregon, Pennsylvania, Rhode Island, South Carolina, South Dakota, Tennessee, Texas, Vermont, Virginia, Washington, West Virginia, Wyoming & D.C.
All
All
Less than traditional commercial policy (estimated to be $25 extra per month)
Restriction on annual mileage. If full time, driver may need Geico commercial auto policy instead
Farmers Insurance
Rideshare endorsement - not available online must call Farmers to add coverage
Arizona, Arkansas, California, Colorado, Georgia, Florida, Idaho, Indiana, Illinois, Iowa, Kansas, Maryland, Michigan, Minnesota, Montana, Nebraska, Nevada, New Jersey, New Mexico, North Dakota, Ohio, Oklahoma, Tennessee, Texas, Utah & Wisconsin
All
Period 1
Estimated 8 percent increase in rates in California, estimated $15 per month in other states.
Policy covers between rides and ride requests until driver logs off app, but it does not cover the time once a passenger is picked up until the drop-off.
Mercury
Rideshare/Ride-hailing endorsement
Arizona, California, Illinois, Nevada & Oklahoma
All
All**
Mercury is advertising that the coverage "can cost as little as 20 cents a day," in addition to your usual personal auto policy premium.
If also include collision and medical payments on Mercury policy, those coverages will go up by 5 percent each.
Metlife
Rideshare insurance Lyft endorsement
California, Colorado, Illinois, Texas & Washington
Lyft
All
Premiums will vary based on mileage driven for Lyft (estimated to raise rates by 10%)
If currently with Metlife, you need to call and have policy re-written with Lyft endorsement.
Metromile
Metromile + Uber
California, Illinois & Washington
Uber
Period 1
No extra cost
Monthly bill is pay-per-mile & integrated databases allows drivers to not be charged for miles driven for Uber once matched with a rider.
Progressive
Commercial policy for Lyft drivers (replaces personal policy) - in PA Personal policy endorsement for TNC drivers - in TX
Pennsylvania & Texas
Lyft (PA), All (TX)
All
Available with quote
Lyft drivers in forums say quoted rates in PA are on the high side. According to Progressive, rates are to be adjusted on mileage driven as a TNC operator.
Safeco
Ridesharing Coverage
Arizona, Colorado, Illinois, Indiana, Kansas, Minnesota, Missouri, Oklahoma, Oregon, Tennessee, Utah, Washington & Wisconsin
All
Period 1
Estiamated to be less than $10 a month
Safeco says you get nearly the same coverage during applicable ridesharing periods as you do when using car for personal use.
State Farm
TNC Driver Coverage endorsement
Alabama, California, Colorado, Connecticut, Delaware, Georgia, Idaho, Indiana, Iowa, Kentucky, Louisiana, Maine, Minnesota, Missouri, Nebraska, North Dakota, Ohio, Oklahoma, Oregon, Tennessee, Washington, West Virginia & Wisconsin
All
All**
Available with quote
Liability extends during Period 1 only, all other coverages apply during all periods of TNC driving.
Travelers
Limited ride sharing coverage endorsement
Colorado & Illinois
All
Period 1
Available with quote
Endorsement provides coverage when the ridesharing app is on, but before accepting a passenger (period 1).
USAA
Rideshare endorsement - extends your personal policy to ridesharing
Alabama, Arizona, California, Colorado, Connecticut, Georgia, Illinois, Indiana, Iowa, Kansas, Kentucky, Maryland, Massachusetts, Missouri, Nebraska, Nevada, New Hampshire, North Dakota, Ohio, Oregon, Tennessee, Texas, Washington & Wyoming
All
Period 1
An extra $6 to $8 per month, or approximately $40 to $50 per six-month policy term.
Must be a military member, or a spouse or child of military member who is a USAA member to buy a policy from USAA.
* Period 1 - all coverages, Period 2 & 3 - Allstate provides deductible help in certain situations
** Period 1 - full coverage available, Periods 2 & 3 - Mercury & State Farm provide coverage in excess of ridesharing company coverage