Why you should trust Insurance.com
Insurance.com is dedicated to informing, educating, and empowering you to make confident insurance decisions. Our content is carefully reviewed by insurance experts, and we rely on a data-driven approach to create unbiased, accurate insurance recommendations. Insurance.com maintains editorial integrity through strict independence from insurance companies.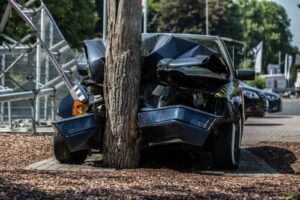 Gap insurance is a type of car insurance designed to bridge the gap between what you still owe on your car loan and what your comprehensive or collision insurance pays out if your car is totaled or stolen. 
Gap insurance typically pays out within a few weeks, depending on how complicated your claim is.
If your car is damaged beyond repair or stolen, your insurance company might deem it a total loss. In this case, they will pay you the car's actual cash value (ACV). This is the insurance carrier's depreciated amount based on the car's make, model, age and mileage. It might not be enough to cover what you still owe on your loan, and that's where gap insurance applies.
Key takeaways
Gap insurance typically pays out within a few weeks unless your claim is complex.
Your gap claim might be delayed if there are multiple parties involved.
The payout goes directly to pay off the remainder of your car loan.
How long does it take for gap insurance to pay out?
You can expect your gap claim to pay out within a few weeks in most cases, 30-45 days being standard.
"Gap insurance payout varies depending on the Insurance company, the circumstances of the claims, and the policy terms," says Lauren Mckenzie, senior agent at A Plus Insurance. "Once the claim is filed and the claims adjuster has finished with their side of things, the gap insurance policy may be paid out. This can take as little as 1-2 weeks, sometimes longer, depending on the unique circumstances."
If your claim is very straightforward and easy to determine – say a tree fell and smashed your car beyond repair and there is no question – it may pay out very quickly.
A case of theft or an accident where a more thorough investigation is needed may take longer.
If you had an accident with multiple parties involved, this means there are several insurance companies in the mix and more paperwork to be collected. If your car was stolen, you may be waiting on police investigations and reports.
Most states require claims to be paid as quickly as possible.
When does gap insurance not pay?
There are a few reasons why gap insurance doesn't pay, so be aware of these situations.
"Gap insurance typically covers [only] the difference between the ACV and the loan or lease balance at the time of a total loss," Mckenzie says. "It may not cover other costs such as deductibles, extended warranties, service contracts, or aftermarket modifications or accessories."
It doesn't cover other repairs or general maintenance. For instance, if your car dies because the transmission goes or the engine seizes, and you can't afford to repair it, that's not something gap insurance covers.
Also, remember it won't pay out if you have had a lapse in coverage for non-payment or other reasons. It also won't pay out if you haven't kept up with the loan or lease payments on your car or have in some way violated the terms of that contract.
Sometimes you owe much more on your car than it's worth and exceed the amount that gap insurance would cover. It does have limits.
Obviously, if you have committed fraud in any way or misrepresented your claim to the insurance company, the claim will be denied.
The gap insurance claims process
"It is important for drivers to file the claim and answer any questions the claims adjuster may have in a timely manner to speed up the process," Mckenzie says.
First, you must submit all your claim paperwork. Is the reason for the claim theft? Vandalism? An accident?
You must provide your car loan or lease paperwork to show your insurance company how much you still owe on the car.
Then your insurance company must determine the ACV, or actual cash value, of your vehicle. This value is calculated taking into consideration your car's age, make and model and mileage, etc. 
They will decide the difference between what you owe on the car and the ACV minus any deductibles. That's what gets paid out as the gap claim to your lienholder.
Where does the gap insurance payout go?
The proceeds of a gap claim don't get paid to you – they go directly to the company that holds your car lease or loan.
The reason for this is that gap insurance is not meant to help you purchase a new vehicle, it is meant to pay off the balance of your loan on the totaled vehicle.
There is, however, insurance to help you purchase a new vehicle in this type of scenario – ask your insurer about the difference between gap insurance and new car replacement insurance.
How to speed up a gap insurance payout
"To help expedite the claims process, it's important to provide complete and accurate information, along with maintaining open communication with your insurance company and promptly responding to any requests for additional information, "Mckenzie says.
Submit all the initial paperwork immediately. This includes police reports if there was an accident or theft and a copy of your car loan or lease.
Keep up with your car payments in the meantime.
Follow all the instructions your insurance company gives you in a timely manner, signing all documents and returning them right away.
Make yourself aware of not only the insurance company's checklists but also your state's laws regarding the claims process.
Factors that affect how long it takes for gap insurance to pay
Several factors affect how long it takes for your gap insurance to pay out.
Incomplete information. Provide as many details and photos as you can and follow up with the claims adjuster quickly to allow the claims representatives to complete their investigation and come to a decision.
Multiple parties are involved. Gathering information from several people including drivers and other insurance providers to verify information can take longer than if it was a single-car incident.
Investigations and fraud protection. This may be involved depending upon the circumstances, says Mckenzie, such as when the insurance policy was effective compared to the date of the claim, disputes over coverages on the policy, etc.
Your vehicle was stolen. This will require a more thorough investigation and involve police reports.
There are medical bills. Gap insurance doesn't cover these, but if your auto insurance handles these, it will take some time.
If you have a car loan or lease, ask your insurer if gap insurance is worth it. It's designed for people who put down a small down payment on their vehicle and owe more on their car than what it's worth. In these situations, it's a good safety net.
Frequently asked questions: Gap insurance payout time
Does gap insurance pay off your loan?
Yes, gap insurance will pay off your loan – but only the difference between what your standard auto insurance pays out as the total loss amount and what you owe.
What happens to gap insurance when you pay off your car?
When you pay off your car, you can cancel your gap insurance.
"Depending on the insurance provider and the policy, gap insurance will either expire at the end of the car loan, or drivers may need to call to cancel or non-renew their policy. Since each insurance company has a different process, it is best to contact the company for details on how to handle the process," Mckenzie says.
Helpful Auto Insurance Articles & Guides