Why you should trust Insurance.com
Insurance.com is dedicated to informing, educating, and empowering you to make confident insurance decisions. Our content is carefully reviewed by insurance experts, and we rely on a data-driven approach to create unbiased, accurate insurance recommendations. Insurance.com maintains editorial integrity through strict independence from insurance companies.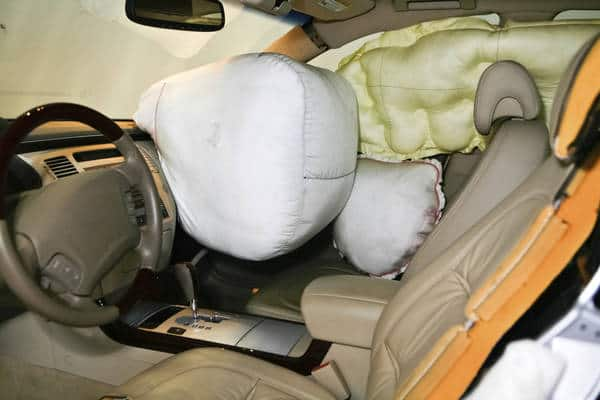 As the price of cars continues to go up, more and more people are keeping their cars on the road for longer. According to S&P Global Mobility, a research firm, the average age of a car on American roads is 12.5 years old. You might love your car, and maybe you've given it a name, but the older the car, the less safe it is.
The advancements in safety technology over the last 12 years have been impressive. According to data from the Insurance Institute for Highway Safety (IIHS), motor vehicle deaths were up almost 8% in 2021, the most recent year there is data for, compared to a decade earlier in 2011.
Those statistics mean that auto insurance companies like safety features, and some will earn you a discount.
What are car safety features?
Simply put, a car safety feature is any feature designed to help lower the chance of having a traffic collision and, in the case that you do collide with another car, reduce the effects the crash has on the people in the car.
The best car safety features can range from relatively standard things like ABS brakes to more modern innovations like automated collision alert systems, rear-facing cameras and automatic emergency braking. A lot depends on the make and model of your car.
It's important to remember that some new car safety features are not standard and cost extra. However, over the years more features have become standard in the U.S. automotive industry.
Do safety features lower car insurance?
In a word: yes. The safer your vehicle, the cheaper your insurance rates will be because the car should, ideally, be more secure and less risky to drive. Cars with safety features can help prevent collisions, which means less money paid out by the insurance companies.
Look for a balance between filling your car with safety features and buying the car that you can afford. Cars with the best safety features may win awards and make the news, but they will also come with a higher MSRP. And that's before factoring in insurance costs into it. Insurance costs vary by vehicle model based on more than just safety features..
Which safety features save you money on insurance?
The older a technology is, the better chance a discount is involved. Insurers typically wait for reams of data before they offer a discount for new technology.
Features like anti-lock brakes (ABS), airbags, adaptive cruise control and electronic stability control will earn you discounts from many insurance providers. Some features, like airbags and ABS brakes, are mandatory on new cars.
Newer features like blind spot and lane departure warnings or adaptive headlights are becoming more common but are still not commonplace enough to get widespread discounts.
Insurers are watching closely. "We find these technologies very interesting and hope to offer a discount for some of them in the next couple of years," says Jeff Schroeder, Vice President and Chief Product Officer with Mercury Insurance.
Auto insurance discounts for car safety features
Below are a handful of the types of safety features that may net you a discount or, at the very least, bring down the cost of your monthly premiums.
Airbags
Availability and cost: Virtually every new car comes with front, side and side-curtain airbags standard. Some of the latest options include inflatable seat belts (Ford), front center (GM) and even a pedestrian airbag (Volvo) that pops over the windshield in case you hit someone crossing the street.
Anti-lock Braking Systems (ABS)
ABS has been around for years and most vehicles have it; even models as old as 2003. Technically, ABS is not federally mandated, but electronic stability control (ESC) systems rely on ABS and ESC was required on all vehicles as of 2012. ABS has proven to reduce accident severity, and most insurers offer a discount for ABS.
Back-up cameras
When a car is put in reverse, a dashboard display shows what is behind the vehicle. Some backup cameras include trajectory lines and distance readings
Availability and cost: The National Highway Transportation Safety Administration (NHTSA) mandated that all passenger vehicles have a back-up camera by May 2018. This means that eventually every car on the road will have a backup camera, and all newer model cars include them.
Electronic Stability Control (ESC)
Availability and cost: Luxury vehicles were the first to benefit from ESC. Mercedes and BMW introduced the technology in the mid-1990s. As of the 2012 model year, all vehicles sold in the U.S. were required to have ESC.
Tire Pressure Monitoring Systems (TPMS)
Availability and cost: Tire pressure systems were mandated as of the 2007 model year. The TREAD Act was a direct result of the Firestone recalls in the 1990s when over 100 deaths were linked to rollover accidents due to tread separation.
Backup sensors
These are proximity sensors that audibly warn a driver that the car is getting close to an obstacle.
Availability and cost: Since backup cameras became standard in 2018 and integrate backup sensors, you can expect any new model to include them.
Park assist (Self-parking)
Availability and cost: While this feature may come standard on some luxury vehicles, it is usually an upgrade. Prices vary between $350 and $600 or as high as $4,000 if it is only available as a bundled tech package.
Voice controls
Availability and cost: Standard on many luxury vehicles, it is often part of an upgraded stereo or navigation system in more affordable cars.
Adaptive cruise control
Availability and cost: While once reserved for luxury vehicles, it is making its way down the food chain. In most cases, it is part of a technology package. According to Car and Driver, adaptive cruise control will cost between $2000-$2500.
Adaptive headlights
Availability and cost: Like most of the new safety features, adaptive headlights are slowly working their way into the vehicle inventory. According to AAA, adaptive headlights provide as much as an 86% improvement in illumination.
Blind-spot warning
Availability and cost: Much like adaptive cruise control, blind-spot warning is showing up in more affordable cars, usually on more upscale trim levels. Often bundled in a technology upgrade, prices vary dramatically.
Lane-departure warning
Availability and cost: This is another safety system that comes standard on numerous cars in 2023. It was once an expensive add-on but is now either standard or more inexpensive than in the past.
Forward collision warning/Automated emergency braking
Automated emergency braking (AEB) is a technology that can sense an impending forward impact at lower speeds, usually under 40 mph, and stop the car automatically.
Availability and cost: By the 2021 model year, more than a dozen major automakers had made AEB and other safety technologies standard on their cars. According to a 2022 study by Mitre, FCW and AEB reduced the incidence of rear-end collisions by 49 percent.
Helpful Auto Insurance Articles & Guides