Why you should trust Insurance.com
Insurance.com is dedicated to informing, educating, and empowering you to make confident insurance decisions. Our content is carefully reviewed by insurance experts, and we rely on a data-driven approach to create unbiased, accurate insurance recommendations. Insurance.com maintains editorial integrity through strict independence from insurance companies.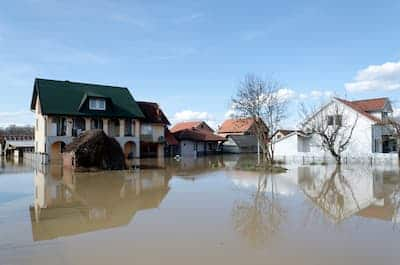 As this year's hurricane season gets underway, it is a good time for renters to start thinking about their renters insurance — and especially, their flood insurance. There is a common misconception that flood insurance is already included in the standard home insurance policy, but that is rarely the case. Just as with homeowners insurance, renters are responsible for finding and securing adequate flood insurance for rental and leased properties.
This guide is the ultimate renter's insurance manual for flood insurance in 2023, helping you to determine flood risk for your address and find adequate coverage for your rental in case floodwaters ever threaten your home.
Key takeaways
Standard renters insurance does not usually include flood coverage.
Renters often need to purchase a separate policy for flood insurance.
Flood insurance for renters is available for a number of private insurance providers, as well as FEMA's National Flood Insurance Program.
What types of flood damage does renters insurance cover?
Renters insurance policies are commonly written to include named perils. This is a list of specific threats that are covered by your insurance provider if they cause losses to your home. Common perils include these:
Fire and lightning
Hail and windstorms
Theft
Smoke damage
Falling objects
Water damage is also commonly named in renters insurance policy, but coverage only goes so far. If your washing machine were to leak and destroy your personal property, the damage would likely be covered under your renters insurance policy.
What types of flood damage does renters insurance not cover?
Not all types of water damage is covered. If your belongings were to be destroyed by a flood, you will likely need separate flood insurance protection to ensure that your losses are covered. The standard renters insurance policy does not cover water that comes into your home from outside sources, such as overflow from a nearby body of water. This is referred to as overland flooding and typically requires the purchase of separate coverage.
Do you need flood insurance as a renter?
Because you rent your home, any damages to the property from flooding are covered by your landlord's insurance policy. Instead, your personal renters flood insurance covers items such as these:
Furniture
Clothing
Electronics
Certain valuables
Freezers and frozen food
Washing machines and dryers
Curtains and window dressings and treatments
Portable appliances, such as microwaves and dishwashers
Portable air conditioners and heaters
Window air conditioning units
Some carpeting
Before you buy a renters insurance policy, you should confirm coverage with your insurance provider to ensure all of your belongings are included.
How much does flood insurance cost for renters?
The cost of flood insurance for renters all depends on the coverage you need and the provider you choose. Insurance companies take into account the typical rate factors when calculating the cost of your premium, such as the kind of home you rent and the value of your belongings. Another major factor is your address. If you live in a flood zone, you could find yourself paying thousands of dollars each year, while someone in a lower-risk area could pay under $100 annually.
Another major factor that can determine cost is the kind of provider you choose for your flood insurance.
Where can you buy flood insurance form?
When you need to purchase flood insurance separately, you have your choice of purchasing through a private provider or buying from the National Flood Insurance Program, a federally-run program. They are two completely different options.
The National Flood Insurance Program (NFIP)
The Federal Emergency Management Agency (FEMA) offers its National Flood Insurance Program (NFIP) to provide homeowners and renters alike with flood insurance coverage. It is coverage that is available to buy a la carte in order to supplement your existing renters or home insurance policy.
Flood insurance policies from the NFIP do not replace standard renters insurance coverage. You will still need to purchase liability and additional living expenses coverage for well-rounded protection.
The NFIP's rates and policy offerings may vary based on your ZIP code. Although NFIP caps its flood insurance at $100,000 in maximum content coverage, it is a policy that is backed by the federal government for added peace of mind.
Private insurance companies
In addition to the NFIP, there are also private insurance companies that specialize in flood insurance.
These are some popular companies that offer flood insurance coverage for homeowners and renters:
AIG
ASI
Assurant
Chubb
Liberty Mutual
Neptune
Swiss Re
United Surety
To find the best renters flood insurance for your home, it is always helpful to shop your options for both types of flood insurance so you get not only the best coverage but also the cheapest price for your renters insurance.
Frequently asked questions about flood insurance for renters
Does renters insurance cover flood damage from hurricanes?
Renters insurance does not typically include flood damage from acts of nature like hurricanes, however water damage from rain is covered.
Does renters insurance cover flooding in apartments?
If your apartment floods, your renters insurance policy is not likely to pick up the bill for any water damage to your personal property unless you have separate flood insurance coverage.
Does renters insurance cover flood damage to personal property?
The average renters insurance policy will cover some water damage that occurs from within the home, but you usually need to purchase separate flood insurance protection to be protected from damages like exterior water overflow or hurricanes.
See How Much You Can Save
See How Much You Can Save
Helpful Home Insurance Articles & Guides