Why you should trust Insurance.com
Insurance.com is dedicated to informing, educating, and empowering you to make confident insurance decisions. Our content is carefully reviewed by insurance experts, and we rely on a data-driven approach to create unbiased, accurate insurance recommendations. Insurance.com maintains editorial integrity through strict independence from insurance companies.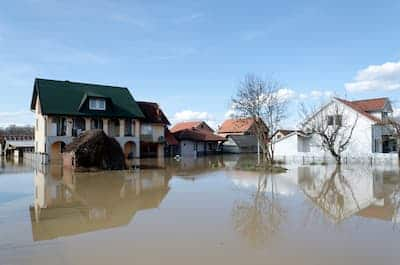 Like homeowners insurance, renters insurance doesn't cover floods. Renters must buy flood insurance to cover flood damage to their personal property.
Whether or not you need flood insurance as a renter depends on where you live and the type of home you rent. Either way, knowing that your landlord's policy doesn't protect your belongings from damage, including floods, is important. Renters insurance and a flood insurance policy will provide comprehensive coverage for most damage.
Key takeaways
Standard renters insurance does not include flood coverage. 
Renters need to purchase a separate policy for flood insurance to protect personal property from flood damage. 
Flood insurance for renters is available from several private insurance providers, as well as FEMA's National Flood Insurance Program.
What types of flood damage does renters insurance cover?
Renters insurance doesn't cover flood damage. While it protects a lot of common perils, like fire and theft, flood damage is excluded.
Water damage is included in your renters insurance policy, but that is limited to sudden and accidental discharge of water. For example, if your washing machine were to leak and destroy your personal property, the damage would likely be covered under your renters insurance policy.
What types of flood damage does renters insurance not cover?
The standard renters insurance policy does not cover water that comes into your home from outside sources, such as overflow from a nearby body of water. This is referred to as overland flooding and typically requires the purchase of separate coverage.
Flash floods from rainfall and storm surges from hurricanes are both considered floods as well, and excluded from renters insurance.
Do you need flood insurance as a renter?
Because you rent your home, any property damage to the home itself from flooding is covered by your landlord's insurance policy, but that doesn't cover your personal property. If your landlord carries flood insurance, it's a good clue that you should consider it as well.
Renters insurance is not required by law, although your landlord might require you to carry it. Flood insurance isn't required either. However, if you live in a high-risk flood zone, you should seriously consider it.
You might not need flood insurance if you live on an upper floor. Weigh the risks against the costs in your area to decide if it's right for you.
How much does flood insurance cost for renters?
Per FEMA, flood insurance for renters can cost as little as $99 a year. However, your rates will vary depending on the flood risk in your area and how much coverage you need, among other factors.
Another major factor determining cost is the kind of provider you choose for your flood insurance.
Where can renters buy flood insurance?
Renters can buy flood insurance through a private provider or the National Flood Insurance Program, a federally-run program. There are some differences between these policies.
The National Flood Insurance Program (NFIP)
The Federal Emergency Management Agency (FEMA) offers its National Flood Insurance Program (NFIP) to provide homeowners and renters with flood insurance coverage.
The NFIP's rates and policy offerings may vary based on your ZIP code. Although NFIP caps its flood insurance at $100,000 in maximum contents coverage, it is a policy backed by the federal government for added peace of mind.
Private flood insurance companies
In addition to the NFIP, there are also private insurance companies that specialize in flood insurance.
These are some popular companies that offer flood insurance coverage for homeowners and renters:
AIG
ASI
Assurant
Chubb
Liberty Mutual
Neptune
Swiss Re
United Surety
To find the best renters flood insurance for your home, it is always helpful to shop your options for both types of flood insurance so you get the best coverage and the cheapest price for your renters insurance.
Frequently asked questions about flood insurance for renters
Does renters insurance cover flood damage from hurricanes?
Renters insurance covers hurricane damage if the rainwater enters through a damaged roof or a broken window. Overland flooding that happens as the result of a hurricane, however, is not covered unless you have flood insurance.
Does renters insurance cover flooding in apartments?
Renters insurance doesn't cover flooding in any home, whether it's a house or an apartment. Only flood insurance covers that kind of damage.
Does renters insurance cover flood damage to personal property?
Renters insurance covers your personal property from some types of water damage, but flood damage is excluded.
See How Much You Can Save
See How Much You Can Save
Helpful Home Insurance Articles & Guides