Why you should trust Insurance.com
Insurance.com is dedicated to informing, educating, and empowering you to make confident insurance decisions. Our content is carefully reviewed by insurance experts, and we rely on a data-driven approach to create unbiased, accurate insurance recommendations. Insurance.com maintains editorial integrity through strict independence from insurance companies.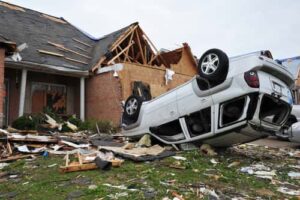 Tornadoes can cause devastating damage to your car. The comprehensive coverage on your auto insurance policy covers vehicle damage from a tornado.
Comprehensive covers non-collision damage to your car, including that from natural disasters. It covers damage caused by falling trees or even a tornado throwing your car into the air. Review your policy to ensure you have this coverage; it's optional but recommended.
If you need to put in a claim after a tornado, call your insurance company right away. Read on for more on what auto insurance covers after a tornado.
Key takeaways
The comprehensive portion of your car insurance covers tornado damage.
Comprehensive coverage is optional and part of a full coverage policy; it is subject to a deductible.
To put in a claim after a tornado, call your insurance carrier right away and take pictures of the damage.
Does auto insurance cover tornadoes?
Auto insurance covers tornado damage to your vehicle if you have opted for comprehensive coverage.
"You need to carry comprehensive coverage on your auto policy to protect your vehicles from weather hazards, including tornadoes," says Mark Friedlander, director of corporate communications for the Insurance Information Institute. "About 80% of U.S. drivers carry this coverage. It is typically required if you have an auto loan or lease."
Some people only have the state minimum liability coverage or a liability-only policy with higher limits. Liability doesn't pay for damage to your vehicle in a crash, which is covered by collision insurance. It also won't pay for storm damage to your car. Comprehensive is the only type of car insurance coverage that pays for tornado damage.
How does car insurance cover tornado damage?
The comprehensive portion of your car insurance covers damage to your vehicle from a tornado. Broken windows, taillights, dented doors or hoods and punctured tires can be caused by flying debris, hail or falling trees from a tornado and are covered by comprehensive.
You must opt for this coverage on your auto policy and pay for it; it's not automatically included. As Friedlander states, most loans require this, so you probably have this coverage unless you own your car outright.
You'll have to pay the deductible, and then your car insurance kicks in and pays the rest of the damage.
"Check the declarations page of your insurance policy (at the front of your policy) to review your coverage and deductible levels. If you are not clear about your coverage for tornado damage, contact your insurance agent to review the details of your policy," Friedlander says.
If you have rental reimbursement coverage on your policy, your insurer will pay for a rental car while your car is repaired.
How to file a car insurance claim after a tornado
If you need to file a car insurance claim after a tornado, follow these steps:
Call your insurance company to report the damage.
Take pictures of the damage and provide before pictures if you have them.
Cooperate with the claims adjuster to get estimates from repair shops.
Pay your deductible to complete the repairs.
You should do this right away because, after a natural disaster, hundreds of people are in the same situation. The insurance companies get bombarded with phone calls and claims. The sooner you get yours in, the sooner you can get compensated for the damage.
What happens if a tornado totals my car?
If a tornado damages your car beyond what the insurance company deems worth repairing, it will be a total loss. If this happens, the insurance company will pay your vehicle's actual cash value (ACV) minus your deductible. Adjusters base total loss value on a few factors, including the year, make and model of your car, its condition before the loss and how many miles are on it.
You'll get a check, and your totaled car goes to the insurance company. You can use the insurance proceeds to buy a new vehicle. You can sometimes keep your car after a total loss, but your settlement from the insurance company will be lower.
Helpful Auto Insurance Articles & Guides