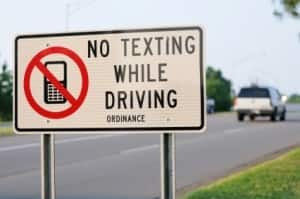 Currently, 44 states and Washington, D.C., have banned texting and driving, while others have partial restrictions, according to the Insurance Institute for Highway Safety. If you're ticketed in a state where texting violations add points to your driving record or are considered moving violations, an insurer may raise your premiums.
States with a texting law specifying that violations add points and/or are considered a moving violation include:
District of Columbia: 1 point and is a moving violation; 3 points if it is judged to have caused an accident.
Maryland: 1 point and a moving violation; 3 points if the texting contributed to an accident.
New Jersey: 3 points for third offense
North Dakota: moving violation
Nevada: first offense not considered a moving violation; repeat offenses can have points added
Vermont: 2 points for first offense and 5 points for a subsequent offense
West Virginia: 3 points for third offense
Several states make an insurance surcharge less likely by specifying that breaking the texting law won't result in extra points or be considered a moving violation. They include:
California: no points and not a moving violation
Delaware: no points
Idaho: no points and not a moving violation
Iowa: no points; not a moving violation
Louisiana: no points; not a moving violation
North Carolina: no points and not a moving violation
Pennsylvania: no points and not a moving violation
Tennessee: no points and not a moving violation
Washington: no points and not a moving violation
There are a handful of states that prohibit insurers from raising rates based on texting violations. These are:
Idaho
Massachusetts
North Carolina
Washington