Why you should trust Insurance.com
Insurance.com is dedicated to informing, educating, and empowering you to make confident insurance decisions. Our content is carefully reviewed by insurance experts, and we rely on a data-driven approach to create unbiased, accurate insurance recommendations. Insurance.com maintains editorial integrity through strict independence from insurance companies.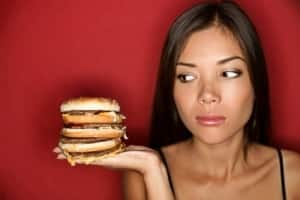 Most drivers eat in their car at times, whether they want to or not.
Insurance.com asked 1,000 licensed drivers age 25 or older, distributed proportionately by age and geography, about their road-food habits. Their preferred choices, when they have to eat behind the wheel:
Order at a fast-food or fast-casual restaurant: 45 percent
Bring food from home: 42 percent
Buy snacks at a convenience store: 15 percent
Yet the drive-thru beckons.
More than two-thirds of drivers had had consumed food from a fast food or fast-casual chain behind the wheel at least once in the past year.
What makes good road food?
Overwhelmingly, road-food warriors say it has to be able to be consumed one-handed. Sixty-four percent of drivers said the single most important trait of good road food is one-handedness.
Minimal crumbs and drips were a distant second and third, respectively.
Very last on the list? Healthfulness.
Ask a road warrior
Some prefer grapes and granola brought from their own kitchens, and others a big bag of Doritos from the 7-Eleven. But for 18 percent of drivers in our survey, the drive-thru is a way of life.
Regular indulgers described themselves this way:
37 percent -- Instant gratifier: Mostly I eat because I can't wait to get home.
27 percent -- Road warrior: I eat a lot of meals behind the wheel, and I'm good at it.
22 percent -- Bored on a long trip: Snacks help pass the time
14 percent -- Desperate but hungry: If I didn't eat while driving, I would wind up skipping a lot of meals.
The 65-mph diet
We applaud the discipline of those ignore the drive-thru in favor of a hot, nutritious meal served at a table and eaten with a knife and fork. What's their secret?
53% said they avoided road food because it was unsafe.
36% said they said they could wait a little longer to eat.
11% didn't want to get their cars dirty.
Who's behind that Whopper wrapper?
Seventy-two percent of all men surveyed had visited at least one of the top 50 fast-food and fast-casual dining chains for road food in the past year; 63 percent of women had.
Drivers under 40 were most likely to say they routinely ate behind the wheel, at 35 percent. Only 10 percent of drivers older than 40 were likely to say they were regular road-food diners.
Regionally, drivers in the Northeast were least likely to hit a drive-thru and least likely to describe themselves as regular road-food diners.
Road food of choice? Burgers.
Sixty-six percent of those who had eaten in their cars had visited a McDonald's in the past year. In second place was Burger King at 34 percent. Starbucks (31 percent) just nipped Wendy's (30 percent) to prevent an all-burger podium. The rest of the top 10:
Taco Bell: 29 percent
Subway: 26 percent
Dunkin' Donuts: 21 percent
KFC: 17 percent
Sonic Drive-in: 16 percent
Arby's: 15 percent
Is road food safe?
Safe to eat? You bet. But safe to eat at 70 mph? We asked drivers to rate eight distractions, most distracting to least. Their averaged scores:
Texting: 7.28
Talking on a hand-held cellphone:5.25
Eating a hamburger: 3.74
Using a navigation system:2.94
Smoking a cigarette:2.09
A young child in the car: 1.78
A pet in the car: 1.77
Talking on a hands-free cell: 1.75
Do you have an exit strategy?
We asked road-food regulars how they dealt with sudden obstacles that required their full attention:
Drop the food: 61 percent
Make evasive maneuvers one-handed: 39 percent
The pros at Coit Cleaning offer this method for getting ketchup out of your carpet.
First, remove as much as you can without rubbing the stain in further. If the ketchup has dried or begun to dry, scrape all you can off with a butter knife.
Mix a tablespoon of dishwashing liquid with two cups of cool water. Sponge the stain with a cloth soaked in the mixture. Blot with a white cloth.
Repeat until stain is absorbed, then rinse with cold water.
Yes, you're covered
Car insurance covers all kinds of dumb moves, even if you were chasing a random McNugget right before you rear-ended a bus.
The damage to the other guy's car is covered by your liability insurance.
Your own car is covered by collision if you have it. If you do, you'll owe your deductible. If you dropped collision, you'll be skipping a few lunches to pay for repairs yourself.
You'll probably get a ticket, if not for distracted driving then for following too closely or similar trespass, all of which may add points to your driving record.
Your insurance company will raise your rates, based on either the violation or the claim, but not both. They'll typically go with the more expensive of the two.
A single at-fault accident with damage less than $1,000 brings an average rate increase of 18 percent, according to data gathered for Insurance.com by Quadrant Information Services. The surcharge typically lasts three years.
Helpful Auto Insurance Articles & Guides