Why you should trust Insurance.com
Insurance.com is dedicated to informing, educating, and empowering you to make confident insurance decisions. Our content is carefully reviewed by insurance experts, and we rely on a data-driven approach to create unbiased, accurate insurance recommendations. Insurance.com maintains editorial integrity through strict independence from insurance companies.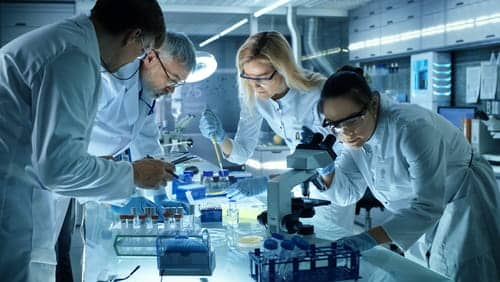 Having a good education, especially an advanced degree, can help lower your car insurance rate. Insurance companies tend to view people with higher education as less risky in general. This means that the cost of car insurance for scientists, depending on the level of education, is often lower.
There are no specific car insurance discounts for scientists, but that doesn't mean being a chemist or biologist won't reduce your car insurance rates. Grange Mutual and Geico were the best car insurance companies for scientists based on rates.
Key takeaways
Insurance companies offer lower rates for those with advanced degrees because they are statistically less risky.
Companies don't offer specific discounts for scientists, but you can get discounts in many other ways.
Shopping around is the best way to get lower car insurance rates.
How much is car insurance for scientists?
Scientists, whether physicists, archaeologists, or those in other scientific fields, are considered low-risk, meaning they have lower insurance rates. In addition, people who are highly educated are also statistically less risky to insure. This means finding the cheapest car insurance for scientists is often easier.
"[Companies] are looking at the data and saying people that get higher education they're paying out less for those risks," says Josiah Hatch, owner of Bender Hatch Insurance in Boston, Mass.
The table below shows the average annual rates for scientists at half a dozen major insurance companies.
| Company | Average base rate | Average scientist rate | Price difference ($) | Price difference (%) |
| --- | --- | --- | --- | --- |
| AAA | $2,455 | $2,357 | $98 | 4.00% |
| GEICO | $1,786 | $1,595 | $191 | 10.69% |
| Grange Mutual | $1,154 | $1,046 | $108 | 9.36% |
| Mercury Insurance | $2,276 | $2,100 | $176 | 7.73% |
| Progressive | $2,446 | $2,032 | $414 | 16.93% |
| State Auto | $4,277 | $4,143 | $84 | 1.96% |
As you can see, rates vary wildly. Progressive is well ahead with a discount of nearly 17% on its car insurance rates for scientists. On the other end of the spectrum, State Auto's rates show a difference of less than 2%.
This is why it is important to compare car insurance rates for scientists. The best offers from different companies can, and will, vary wildly, so price shop thoroughly.
Car insurance discounts for scientists
While there are no specific discounts for scientists, many car insurance companies offer good student discounts. This is meant for high-achieving students even through college and, in some cases, graduate studies.
Companies that offer good student discounts include major ones like:
Allstate
Country Financial
Farmers
GEICO
Liberty Mutual
Progressive
State Farm
Travelers
Once you are out of school, that degree will make a difference to your car insurance rates. There may also be some discounts if you are part of a scientific or other professional association; check with insurance companies for a list of the groups and associations whose members receive a discount.
How can scientists get cheaper car insurance?
While there are no discounts specifically for scientists, there are many generally available discounts you can look for to lower your rates. Ask about these discounts for cheaper car insurance:
Remember: the best insurer will be different for everyone, so compare companies and prices to find what's best for you. Whether it's near your renewal time or you're just curious to see what's out there, there is never a bad time to see what company has the cheapest car insurance for scientists and get the right plan for you.
Methodology
Insurance.com commissioned rates from Quadrant Data Services in 2022 for a 40-year-old driver with a clean record and good credit, with full coverage. Base rates were compared to rates for scientists from the same company.
Helpful Auto Insurance Articles & Guides